Nature's Spring Wonders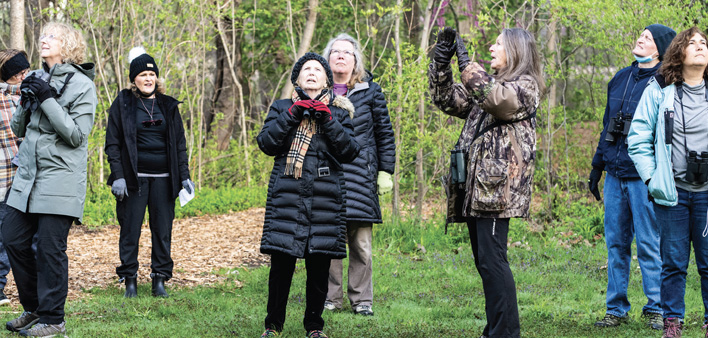 Experience bird migration up close right here in Macomb County.
By Nick Lico / Photography by Karl K Koto, Bill Rapai and Rob Weir Photography by Bill Rapai
How birds migrate is still not understood. For example, how does a first-year bird return to its ancestral home if it has never been there before? Does it follow geographical landmarks or the Earth's magnetic field?
Why they migrate is easier to answer: they move from an area with decreasing resources to one with increasing resources – like our ancestors did until they developed an agrarian society. While migrating birds can be seen throughout the county, there are only a few special places to take in this semi-annual spectacular event.
Bird Island is basically a peninsula connected to the Ford Estate. It's a prime spot for birds to stop during their migration, said Clare Pfeiffer, Ford House director of communications and engagement.
Created from a sandbar in Lake St. Clair, it once offered a protective cove for Edsel Ford's boats. Now, this nature preserve is a perfect secluded place for watching migrating birds.
We get all kinds of perching birds visiting Bird Island, said Bill Rapai, president of the Grosse Pointe Audubon Society and Bird Island volunteer guide. These little guys come from the southern United States, even as far away as South America. It's really amazing when you think about it; you have this tiny little bird that weighs only a couple of grams yet makes this amazing journey.
We have catalogued 204 different species of birds at Bird Island, including 32 different species of warblers. There's no other place in the world that experiences this variety of warblers, added Rosann Kovalcik, also a volunteer guide and owner of Wild Birds Unlimited in Grosse Pointe Woods.
May is an ideal time for bird watching. We get thrushes, blue birds, warbling vireos. A lot of them simply use the Ford House and all along the Detroit River and Lake St. Clair as a stopping ground, Kovalcik added. Birds migrate at night to avoid the heat of the day so they come down at dawn. First thing in the morning is the best birding time.
Guided bird walks at Bird Island are offered on March 20, April 10, April 24, May 8, 10-13 and again in the fall during the fall migration. Tours start a half hour after sunrise and cost $10 ($8 for Ford House members). Space is limited and pre-registration is required.
Kovalcik offers the following suggestions for those planning to participate: Don't wear a color that alerts birds to your presence such as white or red. Wear something more subdued to blend in. Waterproof and comfortable shoes are a must and dress warmer than you think you will need; you can always remove layers. We may be standing on the waterfront and if its a windy morning it can be cool.
Also, bring binoculars if you have them. Also available at Ford House is Birding 101. Its scheduled for Sunday, April 24. As the name implies, Birding 101 is for those interested in learning bird basics and helps answer such questions as What bird wakes you up on the weekend or what type of nest is in your backyard? You get to learn the basics from birding experts and enthusiasts. This program is best for adults and youth ages 13 and up, Pfeiffer said. Admission is $5, and kids 3 and under are free.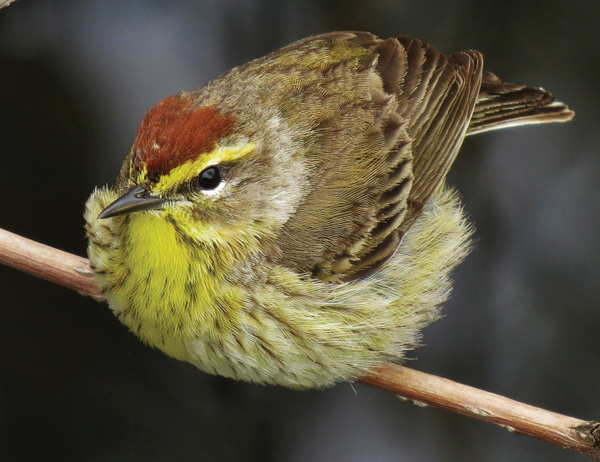 Another great place for bird watching is Lake St. Clair Metropark.
"We get a huge influx of all types of birds, including waterfowl such as loons and wood warblers. Many are just passing through. The proximity to the lake and woods makes Lake St. Clair Metropark an ideal place for migratory birds to stop," said Erin Parker, Huron-Clinton Metroparks Eastern District interpretive supervisor.
Guided walks and guided wagon tours are available year-round and cost is minimal, typically $3-$5 plus the cost of the park pass.
As is the case with bees and butterflies, bird numbers in North America are declining and for similar reasons. It's tough being a bird nowadays. With all of the development going on, there are fewer marshes and forests. That means there are fewer places for birds to find food or places to rest. That's why places like the Ford House are so important to them, Rapai said.
To attract more birds to your yard, Rapai and Kovalcik offer the following advice:
Provide water, especially running water
Plant native plants
Avoid over fertilizing lawns
Add biodiversity, the more diverse our environment, the better
To sign up for guided bird tours, please visit fordhouse.org/events or metroparks.com/events.