Nature Survives on the Salt River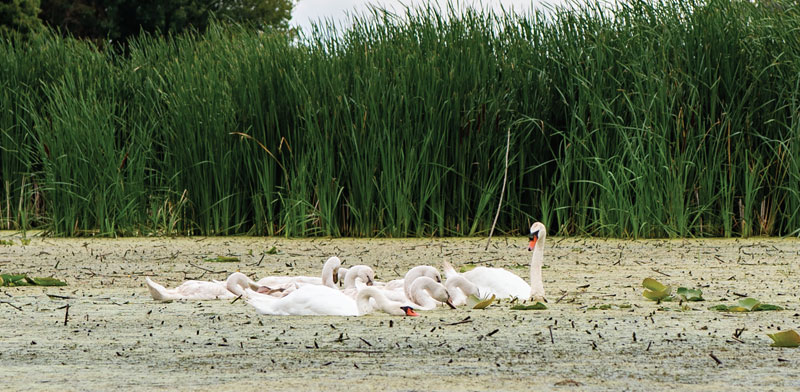 By Tracey Moro / Photography by Mike Ferdinande
Sometimes a little hard work and some foresight can lead to something big, and this time the folks in Chesterfield, and surrounding communities, will soon have 33 more acres to enjoy.
Located along the Salt River in Chesterfield Township are 33 acres where you may already see work being done. This undeveloped natural land is made up of wooded areas, wetlands and tons of wildlife. "Preserving this property will help protect the ecological integrity and wildlife habitat in the region, and will increase access to nature in the region," said Chris Bunch, executive director of Six Rivers Land Conservancy. "Our mission is to conserve land, to keep it in its natural state and provide more public recreational spaces. We do that by doing projects like this one – assist projects – where we assist public agencies to acquire more land for parks and natural areas. We're really excited to be working with Chesterfield Township. We're really grateful to this commitment to conservation and to making this nature an important part of their community."
As the central part of the Macomb County Blue Economy Initiative's Salt River Intracoastal Marina District, this property was recently acquired by the Six Rivers Land Conservancy on behalf of Chesterfield Township. First State Bank provided a revolving loan to Six Rivers to assist in the purchase. "This is pretty unique. First State Bank actually put a line of credit together for us (Six Rivers) that allowed us to purchase this property," said Bunch. Six Rivers will hold and protect the property while the township applies to the Michigan Natural Resources Trust Fund for a grant to help fund their purchase of the property.
The property will eventually be home to the Salt River Nature Center, providing residents with additional open space for recreation and access to the Salt River and the Lake St. Clair Coastal Water Trail. Plans include nature trails, paddle trails, wildlife viewing areas and educational resources. Currently you can see a variety of birds on the river, including blue herons and eagles. Many of the trees in the wooden areas have been there for decades, some could even be close to one hundred years old. Neighboring subdivisions and communities will soon be able to walk through the wooded forest and enjoy the scenery.
For many years the site has been on the radar for Macomb County. In 2012 Executive Mark Hackel authorized the Blue Economy Initiative to promote quality of life, economic development and environmental stewardship of the Lake St. Clair area, including the Salt River. "Everywhere you go you see people taking advantage of our recreational accesses," said Hackel. "I'm excited about this ribbon cutting here in Chesterfield Township".
Chesterfield Township Supervisor, Dan Acciavatti, has also been instrumental in protecting the Salt River and sees this purchase as a key step in future park programming. "If you look at the Salt River corridor, it ends in Chesterfield and the crest point starts in Lenox, that waterway has been somewhat neglected and there is a lot of opportunity. In Chesterfield we wanted to participate and make sure that we are not necessarily known for what gets built on it, but what doesn't get built."
The project includes many aspects within the 33 acres, including the Wayne and Joan Weber Paddle Park, which will open spring 2021. There's also a large wooded area. "This piece of property just sparked my interest. When I saw it was available and for sale, I walked it. It was very overgrown but immediately you see the character in the trees and the potential. Over 2,000 foot of Salt River frontage, a path was overgrown that can be connected to 23 Mile road," said Acciavatti. The property would have become a subdivision until Dan reached out to Six Rivers. "The opportunity came quick. Macomb deserves its share of the Michigan Trust Fund monies. We have tremendous opportunity here to take a piece of property and preserve for many years to come and it couldn't be done without these partners," said Acciavatti. Parts of this land will be able to be used as early as fall.
The purchase of the property by Six Rivers was possible using a revolving loan from First State Bank in St. Clair Shores. Gene Lovell, president and CEO of First State Bank was pleased to have the opportunity to participate in moving this project forward. "Efforts to preserve and protect the natural habitats serve to improve the quality of our own lives and secure precious resources for future generations to enjoy," said Lovell. "My own fondest memories are playing in the woods, tromping through the swamp land to get frogs and turtles. This is what it's all about and I appreciate that we get to be a part of it."
"With increased awareness of the importance and accessibility of recreational assets and the retention of residents, this acquisition is vital to Macomb County's future," said Gerard Santoro, program director for Parks and Natural Resources Division, Macomb County Planning and Economic Development. Santoro leads the new Parks and Natural Resources Division in Macomb County. "Our commitment at the county with the newly created Parks and Natural Resources Division is going to allow us to have more resources to put into projects like this. This shift in strategy at the County level will assist local governments with greater opportunity to identify parklands, as well as conservation lands of significant ecological value. Macomb County Parks and Natural Resources Division allows the local governments to assist in the regional plans for our area and this will result in the potential for not just greater access to our waterways, but also to regional parks in the form of greenways," said Santoro.