The Legacy of Mr. Trinity – 1967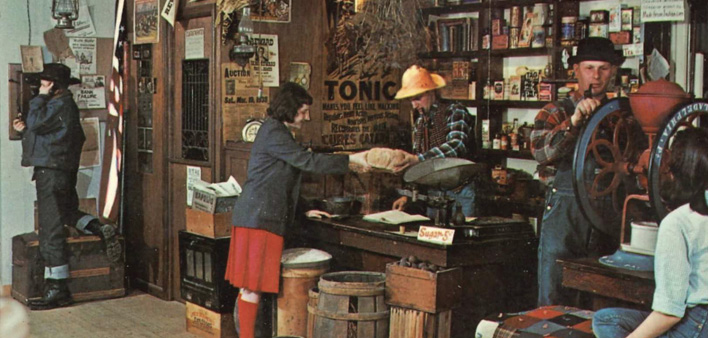 by Adam Mueller
Soon after moving to Chesterfield Township, neighborhood children would knock on the Trinity family door and ask Bernard Trinity if they could borrow books from his personal library. The closest libraries were miles away in Mount Clemens and New Baltimore. The requests increased and in 1955 Mr. Trinity decided to establish an informal neighborhood library consisting of five hundred books in the unused portion of his upholstery shop near his house. There were no library cards or computers. Anybody who lived within driving distance was welcome to borrow a book. And the neighborhood library grew over the years with community donations and township funds.
Mr. Trinity displayed various antiques throughout the library. He felt it was important to preserve the local pioneer era agricultural lifestyle. Eventually he ran out of space for his vast collection of local historical items and added a museum wing to the library building. The Trinitys received no financial assistance to build or operate the museum.
On June 21, 1964 the Trinity Historical Museum opened. Admission remained free for the 27 years the museum operated. The above image is an original postcard from the one room museum which included a country general store, hardware store and drug store. In one corner sat an old post office. The museum contained children's antique toys, fossils, Native American artifacts and other local historical items. A penny candy store was located between the library and museum to demonstrate to children the value of a penny in the old days. You can see the women purchasing at the register, another resting on some old quilts. A gentlemen is cranking an old coffee grinder while smoking a pipe.
Of special interest in the museum was the 1907 telephone mounted to the wall as you can see a gentlemen is using. This hand-crank telephone was wired to the house kitchen and delighted Macomb County children for decades. One month before Christmas it became a special hot-line to Santa Claus. The hot-line continued for two weeks after Christmas for anyone who wished to thank Santa or register a complaint because they didn't get what they wanted for Christmas. The smaller photo of two young children, probably speaking to Santa about their wish list, was printed in the Macomb Daily in 1967 by Chief Photographer George Kochanice.
This museum became a major tourist attraction in Macomb County, visited by 12,000 people each year. Mr. Trinity continued to expand his historical collection and in 1967 began to build a historic village to depict life in the 1890s. The village, named "Heritage Acres," included farm animals, a barn, a blacksmith shop and a cobbler shop. The library and museum closed in 1991, but Trinity's legacy continues to influence the community today. Upon closing, many of the Trinity Library's books were donated to help establish the Chesterfield Township Library. Today Trinity's blacksmith shop and cobbler shop are preserved in the Chesterfield Historical Society Village.