Mother to Nearly 400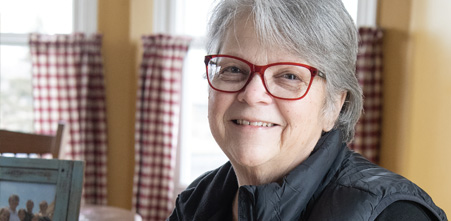 By Rebecca Calappi/Photography by Mike Ferdinande
It's difficult to talk to Marsha Green about the 400 children she and her husband Corky have fostered over the years without someone in the room tearing up. Marsha first became a foster mother in 1989. She was a stay-at-home mom to her children and her stepdaughter. Home with her youngest, she decided it was time to do more. "I come from a real tough background," Marsha said. "Anything that could happen in a home happened in mine. I always thought we were put here to help people. I was home with our last child and I thought that's what I wanted to do."
Two little girls came to stay with the Greens as their first foster children. "In 1989, I got two girls. One was 12 and one was 4. They were only with us a couple months, then we got our next ones. They were 2 and 3 and we had them for two years," recalled Marsha. "When it was time for them to go up for adoption, we chose to let them go and it was the biggest mistake of our lives. We thought it wasn't fair for us to keep them. The next year was a nightmare. My 5-year-old kept asking why they had to find a new mom and daddy."
It was a hard lesson in attachment disorders for everyone. Now, 30 years later, Marsha looks back on those moments and wishes she had the education and experience she has now. But all the memories aren't sad. Some make her beam with pride, and yes, a few tears.
"I had a kid come back. He was 18 and I saw him pull up in the driveway and he looked about the same age as my son, so I didn't pay any attention," she said. "My son John said there was a guy here to talk to you."
A foster child from years before had worked with his military recruiter to find Marsha before he shipped out to boot camp. "I recognized his eyes, but I couldn't put a name to him. He started to say his name, and then I finished it," Marsha said. "We sat on the deck for the longest time on the swing. He said, 'This is the best place I've ever lived,' and I thought, 'Yes! I'm doing something right.'"
At first, Marsha fostered a few children at a time. She then moved into emergency placement, where a call in the middle of the night meant a child needed a safe place. Marsha recalls many phone calls and just as many spur-of-the-moment drives halfway across the state to help a child. "I love that part when they get here, and they are a hot mess and you bring things down and you smooth it out and you help them with the next transition," Marsha said.
At the high point of her fostering career, Marsha would spend $1,000 each week on groceries, do 30 loads of laundry and had a wall of bins stacked four high of clothing in all sizes for all seasons. "I had a big investment in peanut butter and oatmeal," she said with a chuckle.
Eventually, the Green's New Haven home became a certified group home, which means she could house as many as eight children in the foster care system, in addition to her own children, who were growing in number as well. By the time Marsha retired from foster care in 2017, she had fostered between 350 and 400 children, and adopted five of them. Additionally, she has five foster children who aren't adopted, but are family members nonetheless, and she keeps in contact with 30 to 40 kids regularly.
"It wasn't like a job, it was a passion," Marsha stated. "We did it to make good memories for the kids." Not one to slow down after retirement, Marsha took a job with Macomb County Community Mental Health assisting with intakes and as a parent support partner for adoptive parents and birthparents.
"I really like working with them because I have information for them," she said. "But I had to work because I couldn't just stay home and cry."
The tears were because she missed her kids. All of them.
However, the love of fostering didn't stop when she retired. Two of her daughters foster children now and the pride Marsha has in them, as well as all her children, is evident.
Looking back, Marsha is modest about what she has accomplished, but she's grateful. "Who gets to have this life?" she asks with tears in her eyes.
"I recognized his eyes, but I couldn't put a name to him. He started to say his name, and then I finished it," Marsha said. "We sat on the deck for the longest time on the swing. He said, 'This is the best place I've ever lived,' and I thought, 'Yes! I'm doing something right.'" — MARSHA GREEN