Men & Their Trucks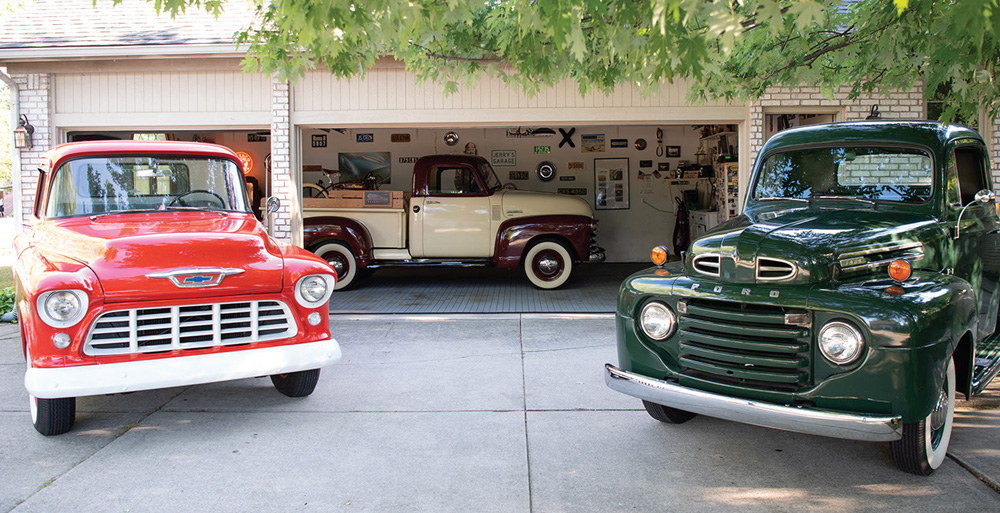 By Tracey Moro / Photography by Mike Ferdinande
In today's world trucks have become a popular thing to own. They're versatile, ride just as well as cars and they're practical. Many men, and women, own a truck. But if you're really a true Truck Guy you see past those reasons and you stand by your truck because you have a lifelong passion, you have an American dream, you enjoy the hard work it takes to keep it running and most of all, you can't wait to be behind the wheel and show it off.
JERRY DRENZEK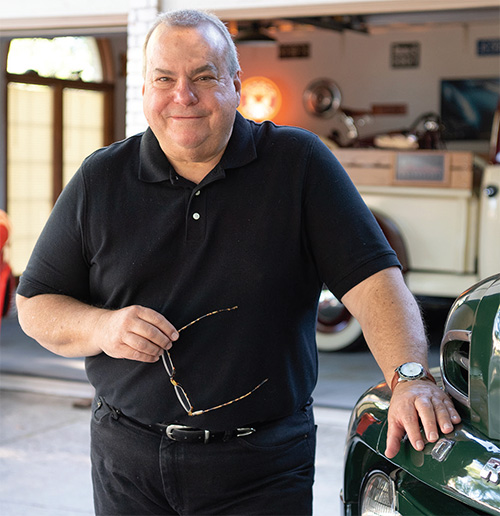 That's the case with a handful of truck guys we found locally. We will start with the Truck Guy with the most trucks – three – at the moment. Jerry Drenzek, of Macomb Township, has had his trucks and his story told already in many publications. He even writes occasionally for Old Cars Weekly magazine. As a retired automotive advertising executive he spends most of his time enjoying his three pickup trucks. "I recently redid the brake systems in each. It took some time but I'm able to spend more time now since retiring getting the trucks updated and improvements made. Anything mechanical is going to wear out eventually so updates are constant," said Drenzek. Jerry's latest addition to his collection is a Tribute 1915 Indian Motorcycle Track Racer built by scratch from a friend. The bike stands in the back of his 1952 Chevrolet Pickup Truck. "I was looking for an original and couldn't find it, so I had my friend build a replica to match the truck. The colors on both are actual Indian Motorcycle paint colors." His matching truck was a ground-up restoration project that Jerry accomplished with a little help from his friends. Jerry's family goes way back when it comes to cars, from his grandfather who worked at Packard Motor Car Co. to his father a tool and die tradesman for Chrysler to himself working in the automotive advertising industry, working on major accounts for the big three for more than 25 years. He wasn't a Truck Guy from the start, but after dabbling in muscle cars and British sports cars he found his real love was with pickups from the 1950s. Jerry claims he doesn't have a favorite between the three. There's his 1952 Chevy which is the two toned one that he takes to shows. His 1948 Ford F1 half ton in the hunter green, which is considered his barn-find and then there's the one he's owned for more than 25 years, the 1955 Chevy in fire engine red with his name on the driver's door. It has a later-model V8 engine with automatic transmission and easily keeps up with modern day traffic. Each truck has its own personality, brought to life by Jerry and together they make a spectacular site in his garage. "I couldn't pick a favorite if I had to," he claims. Jerry enjoys taking his trucks out to shows and just cruising on nice days. You can see his 1948 Ford F1 on the cover. It's the perfect tailgate party set at the Jenuwine family farm, ready for some folks to enjoy some wine – or maybe some cider and doughnuts?
---

PAUL JENUWINE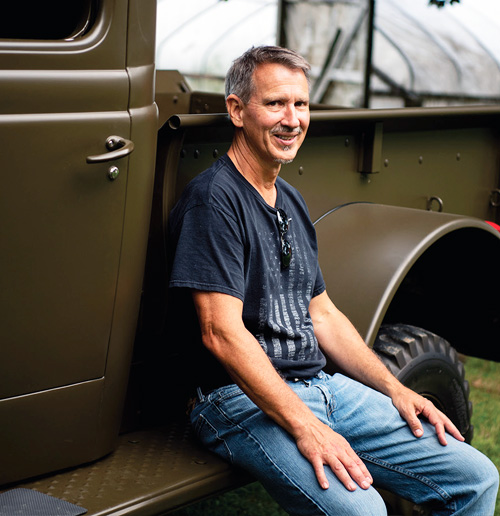 That 70 year old family farm is where our next Truck Guy, Paul Jenuwine, got his passion for trucks. "I did a lot of growing up here in Armada at this family farm. Uncle Dale and his son Jim are still here and the farm sells flowers in the spring and has a variety of vegetables, honey and even eggs. You can find them at local farmer's markets," said Jenuwine.
Although this is Paul's first vintage truck he once owned a 1972 SS Camaro. But he always wanted an old power wagon, so three years ago he jumped at the chance to buy this 1941 WC12 built by Dodge during World War II. Since Dodge was instructed by the government to build these trucks, it fits Paul's patriotic side. "I'm living the American dream, blessed to have the opportunity."
Trucks like Paul's were used at army bases, never exported. Dodge was the sole contractor until 1941 when Willy's Overland came on. "I love all the craftsmanship back in the '40s. The details. It's incredible," said Paul who uses his truck for running errands, hardware items and vegetable deliveries. "As truck builders strive for the right balance of function and form, I feel this 1941 WC12 hit the bulls-eye."
The truck has a flathead six cylinder engine. "I like that the underpinnings are all carried over to the Dodge civilian power wagon. Years ago the utility companies would buy these. The front has the winch and power take off (PTO) which farmers loved too," said Jenuwine. "A unique feature is a front mounted Braden winch that is used for lifting heavy objects like logs and for recovering vehicles that are stuck off road. It's powered by a rotating shaft attached to a Detroit Harvester power take off. The PTO rotation (wind/unwind) is controlled by a lever in the cab."
Paul has a passion for designing and developing Ram Trucks, Jeep Gladiators and Wranglers; for FCA. "It's kind of a dream job for me. Both Warren Truck and Sterling Heights Assembly are Macomb County gems that build world class trucks."
Paul resides just north of the farm with his wife and "Spartan" daughter in Bruce Township. "I've taken the truck to the Peach Festival and to Wolcott Mill car show. I enjoy taking it to cemeteries on the Veteran holidays and I'm pleasantly surprised at the interest and enthusiasm our younger generations have after seeing the truck."
---
RICHARD GAGLIO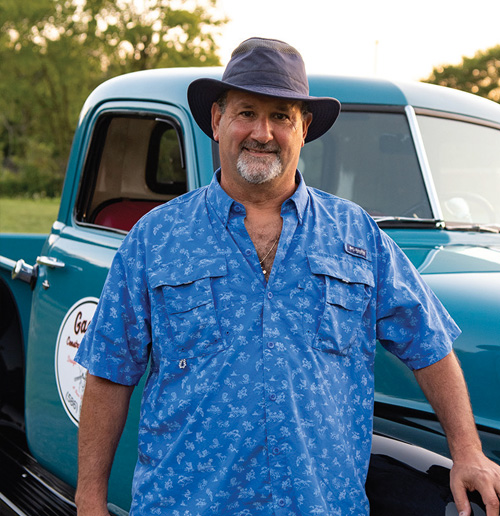 Growing up in St. Clair Shores, Rich started out more of a Mustang guy. His love of cars mixed easily with his love of putting things together. From his model Titanic ship to his go carts and his love of construction, Rich is always doing things with his hands and trying new projects is what his wife loves most about him. Not really, we just stuck that in there for Mary!
Rich got his first classic truck about 8-9 years ago, a 1954 GMC pickup but it wasn't as solid as he thought once he dove into it so he bought a 1953. Both trucks ended up being parts trucks for his third buy, a 1950 GMC 100. It was a farm truck from Indiana and Rich knew this one had what it was going to take, to end up a great truck. "I loved that it looked like a work truck and I could use it as one, once it was finished," said Gaglio.
He began restoring it himself, with really no prior knowledge or family member to guide him. But with a good sense of mechanics, some ambition and determination, he quickly turned into a true grit Truck Guy. "It needed a complete frame off restoration and I did about 75 percent of it myself. I sent the engine out to be done.
It's a 235 Chevy, not the original engine. I did the body and paint work myself in my home garage," he said referring to his garage with the 2003 Thunderbird convertible and the 1931 Ford Fordor Model A. The latter vehicle only added to his collection a couple years ago after seeing a customer's barn full. "I fell in love with model As. This one is a survivor car. It reached out and touched me so I had to have it," claimed Gaglio.
Rich refers to his GMC truck as a resto-mod – a restored modified vehicle. He decided to two tone the truck thinking it made it more utilitarian since it would be a work truck. He also used oak to line the bed instead of pine. Plus he choose not to paint the stainless steel strips. He also installed different mechanism for the tailgate to avoid the chains rubbing on his paint. He only put the company signage – Gaglio Construction – on the truck two years ago. "If I took it to a show, I would probably lose points, but for my use, this is what I want. It's great to show up at a customers home with it. Everyone loves it," he said.
The truck has been to the Harper Cruise, the Dream Cruise and in the St. Clair Shores Memorial Day Parade. "I drove in the parade with my dad in 2011. He was a vet and it was a special day for us both. I take my granddaughters out and they love it. They also love racing the go-carts that their mom raced back in the day too," he chuckled.
---
RICHARD TERRELL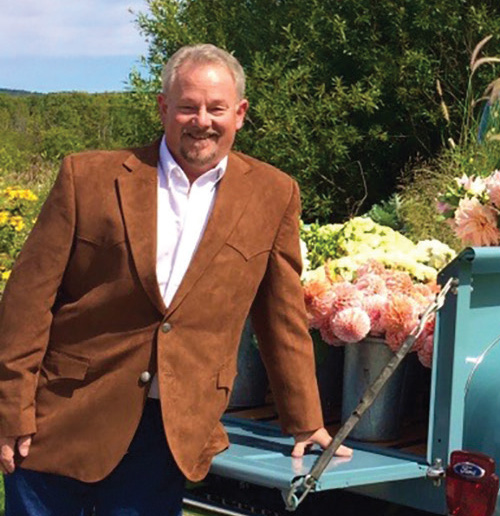 When it came to his father's 1951 Ford F-100 pickup truck, keeping it in the family was important to Rick Terrell, of Clinton Township. "My Dad (Bill) traded a new set of tires for this old farm truck in the mid '70s. Back then it needed a ground up restoration. I think he was drawn to the simple, no frills design and "toothy" grill. It's a blue collar working man's truck and when he named it Claude, it just stuck," said Terrell.
Rick's dad was a parts man by career and he was able to find what Claude needed. "He and I dove into the body panel removal and the subsequent frame painting phase. Dad handled the "tough" projects such as restoring the brakes, electrical and undercarriage / drivetrain systems. He sent the engine – a 239 CID Flathead V8 (100 hp) with original 6v electrical system – out for repair.
Rick's family had other vehicles too including a '39 Ford, a '61 Starliner, and a '63 Thunderbird. All were very nice. "When dad got older he insisted that I choose one vehicle that he would hang onto as he was preparing to downsize. I choose Claude so we would have to finish him together." Rick tagged along with the "Geritol Gang" as he called his dad, uncle Jack and their friends when they traveled to truck shows. "The trips were packed full of memories. The Grand National F-100 show was in Pigeon Forge Tennessee and a larger truck show featuring tractor trailers Kenworths, Macks, Peterbilts was in North Carolina. This trip also included NASCAR garage tours, and a trip through Dennis Carpenter's operations." Rick, who has worked at FCA for 25 years as a sheet metal forming engineer continues in his dad's footsteps with his passion for being behind the wheel. "I have a 2010 Challenger and a 1970 Plymouth Fury III. I also enjoy riding my old mini bikes, a 1971 Honda 50 mini trail and 1972 Honda 90."
---
JAMIE PANGBORN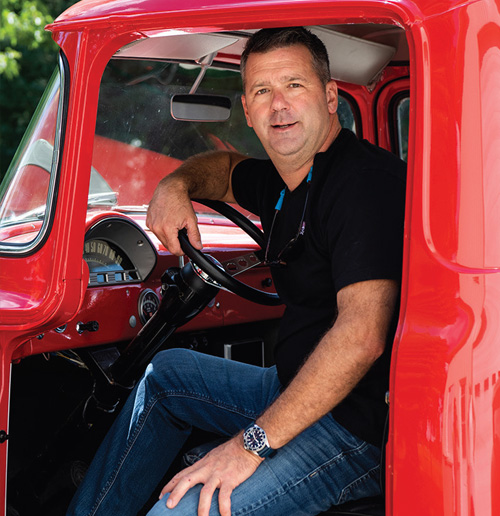 If you knew Jamie Pangborn you would probably think of him as a boat guy, but he's also a truck guy at heart having owned a 1979 Dodge Lil' Red Express truck as his first vehicle. When his father-in-law passed in 2005 he was happy to take on the responsibility of finishing restoration on his father-in-law's 1956 Ford F-100 pickup. The truck, which had been in his wife Jennifer's family since the early '70s, was getting a second frame off restoration and was 90 percent done. "When Jack (Terrell) died, the family had really wanted to keep the truck somehow," said Pangborn. Jack was the younger brother to Bill Terrell. The truck wasn't the only classic car his wife's family had but it was the one his wife had spent the most time in growing up. "Jenny and I had the means to finish the restoration job and we had a place for it, so we were excited to keep it in the family," said Pangborn. Pangborn, who owns and operates a gear and gearbox manufacturing company called IDC Industries in Clinton Township, put his own spin on the truck. "Jack was all about stock and I respect that, but I wanted to set it apart just a bit so I had a new Ford 351 engine with racing heads installed. I also put power brakes and steering in allowing it to be more an everyday driver." The truck has been shown at the local Harper Cruise and at the Detroit Yacht Club Father's Day car show. "We rarely get out and drive it, but when we do it's just so fun to get the waves, and the looks while driving. The plan is to keep it in the family and pass it on to my kids someday," said Pangborn.