Making Your Home Cozy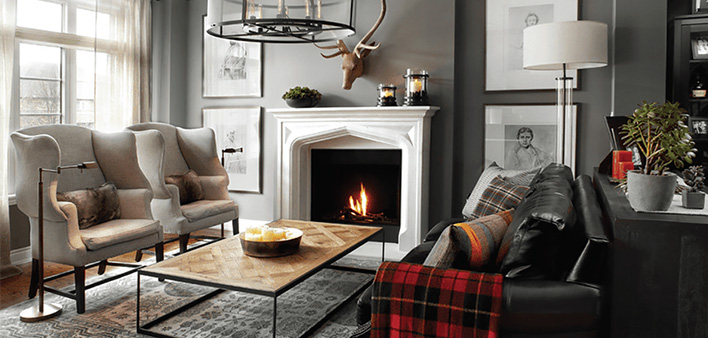 By Falyn Bauman
There is no better feeling than waking up on a brisk winter day, getting out of bed to feel warm cozy carpet under your feet, fresh new window treatments that block out the cold winter air on your windows, and sitting with a coffee in your hand next to a lit fireplace. When the snow is outside, the inside of your home should feel like a warm escape. There are many simple things you can do to create an inviting space for you and your holiday guests.
Floors
Adding in soft surfaces such as carpeting or area rugs can help you achieve a comforting feel. Mohawk SmartStrand carpet is just one of many carpet manufacturers that offer a wide range of styles, colors and price points. They have something for everyone! Quality is an additional factor to consider along with stain resistance, both so important this time of year. It is almost guaranteed an accident will happen when hosting a house full of guests. Thankfully, stain-resistance carpets protect you. You will have no problem lifting up a spill, even if it's red wine!
Windows
Window treatments are an excellent upgrade to provide additional warmth. Hunter Douglas Duette Architella will help keep the heat inside and the cold outside. Windows are responsible for up to 50 percent of your home's energy loss. Duette shades will trap out cold air and insulate your home. Hunter Douglas Duette Architella has a honeycomb-within-a-honeycomb for even greater energy efficiency. This means you are losing less heat and saving on energy bills. They even absorb up to 70 percent of sound from the outside, which makes for an even calmer, quiet area.
Colors
Color is everything! Adding in warm earthy tones will make all of the difference. Leave the cool, dull greys for the outside and introduce some warmth into your home. You don't have to change your paint colors to bring in warmth. Adding pillows, candles, flowers and throw blankest provide pops of color and warmth to your space. If you have trouble with color coordinating, new ideas, décor placement, or envisioning any remodel, hiring a professional interior designer is always a great idea. They can help you introduce those warm tones and make everything much more inviting for your friends and family.
Your home should always be your happy place. Having cozy carpet, window treatments, and warm colors will make your home an inviting place to host gatherings as well as a perfect oasis to come to after a long day of work. Falyn Bauman has a Bachelor's in Interior Design & Architecture and is the owner of Richmond Interiors, located on Main Street in downtown Richmond. Her store specializes in flooring, window coverings, counter tops, wallpaper, tile, rugs, interior design and more, making it a onestop-shopping experience for all of your home remodeling needs.