Making a Difference for At-Risk Teens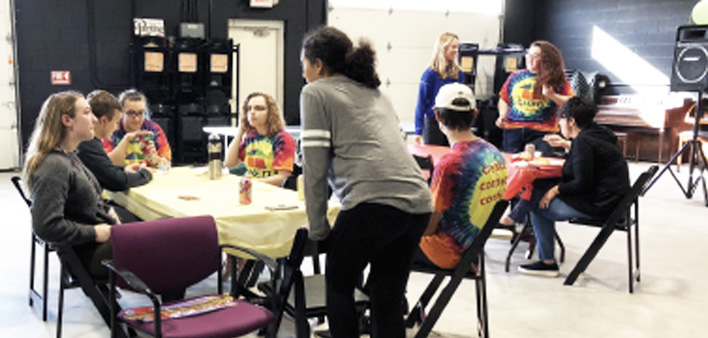 By Nick Lico / Photography by Isabella Monacelli
Suicides are on the rise among young Americans. In fact, it was the second leading cause of death among Americans aged 15-24 in 2017 with over 6,200 suicides. There are numerous organizations devoted to suicide prevention, both nationally and locally, including KnowResolve. Founded in 2007 by David Liegghio after losing his father to suicide, KnowResolve is a nonprofit organization dedicated to promoting mental health and preventing youth suicides through outreach, advocacy and education.
"Our goal is to break down the silence, shame and stigma surrounding mental health disorders and provide adults and young people with the tools needed to prevent suicide," said David Beran, KnowResolve president of the board.
Through its suicide prevention programs KnowResolve connects students with information, resources and skills that promote resilience, self-empowerment and help-seeking behavior.
"Prior to the pandemic, we would go into schools and speak to hundreds of kids about what to do when they or others are in crisis situations. For those who lost someone to suicide, this is a way to overcome the loneliness and the loss," Beran added.
Covid-19 has significantly altered everyone's life. It has also placed additional pressure on young adults. Organizations such as KnowResolve have had to adapt.
"We started a teen center in September 2019 and that was a dream come true for us because it gave teens a place to go where they can be themselves and learn traits, talents and skills that will enable them to thrive," Beran said. "We were open for six months before it was shut down due to Covid. Unfortunately, for teens, this eliminated yet another connection to other kids that they normally would have in a non-Covid year."
The teen center is called The SHED and it's an after-school activity center in Shelby Township. "The SHED is a true, youth-driven space where teens have a working partnership with adults in what happens here, and how it looks. It's a safe space for students 13-18 to create, connect and confide with each other and with trusted, caring adults," he explained.
While The SHED is closed due to Covid, KnowResolve has adapted some of its other programs to continue providing assistance to these young adults, including by turning the Rant Room into a virtual experience.
"The Rant is a weekly support group for teens where they can connect with other teens, vent about anything and everything, and cultivate healthy coping skills. It's facilitated by a mental health professional," Beran said.
Also virtual for now is the Detour Project. Beran describes it as, "A more abstract approach to our mission of promoting mental health. There will be many facets to this program in the future but we are beginning with a twice monthly virtual workshop for teens for now."
He stated that the workshops are built around simple, creative exercises that anyone can do, and no experience is necessary.
"KnowResolve is open to any kid. Many tell us they're more comfortable at our center than they are at home. Our motto is no questions, no judgements," he explained.
The effectiveness of KnowResolve is reflected in the startling statistic Beran shared: "Since 2007, we have reached more than 140,000 teens."
For more information, including volunteering or donating, visit knowresolve.org