Macomb Farm in Winter: A Holiday Card to our Readers – 1904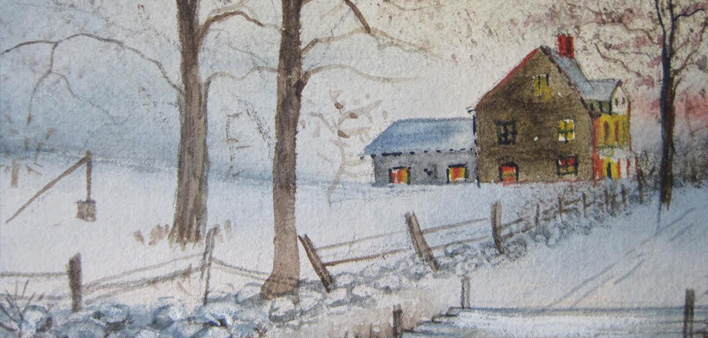 (from the Winter, 2013 issue of Macomb Now Magazine)
By Denis LeDuc
The fertile farmland is asleep under the heavy snow. The setting sun glows on the farmhouse, evening is coming on, and lights are ablaze in the windows. Inside the home we know it is warm and welcoming. We can imagine the family busily preparing Thanksgiving or Christmas dinner and awaiting the relatives and friends who will soon come up the snowy, rutted road  in the foreground. The aroma of roasting turkey and warm, spicy, mulled cider fills the kitchen.
Notice the texture of the tree trunks and branches, the wooded planks bridging the ditch, and the suggestion of the stones formed by a few simple strokes of soft color fading into shadow.
Artist Annetta Peck (1888-1967) drew this miniature scene about 1904. She was self taught in pencil, watercolor and chalk. The daughter of a conductor on the Wabash R.R., she grew up on the lower west side of Detroit, loved to ride the interurban rail cars to Mount Clemens, New Baltimore and as far as Port Huron, and to sketch.
If this was a definite Macomb farm she was acquainted with we do not know. I may have been her impression of several farms and more of a genre piece – much like a calendar print. This may also have seen one of a set of miniatures depicting the same scene throughout the changing seasons. That was popular in this era.
I want to tell you that Annetta Peck was my Grandmother, and on behalf of Macomb Now Magazine, I am so pleased to share this lovely holiday "greeting card" with all our readers. Merry Christmas and holiday best wishes to everyone.
Print courtesy of the Macomb North law Library collection.