Look Who's Cooking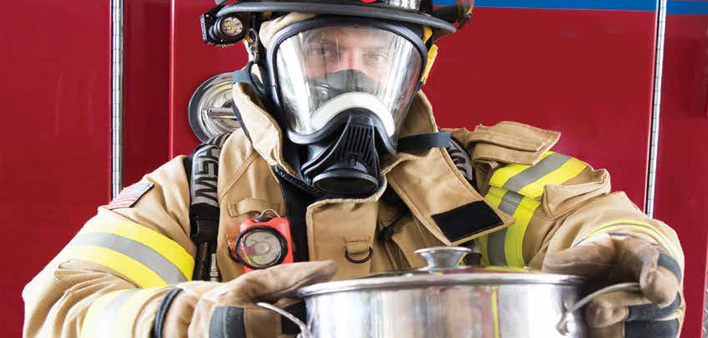 By Tracey Moro / Photography by Mike Ferdinande & Anne Nicolazzo
We rely on them to save us from fires. They pull us out of crashed cars. And they get us to the hospital when needed. They basically are there for us whenever we need them, just by dialing 911. So what are they fueling themselves with to keep their bodies ready-to-go at the sound of a bell? And, who is the one cooking up all these dishes in the kitchen?
Macomb Now Magazine staff thought that it would be fun and even educational to reach out to our local fire departments to see who are the Chefs of the department and what they are cooking up in their kitchens.
We were told at each station over and over that their meals are kept somewhat simple so they can be reheated. Getting interrupted during meal prep seems to be a common thing. Luckily all of our visits were quiet and the only bells going off were from the ovens. So you'll be surprised and impressed, as we were, with these fabulous recipes that anyone can make at home.
We thank our eight stations for welcoming us and hope you enjoy their recipes and learning about these firefighters. Fire Prevention Week is in October and many stations will have an open house. Take this opportunity to visit your local fire station and thank them.
---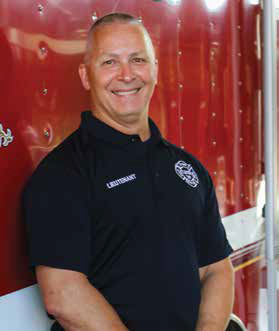 For almost 22 years Lt. David Heino has been a firefighter with the Clinton Township Fire Department. As lieutenant/EMT he is one of three at the station on Elizabeth Road and is a member of the County's Special Operations team. He's not the only cook at the station, since they all take turns, but he does get some special requests from the others who have taken a liking to his style of cooking. "They like me to cook my Asian-style recipes, but recently I've been trying Middle Eastern/Mediterranean foods. I'm trying to master hummus and chicken swarma," said Heino. He claims he takes a recipe and then works at it to make it his own. The father of two daughters says he doesn't have any specific training – just "on-the-job," which his wife and girls are happy about.
Pork Fried Rice By Lt. David Heino
Ingredients:
2 cups leftover rice
1 pound pork steak (trimmed and cubed)
1 cup bean sprouts
1/2 cup chopped celery
1/2 cup chopped carrots
1 can bamboo shoots
4 eggs (scrambled)
1 tsp. garlic
1/4 cup soy sauce
4 Tbsp. peanut oil
2 chopped green onions (for garnish)
Directions
In a large wok, heat 2 Tbsp. oil and saute the meat with the garlic until cooked. Add bean sprouts, celery, carrots, and bamboo shoots to the pan and cook for about three minutes. Transfer pan contents to a separate bowl and set aside. Add remaining oil to the pan and cook the eggs; return the ingredients to the pan and heat thoroughly. Add rice along with soy sauce and cook until heated, stirring continuously for about five minutes. Garnish with green onions and serve.
---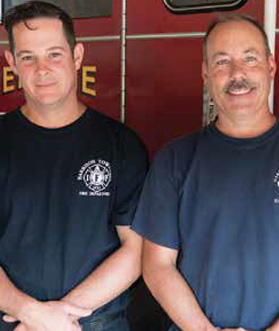 Sergeant Fred Darga follows in the footsteps of his great uncle, another uncle and a few firefighter cousins. With 20 years of being a full-time firefighter, he is usually at the north Harrison Township station and says he handles about 75 percent of the cooking. His counterpart, Ryan Sowter, has been with the Harrison Township Fire Department for eight years and is known as the south station chef. Prior to being a firefighter he worked at many local restaurants such as J. Baldwins, MacRays and Nino Salvaggio. "I learned the most from other chefs," said Sowter, who is also a Realtor when he's not at the station. For Macomb Now, these two joined at the south station and put a fabulous meal together.
Chicken Parmigiana By Firefighter Ryan Sowter
Ingredients:
Olive oil
Sliced provolone
2 slices per breast Parmesan cheese (I use Grana Padano)
Mozzarella cheese–shredded
1/2 cup fresh basil julienne
1/2 cup fresh parsley chopped Garlic
4-6 cloves
Chicken breasts–trimmed and sliced in half to make cutlets (1 lg breast will feed 1-2 people)
Fresh bread crumbs
Garlic powder Salt and pepper
2 eggs
1 stick of butter
Meat sauce (homemade preferred)
Directions:
Preheat oven to 400 degrees. In a large bowl add fresh breadcrumbs (Grate about a half a cup of Parmesan into your breadcrumb mix), chopped parsley, a couple shakes of garlic powder and pepper to taste. In a large pot (or rondeau) coat the bottom with olive oil and a little butter. Use one hand wet and one hand dry method for breading the chicken. Take a chicken breast and pat it dry. Pound it lightly then sprinkle with salt and pepper. Press into the breadcrumb mix carefully. Then dip into the egg mixture letting excess eggwash drip off. Then press back into the breadcrumbs coating evenly by pressing firm. Add your chicken breast to the pot along with a clove of garlic or two and brown on both sides on low to medium heat. Remove to foil tray. Repeat with all chicken breasts. Top your chicken breasts with heated meat sauce and sprinkle with basil. Top with shredded mozzarella and a slice of provolone. Grate Parmesan on the top. Place your chicken breasts in the oven uncovered until the cheese gets lightly browned and bubbly on top. Grate Parmesan on the top of your dish and serve!
Caesar Salad By Sgt. Fred Darga
Ingredients:
3/4 cup McEvoy Ranch olive oil, 1 garlic bulb (minced)
1 raw egg
Juice from 1 fresh squeezed lemon
1 Tbsp. sea salt
1 tsp. cracked black pepper
3 heads romaine lettuce
8 oz. BelGioioso shaved parmesan cheese
10 oz. (2 packages) Texas Toast
Caesar croutons
Anchovies (optional)
Directions
For dressing combine olive oil, egg, minced garlic, 1/2 of lemon juice, salt, cracked black pepper and then whisk until egg is thoroughly mixed. Clean/wash romaine lettuce and remove center rib from larger leaves and allow to dry (Use paper towel or a salad spinner). Layer the lettuce and the ingredients. Tear one head of romaine lettuce into bite size pieces and place into large bowl, then add 2/3 bag croutons, 3 oz. BelGioioso shaved parmesan cheese, and 1/3 of your Caesar dressing. Toss thoroughly! Repeat with the second and third heads of romaine lettuce until you are tossing the entire bowl. Add anchovies, cut into small pieces. Enjoy!
---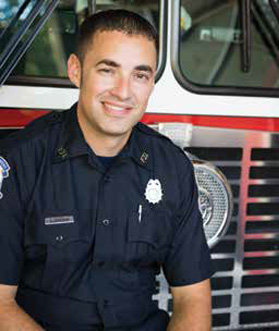 Dave has been a firefighter/EMT since 2003, and a full-time firefighter/EMT for the City of Mount Clemens since 2005. Prior to that he worked in a kitchen for 11 years having started as a dish washer at the age of 15. By 17 he was a line cook. At 19 years old he was a sous chef and by 21 years old he was helping with the day-to-day operations of the kitchen. "At the fire station I love cooking for the guys. Everyone at the station helps out and I love getting new recipes from them," said Buscaino. "I come from a big Italian family and we always eat together. When I became a firefighter the transition was very easy," said Buscaino. "Being a firefighter is a lot like being part of a large family. I have the opportunity every day to work with the best people I have ever met."
Swordfish with Fresh Lemon Basil By Firefighter David Buscaino
Ingredients:
Fresh swordfish
1 cup of lemon juice
1 Tsp. of soy sauce
2 big cloves of minced garlic
Fresh chopped basil
Garlic butter
Directions:
Mix garlic butter, lemon juice and soy sauce and marinate swordfish. Bake for 20 minutes at 400 degrees or grill for 20 minutes.
Asparagus
Ingredients:
Asparagus
1 Tbsp. balsamic vinegar
1 Tbsp. soy sauce
2 cloves of minced garlic
Salt and pepper
Olive oil
Parmigiano-reggiano cheese
Directions:
Mix asparagus in balsamic vinegar, soy sauce, garlic, olive oil, salt and pepper. Bake for 20 minutes at 350 degrees. After 10 minutes add Parmigiano-reggiano cheese. Serve with risotto and fresh bread.
---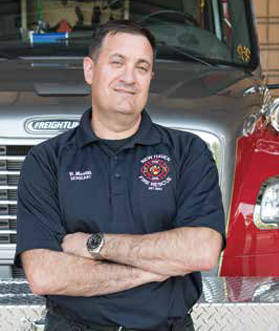 The New Haven Fire Department is an on-call department of about 20 firefighters. Most like, Sergeant Bill Musilli, also have full-time positions. When a call comes through they are contacted, drop what they are doing and go. Although they don't spend 24 hours a day at the station where they need to do a lot of cooking, they were quick to nominate Bill as the cook of the station. "I like to eat, so I like to cook," said Musilli. "I grew up in an Italian family. My mom was a great cook and I started paying more attention to her cooking before I moved out." He's been with the fire department for 11 years. "I do it because I just like to help people. I love living in a small town where everyone knows each other."
Chili By Sgt. Bill Musilli
Ingredients:
3 lbs. ground meat
1 large onion
2 poblano peppers
2 Hungarian yellow peppers
1 green bell pepper
2 – 28oz cans of stewed or crushed tomatoes
1/2 cup chili powder
1/4 cup garlic powder
1/4 cup paprika
2 Tbsp. cumin
1 Tbsp. salt
1 Tbsp. black pepper
1/2 Tbsp. cayenne pepper
Directions:
Brown and drain the meat. Finely chop the peppers and onion (Smaller the better) Mix meat, onions, peppers and tomatoes in pot. Add 1-1/2 cans of water. Mix together then add the spices. Bring to boil, then simmer for three hours. Stir every 20 minutes or so. If it's too watery after a few hours add a couple tablespoons of flour to thicken. Let it cool and put in the fridge and don't eat it until the next day. It's worth the wait. Top with shredded Cheddar cheese.
---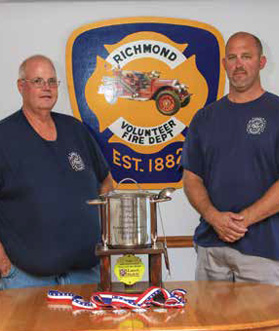 After 10 years of being a volunteer firefighter in Richmond, Pete Folske said "just being with the guys is the best. It's a big family." Having taken the culinary program from Macomb Community College, Pete used to be a cook at the old Hillcrest Country Club and is a retired cook from the Macomb County Jail. "It's nothin' but fun," he said. "I cook at home and even make a cherry wine. I joined the department with all the guys I grew up with." Now he enjoys cooking for the nearly 40 volunteer firefighters at the Richmond Volunteer Fire Department. He and fellow volunteer Matthew Ball are the chefs of the department, although each month all of the volunteers take turns having to provide the meal for everyone. "We are the ones who actually cook something," said Ball, who claims to be a self-taught cook. "I'm a single dad of two growing boys so I cook at home all the time." Matthew has been a volunteer for five years and says "Isn't it every boy's dream to be a fireman?" His dad was a fireman for 20 years. He claims he just "got a late start." Matthew is happiest using his smoker, which he pulls behind his truck. It holds 40 racks of ribs. "My favorite is smoking pork butt. Sometimes on a Sunday I call up everyone and say 'come on over, I'm cooking!'" The department works completely with volunteers who are constantly on call. They cover Richmond and Richmond Township, and in St. Clair County, Columbus and Casco Township. When a call comes in, they all receive notice and whoever can make it does. "When there's a big fire, or a storm like back in March, our wives will bring us coffee and food. They are a big help," said Folske. Summer is their busiest time and in the winter they gear up for the Richmond Winterfest Chili Cookoff, where they have won awards for their Chili recipe.
Sloppy Joe By Volunteer Firefighters Pete Folske & Matthew Ball
Ingredients:
7.5 pounds of lean ground beef
Hamburger buns
1-3/4 cups and 2 Tbsp. chopped onion
1-3/4 cups and 2 Tbsp. chopped green bell pepper
1 Tbsp. and 3/4 tsp. garlic powder
2 Tbsp. and 1-3/4 tsp. prepared yellow mustard
5 2/3 cups ketchup
1/3 cup and 2 Tbsp. brown sugar
Directions:
Brown the burger and drain. In a large pot add the browned ground beef and combine all ingredients in the pot. Bring to a simmer and serve on a hamburger bun. Some prefer to add a slice of cheese and mustard. Accompany with baked beans, chips, coleslaw, potato salad, or macaroni salad. According to Pete and Matt, "this is a great meal that's easy to make for a large group of hungry guys." For an easier recipe substitute your favorite Sloppy Joe mix.
---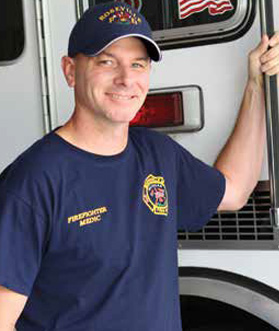 Mark Deschner has been with the Roseville Fire Department for 12 years. He says they all take turns in the kitchen and whoever doesn't like to cook will do clean up. Most times he is cooking for a large group of 8-9 and the station favorite is Mexican although they love his ribs. "One summer I cooked ribs all different ways until I found my favorite recipe. It's like a marriage between the rub and the sauce. You have to get just the right sweet with the hot." Mark developed his rib rub recipe himself along with his sauce recipe naming them Unit 1 after his unit.
Baby Back BBQ Ribs By Firefighter Mark Deschner
Unit 1 Sweet Heat Rib Rub
Ingredients:
1 cup brown sugar
¼ cup paprika (smoked for smoky flavor)
2 Tbsp. chili powder
1 Tbsp. onion powder
1 Tsp. garlic
1 tsp. black pepper
Directions:
Combine all ingredients in a bowl and set aside.
Unit 1 Tangy Rib Sauce
Ingredients:
2 cup ketchup
½ cup water
1/3 cup apple cider vinegar
1/3 cup brown sugar
2 Tbsp. yellow mustard
1 Tbsp. onion powder
1 Tbsp. garlic powder
½ tsp. cayenne pepper
½ tsp. salt
Directions:
Combine all ingredients into a sauce pan and cook on low heat, simmer for 20 minutes stirring occasionally. Remove and let cool prior to serving.
Ribs
Ingredients:
Two racks baby back ribs
Kosher salt
Directions:
Take your two racks of ribs and remove the back membrane using a paper towel to grip the membrane and pull it off. Rinse and thoroughly pat dry the ribs. Sprinkle kosher salt on both sides of the ribs (about 1 Tbsp. per rack). This is called dry brining. Set ribs in the refrigerator, lightly covered, for at least one hour. Preheat oven to 300 degrees when ready to cook. Cover ribs with the rub on both sides thoroughly, using your hands to work into the meat. Wrap both racks of ribs together in aluminum foil, side by side, so that they are completely encased in the foil. Place the ribs on a oven pan and place on the middle rack of the oven. Bake for 2.5 to 3 hours. Preheat grill on low heat. Remove ribs from oven when finished and peel foil back. Baste ribs with the sauce on top side thoroughly. Sprinkle 1-2 tsp. of remaining rib rub onto the top of each rack of ribs. Gently (the ribs will be fall off the bone by now) place the ribs bone side down onto the grill. Grill the ribs for about 10-15 minutes, until the sauce becomes thicker. Do not flip the ribs as they will fall apart. Serve with remaining sauce, rice, brussel sprouts and corn on the cob. Enjoy.
---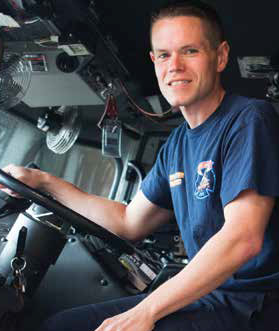 Sitting in his high school social studies class, Chad Hyvonen was chosen to spend the day at the St. Clair Shores Fire Department. After that day, he realized he had to be a firefighter. He has now been with the department for 17 years and admits that he loves to cook, so much so that he began taking a few culinary classes at Macomb Community College. Chad came up with simple recipes that anyone can whip up just in case someone is out on a run. "I love cooking, but coming up with the idea is the hardest part," Hyvonen confided. When he's not driving the fire engine or in the kitchen Chad finds himself fishing on the Milky River with his two sons.
Honey Mustard Chicken By Firefighter Chad Hyvonen
Ingredients:
5 chicken breasts
1 cup Cheddar cheese – shredded
1 pound bacon – cooked well and crumbled
1 bunch of green onions – chopped
Salt and pepper to taste
Sauce
1/3 cup honey
1/3 cup Dijon mustard
1/2 tsp. lemon juice
Directions:
Preheat oven to 400 degrees. Make the sauce by mixing all three ingredients together until combined evenly. Trim excess fat and filet or use a mallet to even out chicken breast. Season with salt and pepper. Place the chicken in a bowl and put half of the sauce on top. Sauté each chicken breast in a small amount of oil until browned and then place on a sheet pan. Bake for 15-20 minutes until done. Divide the bacon and top each chicken evenly and then the same with the cheese. Spoon remaining sauce over chicken and bake for another
3-5 minutes until cheese is melted. Once out of the oven, top with green onions. Serve chicken with potatoes, steamed broccoli, green beans or any of your favorite vegetables.
---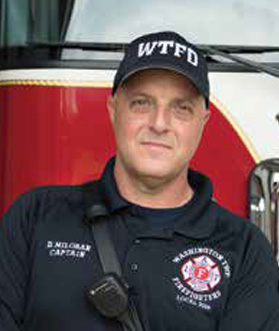 Dennis Milobar is the captain/paramedic for the Washington Township Fire Department. Now in his 22nd year with the department, he always knew he wanted to be a firefighter, so when he graduated from college he made it happen. "We share the duties of cooking here. We mostly cook meals that are good for reheating since we never know when we might have our dinner interrupted," said Milobar. "This recipe was developed for the firehouse because it is easy to make and can be eaten anytime. We can grab a quick bowl of it in between a call on those busy summer time shifts," he said. Dennis grew up watching his mom and grandma cook and will bring in an old recipe like Pierogi once in awhile. His pasta salad recipe is easy and can be easily modified. He likes to use fresh grown produce from the local farm markets.
On-the-Go Chicken Pasta Salad By Captain Dennis Milobar
Ingredients:
2 lean skinless-boneless chicken breast
1 pound of spiral rotini pasta
Cucumber
Sweet peppers
Vidalia onion
Tomatoes
Your favorite Italian dressing
Fresh and/or grated Parmesan cheese
Directions:
Clean chicken and remove any fat or undesirable parts. Place chicken in a gallon size plastic bag and pour in a generous amount of your favorite Italian dressing. Allow the chicken to marinate for at least a few hours. Boil pasta according to directions and then drain completely. Wash and dice up the veggies. Again, you can add or delete veggies based on your taste buds. You can also add more to any of the veggies based on your preference. After a few hours of marinating, grill the chicken until chicken is the appropriate temperature. Allow to cool, and then dice the chicken to your liking. *In lieu of marinating the chicken you can also sauté chicken in olive oil and season with your favorite spice. (Jane's seasoning works great). Combine pasta, chicken and veggies into a large bowl. Add a little Italian dressing to help mix everything together. Sprinkle grated or fresh Parmesan cheese while mixing contents. Chill for a few hours. Salt and pepper to taste. Serve cold, add dressing and cheese to desired taste.