Lace Up For Fun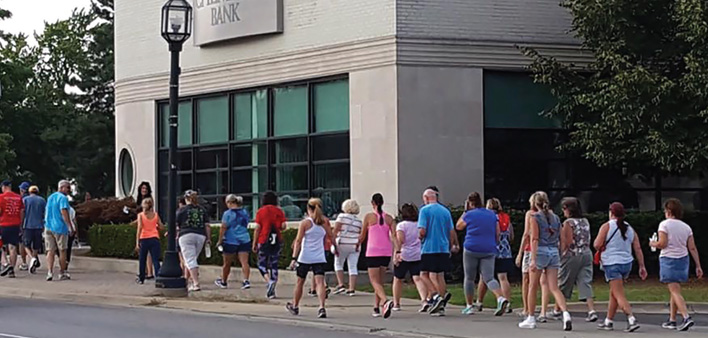 By Jason Davidson

Do you enjoying running or walking, and want to make it part of your regular routine? Do you need motivation to keep that New Year's resolution to be more active? Then consider joining a local walking/running club this spring. They are growing in popularity for good reason. Most clubs are free, and all are there to support, encourage and motivate each other. Whether you run a seven-minute mile or you're a casual walker – there is no distance, pace, or achievement requirements; no judgement, no timers and no bibs. Just the requirement to lace up, show up, get those steps in, and have fun!
The walkers/runners who joined the Mount Clemens City Sneakers (which started in 2016), quickly found support, motivation, encouragement, accountability, and friendship in their fellow walkers/runners. There is a great community and social benefit to these groups. You are in an environment of like minded individuals who enjoy the same experience, therefore you are more likely to stick with the routine.
You'll develop friendships with other runner/walkers and eventually your walk time is not considered a workout, it's time to get together with friends. Running clubs are a fantastic way to meet running partners that you can train with, outside of club sessions, which can be particularly useful on those dark winter nights!
There is no shortage of research studies that show the benefits of both running and walking to your overall mental and physical health. Those who participate in regular runs or walks improve their weight/BMI, lower blood pressure, improve lung function, have higher self-confidence, are happier, and have increased brain function. Running/walking also burns stress. Don't we all need to beat down the stresses of everyday life? With a local club, you are more likely to commit to making walking/running part of your weekly routine, which means you'll experience all the benefits of the exercise.
Joining a club is also a great way to explore restaurants and other businesses in your community, as well as see different parts of the neighborhood that you wouldn't normally. By patronizing these host places, such as Orleans, O'Hallorans, Frank's Eastside Tavern, Polski's, Pub 1281, Rec Bowl, Your Mothers, and Bath City Bistro (current host locations for the City Sneakers), and others, including the Macomb Family YMCA and New Balance Detroit, you end up boosting the economy in your community. They often provide water and pre-walk/run snacks. Afterwards the restaurants provide food and/or drink specials for participants. It's a win-win win!
Jason Davidson is one of Mount Clemens City Sneakers leaders. He also works at Austin Catholic School and serves on the Clintondale School Board.