Kids Finding Rainbows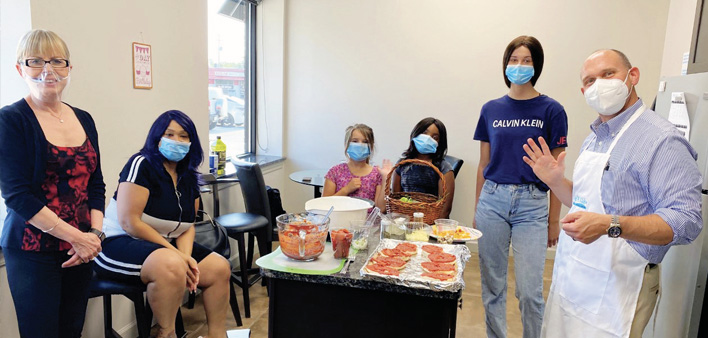 COVID-19 can't keep Maggie's Wigs 4 Kids from its mission.
By Nick Lico
Even a worldwide pandemic wasn't enough to stop Maggie's Wigs 4 Kids of Michigan, Inc. from its mission of helping children.
"It's amazing what we were able to accomplish in the middle of COVID-19," said Maggie Varney, the charitable organization's founder and CEO. "Even though we were closed to the public, we never closed to the children."
Like nearly everyone else, Maggie's Wigs 4 Kids found solutions to work around the restrictions provided by COVID-19.
"Out of something bad comes something good," Varney added. "Before COVID, the children had to travel to our location to get measured for their wigs. Now, through Zoom and with the help of child life specialists and nurse navigators, we can measure them remotely. Then we can order their wig while they're receiving treatment in the hospital and by the time they are released to go home, their wig is ready. We can mail the wig to them, along with a wig maintenance kit of all the items needed to maintain it, as well as a welcome bag full of comfort items. As I tell everyone, it's best to look for the rainbow in every storm."
Located on Harper in St. Clair Shores, Maggie's Wigs 4 Kids has provided more than 5,000 wigs to children and young adults experiencing hair loss due to cancer, alopecia, trichotillomania, burns and other disorders. As Varney explained, every wig provided is custom-fitted, age-appropriate and individually cut and styled as requested by a child or teenager to help them feel comfortable and confident.
"For the first five years of this program, I paid for everything myself. Eventually, we were fortunate enough to gain the support of various organizations and individuals. Thanks to their financial backing, every kid in Michigan who needs a wig for health-related issues receives one — along with anything needed to maintain it — free of charge," Varney added.
That financial support has been instrumental in what Maggie's Wigs 4 Kids can provide children, including an Enchanted Tea Room in the charity's Wellness Center.
"Our Enchanted Tea Room opened in June 2021. It offers our wig recipients and their loved ones a safe and comfortable place for life celebrations such as end of chemo parties, birthdays and graduations," Varney added.
Available only on Saturdays, the Enchanted Tea Room can accommodate up to three events per day for a limited number of guests and is decorated based on the type of party.
"Our kids are too sick and can't go where the public goes, especially now. Having a party in our Enhanced Tea Room doesn't cost the families anything," she said.
Also debuting last year was a raised therapy garden constructed by Lions Clubs from St. Clair Shores, Shelby Township, Sterling Heights and Troy.
As Varney explained, the garden provides wig recipients and their loved ones the opportunity to grow and harvest their own herbs and vegetables, which will be utilized in farm-to-table nutrition cooking classes. It's also being used for some of the parties. As Varney explained, Maggie's Wigs 4 Kids continues to grow. "We work with all eight hospitals in Michigan that have child oncology programs and we continue to do outreach programs," she said. "We can't thank the community enough for all of their support. We wouldn't be here without them."
There are many ways you can help this local organization. According to Varney, you can donate time, talent, or treasure. Volunteers are always welcome. If you own a salon, you can sign up to donate cut hair to the cause. Individuals can also donate their hair. Because this is a nonprofit 501(c) (3) organization, monetary donations are welcome. For more information, visit wigs4kids.org.