Keeping Us Healthy & Fed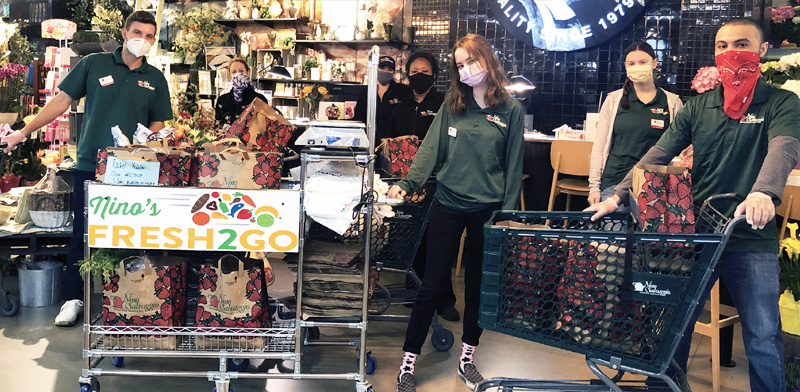 Local markets step up during pandemic.
by Nick Lico
Ensuring stores are clean is entrenched in the philosophy of any successful food market. When COVID-19 hit, however, local entities went even further in their measures to keep their customers and their employees safe.
"As soon as the pandemic hit, we started instituting daily meetings focused on keeping our employees and customers safe," said Frank Nicolella, Nino Salvaggio International Marketplace co-owner, in Clinton Township. "We immediately put in place a strategic plan and kept it flexible, responding to state and CDC regulations as they evolved," added Salvo Munaco, general manager at Vince & Joe's Gourmet Market in Shelby Township. Nearly every market and grocery store in Macomb County quickly put steps in place to address the pandemic, including creating one-way aisles, disinfecting carts, requiring face masks, installing acrylic plates at cashier stations, and extending shopping hours for seniors, expectant mothers and those with compromised health issues. Many implemented additional measures.
"We immediately took loose items, such as the salad bar and bread, and packaged them for enhanced customer safety. We also started curbside pickup, a convenient way for our customers to get their produce," explained Sonny Randazzo, co-owner, Randazzo Fresh Markets.
All three Randazzo stores are being sprayed nightly by a company called Virus Control. "Although the spray is 100 percent food safe, we still cover all produce," Randazzo added.
Curbside pickup has proven extremely popular with patrons and nearly every local market, including Guastello's Village Market in St. Clair Shores, has launched it.
"It's exactly what customers want. We launched our curbside pickup through our Facebook campaign. The customer feedback has been so overwhelmingly positive that we're making it a permanent part of our business," said Al Guastello Jr. His grandfather started the store and Al and his father currently run it.
Some stores, such as Weiss' Meats and Deli in Chesterfield had to get creative to keep everyone safe.
"During the first two weeks of the pandemic we were one of the few markets in the area getting meat and it got to the point that the store was overcrowded. We tried a couple of steps, including having customers line up outside, but we were still too busy. On March 26, I shut down the store to ensure the safety and health of our customers and put our inventory on a newly created website. We're using space next door for curbside pickup orders," said Kurt Kleiner, store owner.
When face masks became scarce, several Vince & Joe's employees took it upon themselves to make them, helping ensure every employee was properly and safely attired. Further ensuring everyone's safety, Vince & Joe's distributors started delivering their items outside the store.
As part of its ongoing effort to provide lower-contact options for its customers, in late May Kroger switched from paper receipts to digital receipts for curbside pickup.
Slowly, things are returning to normal. The shelves are fuller and many stores are extending their hours of operation. This doesn't mean that safety measures are being abandoned. In fact, local markets expect current and new measures to remain in place for some time.
"A lot of the steps we have implemented are going to stick. Glass shields at cashier stations will become permanent and we will continue to pre-package food. We're also in the process of getting a facial recognition time clock that also takes our employees' temperature. Employees with a fever will not be allowed to clock in," Randazzo said.

Through it all, it has been the store employees who have been the unsung heroes, working through this challenging time. Thousands throughout Macomb County work in local grocery stores, and haven't stopped working since the pandemic hit. They work so we can eat.
"I can't tell you how much we appreciate our valuable employees helping us out during this time; they're my heroes," Nicolella said. "I'm also very grateful for our customers who trusted us to feed them and their families during this difficult time."
"Our management and employees have stepped up, making sure our markets are the safest environments for our customers. It's been a team effort and I'm pleased with our customers' overwhelming response," Munaco added.