Keep On Moving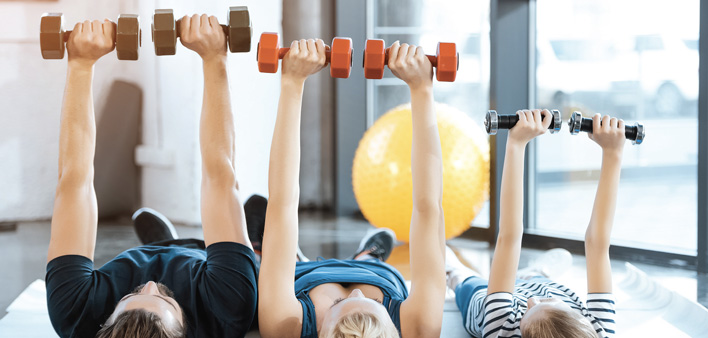 (from the Winter 2022 issue)
By Latitia McCree
Between the colder temps and COVID-19 concerns, there may be the inclination to be a couch potato. Resist. Move your body.
It is no secret that people who exercise are often healthier. They are less likely to contract chronic illnesses such as heart disease and if they do become ill, they are better able to heal and recover. The United States Department of Health and Human Services, along with the Centers for Disease Control (CDC), recommends that all adults exercise 150 to 300 minutes each week to support a healthy lifestyle and to prevent chronic illnesses. That's a minimum of 30 minutes of exercise five days a week.
There are plenty of simple activities you can do throughout your day that add in some exercise, including micro lifestyle changes. You can park in the spot farthest away from the door.
You can take the stairs instead of the escalator or elevator, and you can have walking meetings with colleagues.
Here are some more fun, easy ways to add movement and exercise to your week.
Dance
Put on your favorite jam and just have at it. Dancing is a great way to get any day started.
March
Pick a favorite 30-minute television show and watch it standing. March in place or step side to side.
Walk
Before the weather gets too cold, take regular walks and when it gets colder visit a local mall or big box store and walk the periphery.
Work out
Join a gym or other local exercise studio with a friend. Having a workout buddy is an incredible motivator.
Your exercise does not need to be rigorous. Yoga, pilates and swimming are also great ways to keep moving. If you need an added incentive take the YMCA – Y 170 Challenge. It is free and membership is not required.
In celebration of the YMCA turning 170 years old in 2022, the YMCA has asked everyone to take the Y 170 Challenge and exercise 170 minutes each week starting January 1, 2022. Participants who log a minimum of 170 minutes per week from January to September 18, 2022 can earn a chance to win prizes and each participant gets a seven-day free YMCA guest pass just for signing up. The guest pass can be used to swim, take a Zumba workout in the wellness center, and so much more. Those interested can download the YMCA Detroit app and register before the end of 2021. The Macomb Family YMCA in Mount Clemens is a part of the YMCA of Metropolitan Detroit.
Remember, always consult with a doctor before adopting any exercise regime.
Latitia McCree is a senior vice-president for the YMCA of Metropolitan Detroit, where she has served for more than a decade championing the YMCA's commitment to healthy living for all.