Juniors Jibbing the Sails.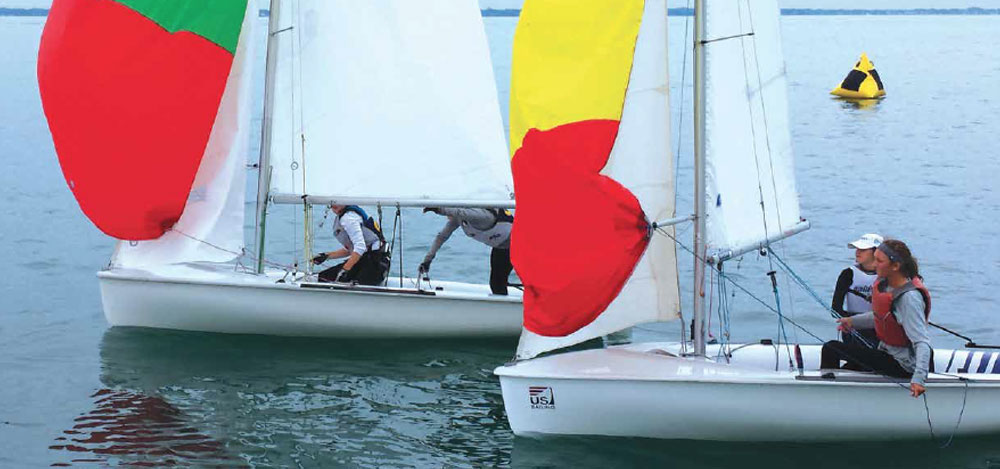 North Star Junior Sailing teaches water safety and life skills.
By Nick Lico / Photography by Michael Fellberg
Little compares to the allure of sailing, being able to traverse bodies of water powered only by nature. It was the harnessing of wind power that led to the exploration of our globe hundreds of years ago. If silently gliding across the water while tacking or jibbing the sail appeals to you, look into North Star Junior Sailing, Macomb County's only community junior sailing program.
"We are a community sailing organization with both youth and adult programs. Our programs are open to anyone wanting to enroll in them; they don't have to be a member or have an affiliation with any yacht or boat club," said Ian Pouliot, the organization's president.
Located in Harrison Township, North Star Junior Sailing's mission it is to promote safe boating skills, promote the lifelong sport of sailing and teach seamanship. It offers programs to teach sailing to children ages 8-17 and adults. A four- or eight-week sailing program is available, as is a youth racing program. "North Star Junior Sailing has been very successful. We've had kids go on to different levels of competition, including national levels. Many of our kids go on to sail in high-school and college," Pouliot added.
As some participants have discovered, learning goes well beyond sailing and into valuable life skills. "Our son William was always very cautious. He didn't want to ride a bike because it didn't look safe. He's much more confident now and has become a leader to the younger kids, showing them the ropes," said Sandie Street, whose son has been with North Star Junior Sailing for the past six years. "Before North Star Junior Sailing I was a scared little puppy in a box. Everything scared me. Now, I'm more courageous, more confident. I'm a completely different person," William added.
"Kids learn boating safety and decision skills. They have to figure out the problem and fix it or it goes really bad really fast. They have to have the confidence to make the right decision," Sandie explained. "We keep tuition for sailing lessons affordable by offsetting our overhead expenses through multiple fund raising methods and via volunteers and boat donations which may be eligible for a tax credit," Pouliot said.
"I would recommend North Star Junior Sailing to every parent. It's affordable and gets the kids out of the house and away from the computer. They actually have to talk, rather than text, each other. It builds camaraderie and friendships, including with other clubs. I can't say enough good things about the program," Sandie said.
North Star Junior Sailing was formally established as a 501c(3) charitable organization in 1988. For more information, please visit northstarjrsailing.org