Joining the Club? – Advice for the Sandwich Generation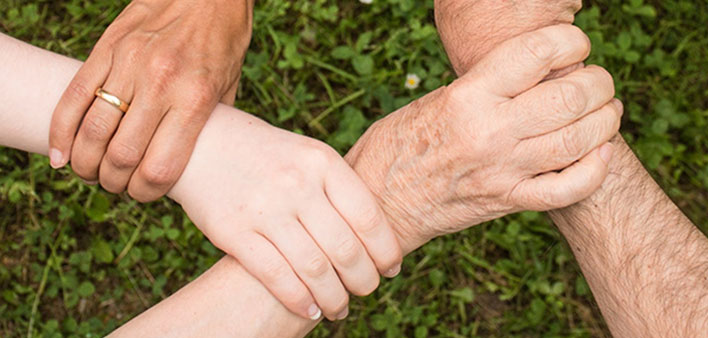 By Amy Persyn
According to a 2019 Kids and Money study from T. Rowe Price, Ð of parents who are raising kids ages 8–14 are also caring for an aging loved one. Those who are in this "sandwich" generation are facing the tough task of assisting their parents and their children with their financial needs. It can seem daunting, but don't lose hope. There are two key steps that can help you shape successful outcomes for those you care about – young and old.
Talk About it
The first step is to have an open dialogue. As much as our culture has progressed in terms of finances, talking about money amongst generations may feel uncomfortable if we don't know where to start.
With young children: Start with the simple idea of budgeting (saving, spending, sharing) and progress toward an earning and learning dialogue. These conversations plant the seeds that encourage children to think about the value of money while empowering them to make decisions about how they allocate it.
With teens and young adults: Discuss credit and bills – these things matter as they approach adulthood. Share with them the methods you use to track money and pay bills. Young adults need an understanding of how payments and debt work and the knowledge that cards cannot be symbolic of endless access to cash.
Because so many transactions now take place digitally, it's essential that kids link the value of money earned to how we pay for our needs and wants. How many of you have ever told your child, "We can't afford that," only to have them respond with, "Just use your card!" Knowing that purchases made with the card must be paid for with money earned by working was my first step in explaining that concept to my five-year-old when he said it.
With the Aging: It can be awkward to discuss finances and who has access to an aging loved one's accounts. Experts in the Aging Services industry suggest setting a family meeting to discuss how a family can best help their loved one in the event of an emergency. This can open the doors to the discussion of finances and the desire to organize financial information in preparation for an unexpected event or setback. On their website, the AARP offers a book called, "The Other Talk", that can aid families in approaching this conversation.
Seek Professional Financial Guidance
With young children: Because parents wish to support and protect their children, it's important to talk to a professional about how to plan for insurance to protect what you have, as well as how to plan for the future by exploring educational savings opportunities. Oftentimes parents choose to go it alone for these areas of financial management – if they explore them at all. A professional financial advisor can help!
An advisor can help safeguard your family from financial catastrophe in the event of an accident or untimely death by offering guidance to strive to protect the assets you have today. They will explore options and types of coverage with you that make sense for your situation.
With educational expenses on the rise, an advisor can provide information and set you on a path to support your child's academic future. They know the plan options and are a knowledgeable resource to determine what works best for your budget and children's aspirations.
With the Aging: Due to the changes in the relationship between those in the Sandwich Generation and their aging loved one, an advisor can first and foremost help keep focus on the plan in a neutral and unemotional manner. The advisor can, based on the aging loved one's desires and goals, craft a plan that is in line with each person's vision for how his or her financial affairs are handled. The advisor can then act as an advocate and assist in communicating to the family how financial affairs are to be handled. When appropriate, they may also recommend estate planning services.
For those who are balancing the needs of the generations that surround them, it can be a delicate and stressful time. It is important, as you work to protect your aging parents and to set your children up to be successful adults, that you don't forgo your financial stability for the sake of your family. Be sure to stay the course with regards to your own financial obligations, and to remember to take care of yourself and show yourself grace while you care for others.

Amy Persyn is a lifelong Macomb County Resident. She is passionate about connecting families and entrepreneurs with information that can help them become empowered and financially literate. New to First State Bank, Amy is happy to be part of a team of people who "walk-the-walk" and do their part to make our community great!