It's All in The Family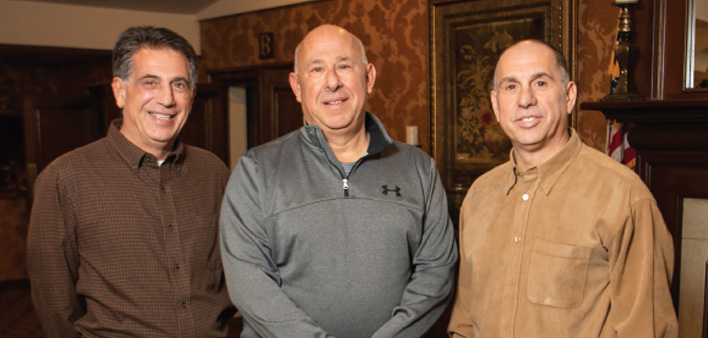 By Nick Lico / Photography by Mike Ferdinande
To trace Zuccaro Banquets & Catering's heritage, you need to go back a few generations.
"My grandparents owned a small grocery store in East Detroit and my parents worked there. Customers would ask our parents, Lillian and Albert Zuccaro, to prepare meals for them for special occasions. That led to them starting a catering business out of our house in Detroit," explained Mark Zuccaro. He, along with his brothers Dino and Rick run the establishment on Gratiot in Chesterfi eld Township. Another brother, Al, has since retired.
As Mark explained, the catering business led to a job for his dad at the Italian-American Hall on Conner in Detroit and later to a kitchen manager position at Royalty House in Warren. "Our whole family worked at the Royalty House," Dino said. Then, in 1972, when the Alcamo's on 16 Mile and Groesbeck came up for sale, the family purchased it. "Seven years later when the current location in Chesterfi eld became available, we jumped at the opportunity to purchase it," Dino said.
Zuccaro Banquets & Catering is a popular venue for Macomb County newlyweds and many have shown their satisfaction by "voting it a WeddingWire Couples' Choice Award winner for five consecutive years.
"We're extremely proud to have received "this award because, unlike other awards in which winners are selected by the organization, winners of this award are determined by recent reviews from WeddingWire newlyweds," Mark added.
The Couples' Choice Award recognizes the top five percent of local wedding professionals who demonstrate excellence in quality, service, responsiveness and professionalism.
Beginning next year Zuccaro Banquets & Catering will offer couples a one-of-a-kind chapel for those wishing to hold their ceremony on the premises.
"We've been hosting ceremonies on our patio for the past eight years. Our customers have requested something more elaborate to make their special day even more distinct, so we're in the process of adding an outdoor pavilion-like chapel to host ceremonies," Dino added.
As he explained, the chapel will be open on all sides and will include its own private bridal suite and groomsmen room. The grounds will be landscaped for on-site photo opportunities. Having everything in one place makes it cost effective too.
In addition to weddings, Zuccaro Banquets & Catering hosts graduation parties, sport banquets and much more.
"We do a lot of Taste Fest fund raisers for Chippewa Valley and L'Anse Creuse Schools and we've been deeply involved with The Salvation Army. We bring them food every week," Mark said.
"We're also involved with the Mount Clemens Rotary Club and through them we're involved with many nonprofit organizations, including Turning Point and Care House," Dino added.
In addition, they have been members of Selfridge Base Community Council for about 20 years. The nearly 300 community members help support the Selfridge men and women in the military and their families. Starting in July 2019, Mark will be presiding over the organization for the next two years. For these and other philanthropic efforts, the Zuccaro family was recently inducted into the Macomb County Chamber of Commerce Hall of Fame.
The brothers believe the reasons for their success can be traced to what they learned from their parents and grandparents.
"We're known for our tradition of hospitality and for making people feel welcome. Our customers compliment us for our delicious food and exceptional service. We work hard to accommodate everyone and to make every event a special experience for our guests," Mark said.
"From the beginning of your planning to the end of the wedding night you'll be dealing with an owner, a Zuccaro family member," Dino said.
"Come to Zuccaros and you'll be dealing with a Zuccaro."