Inspiring Fashionistas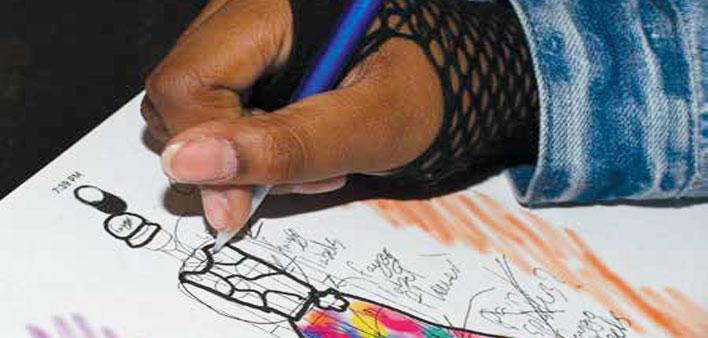 By Tracey Moro / Photography by Anne Nicolazzo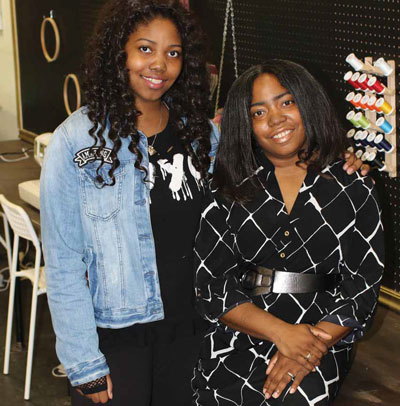 Years ago it was very common for mothers to teach their daughters basic daily tasks like cooking, cleaning and sewing. Back then most homes had sewing machines and moms filled your closet with homemade outfits sewn to perfection. Or they at least knew how to thread a needle and sew on a button, mend a sweater or darn a sock. Patterns were cheap and easy to follow and sketching a dress idea led to designing and sewing your one-of-a-kind outfit. This was how fashionistas were born at a young age. This is what happened at Toni Davison's home growing up.
Her mom taught her to sew at age nine and she sewed everything, from clothes to curtains, until she became a mom herself. "I had to shift gears once I had my daughter," said Davison. A few years later she kept the cycle going and began teaching her daughter Tiah how to sew.
Tiah was ten when she came up with the idea for her mom to open a sewing business. "We tried to get Tiah into sewing classes and for whatever reason it just wouldn't happen so she suggested we start our own company," said Davison. "She said, 'Oh mom you have been teaching me anyways, why don't you teach other girls as well?'"
They started with four sewing machines in the den and invited some of Tiah's friends and it took off from there. Then they added a mobile business providing afterschool programs at eight schools, Girl Scout programs and sewing-themed birthday parties. With a little push from her husband, Davison found a storefront in downtown Mount Clemens and the Fashion Factory Sewing and Design School opened its doors with a dozen sewing machines, a runway and every color of thread needed to inspire fashionistas of tomorrow.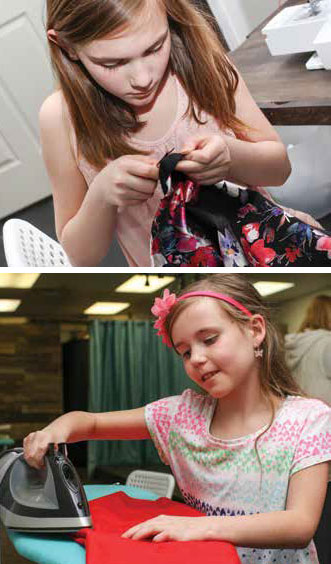 Encouraging girls with a passion for fashion is the Fashion Factory's goal. Davison still does the mobile classes five days a week during the school year. And now at the downtown location there are weekly classes where one can learn sewing techniques and complete fashionable garments, which are then modeled on a runway. Workshops are available for one-time sessions. Serious sewers can join as a member using the studio and the equipment on a weekly basis, moving at an individual speed, learning from the Glam Squad on site.
"Once the students learn the basics of sewing safety on a sewing machine, they tackle a project, finish it and end class with a fashion show. The fashion show gives the girls a chance to be proud and builds confidence. They have made bags, skirts, shorts, dresses, backpacks, and leggings," said Davison.
Lisette Kingma, of Shelby Township, is excited about the Fashion Factory and loves seeing her daughter, Renelle, 10, enjoying sewing. "It's been more than just sewing. She's into fashion now and she's having fun while learning," said Kingma. Her daughter started with an afterschool program and has continued with classes. "When she first started she made pillow cases and sold them. She's invited her friends and now they go as well."
Olivia Kaltz, 9, of Macomb Township, has been sewing for two years now. "I'm working on a dress for a fashion show. I'm sewing three dresses for three models," said Kaltz. Olivia's mom, Laura, admits she doesn't know anything about sewing and was grateful to find the Fashion Factory. "It was the perfect fit. She spends two to three hours a week there." Riley Davidson,12, of Clinton Township, is focused on sewing a dress for her gymnastics banquet. "Miss Toni helped with the pattern," she said. "Sewing can help you in your life. Even if you don't do it professionally you can use it in everyday life."
During the summer there will be Rock the Runway Summer Camps with full-week experiences for kids. The camp includes fashion-related field trips and different fashion challenges each day. Participants will work on three pieces during the week and will be in a fashion show at the end. While the focus has been working with children, Davison hopes to get more adults and seniors coming to the studio in the future. "We've done mom and daughter classes and are planning to do some more adult type-events in the future."
Davison is excited about her new storefront and the success the new business is getting but her satisfaction really comes from the kids she works with. "Seeing kids dressed in their completed project is the best feeling ever! I think back to the kid who was once anxious, unsure and saddened not thinking that their best was good enough and I am tickled to watch them as they stand there beaming with confidence, so proud of their efforts. It's why I do this. It's about so much more than sewing."