Improving Your Quality of Life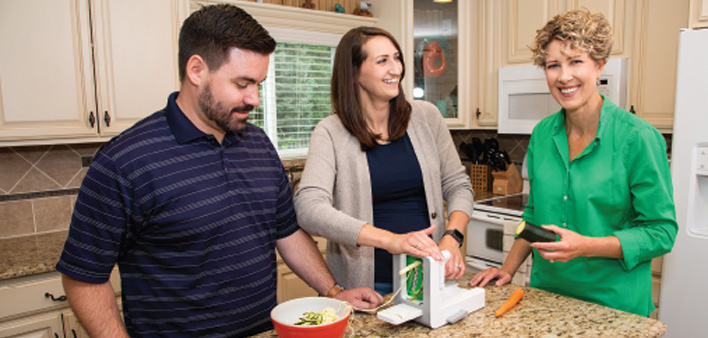 By Tracey Moro / Photograpy by Gugel Photography and Mike Ferdinande
Wintertime is a great time to focus on our own wellness. With shorter days of sunshine we seem to have a bit more time on our hands and instead of plopping on the couch it's a great time to do some self discovery and shape up. And who better to help us than a coach!
"I work with clients on making healthy food choices in their life and with their primary food – the aspects of our life that truly fuel us. Those are our relationships, career, physical activity and spirituality. When you think about what is bringing stress or dissatisfaction into your life you can look to one of these to find what is out of balance," said Heather Battaglia. She is an Integrative Nutrition Health Coach educated and trained to understand people's lifestyles and stressors, set realistic goals and get to the root of what keeps you from being successful at work, at play and throughout your life.
With a new year upon us, most will plan to lose weight – a goal that is really only one part of the bigger picture. "When things are in balance it makes it far easier to incorporate changes to the food you eat," said Battaglia. "I worked with a female client that her main health concerns were her weight, stress level and feelings of anxiety. We started with diaphragmatic breathing exercises. She began practicing this regularly and was able to start regaining control over her anxious feelings that were getting in the way of being an effective employee, wife, mother, and friend."
Battaglia begins by asking lots of questions, digging deep into what could be holding someone back. Then she sets goals, helps clients to be accountable and cheers them on. "I do not have a one size fits all program. I meet my clients where they are at and build the supports they need to be successful," she said.
"One of the things I am working on is reducing my stress," said Ann a client of Battaglia's in Clinton Township. She had tried all the commercial diets. "I have realized that I struggle with issues I didn't even know about, that have caused me to 'fail' in the past. Until I talked with Heather, I was unaware of these," said Ann.
Mike in Sterling Heights claims Battaglia has altered his path of life forever. "My relationship with myself has improved a great deal. I know that sounds odd, but learning to be more mindful in all aspects of my life has been invaluable. True health, is much more than just loosing a few pounds. Heather has guided my wife and I through menu planning, sample recipes, suggested books/videos/webinars on all sorts of topics."
Having a coach not only keeps you accountable to attaining your goal, a coach will inspire you. Maria Marino a fitness expert and NASM personal trainer, has helped hundreds of clients with exercise and living a healthy lifestyle while applying it to everyday life. With more than 34 years experience, she has developed programs for the community that her team of fitness pros teach.
To go along with eating right, you also must be active and exercise. Marino knows inspiration helps to get you in a routine of being active. "If you are one who needs the little 'push,' try scheduling your workouts with a friend, co worker or group by joining a fun and motivating class," said Marino. "The best way to fit in exercise is to schedule it in your weekly calendar. Just as if you scheduled an appointment with a doctor, you are held more accountable to be present."
When getting back into exercising Marino suggests you start off slowly. "A good way to ease into exercise is to join a beginners class that lasts about six weeks. This is a great step in a healthier direction. If you don't feel comfortable joining a class, you can always hire a personal trainer." Plus, she adds, you must mix it up to keep your body challenged. "Repetitive workouts will cause your body to plateau and you will not see further results. It is always recommended to take different types of classes or find an instructor who mixes routines up continuously."
As we age we lose strength, flexibility, muscle and bone density, which is why we often worry about older people falling. According to Marino, "strength training for those 50 and older can help increase weight loss, muscle, bone density, flexibility, boost metabolism, and increase daily energy. It also helps decrease joint stiffness, back pain and sleep troubles. In addition, strength training can also reduce the symptoms of diabetes, osteoporosis and depression.
Whatever your age, making yourself and your own health a priority is a must. With just a few small changes to your daily routine you will feel better and look better. Who doesn't want that?
For more inspiration visit – mariamarinofitnesspros.com and healthrenewedcoaching.com.