Igloo Dining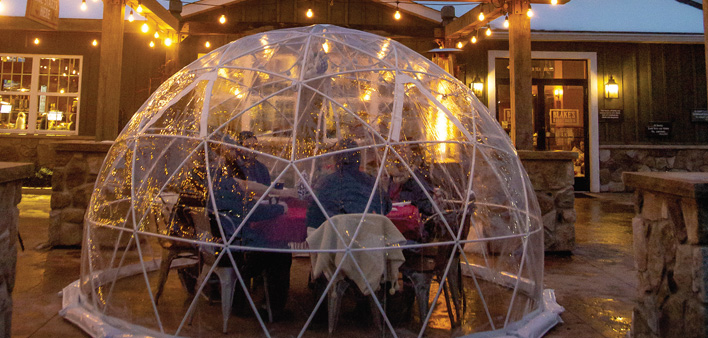 By Tracey Moro / Photography by Mike Ferdinande
Outdoor dining choices have dwindled now that winter weather is upon us – or have they? That's right, here in Macomb County we can still continue dining outside all winter long, that is if we dine igloo style.
Blakes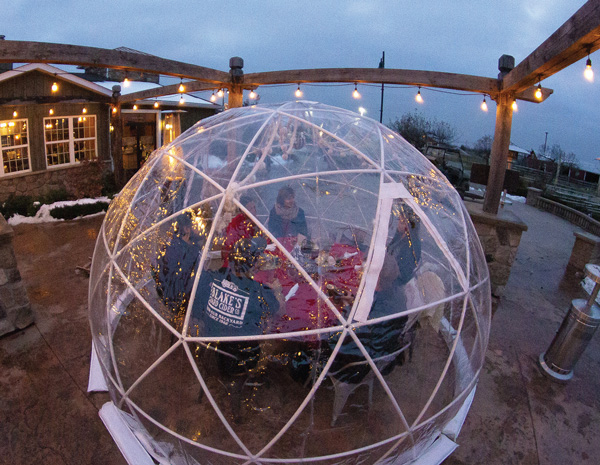 You may have seen these popular huts popping up throughout the state and now more and more restaurants are joining in with igloo dining. Here in Macomb we saw Blake's Tasting Room in Armada introduce us all to these cozy see through igloos last winter and they have brought them back again this year after popular demand.
"We are extremely excited to be offering igloo dining again at Blake's Tasting Room and have expanded our offering to Blake's Backyard in Almont due to popular demand last year," said Kaley Pittsley of Blake Farms.
Igloos offer a unique, fun experience for families and friends to enjoy dining out, and it's safe. Pittsley added, "We have quadrupled the number of igloos we are building this year as a safe way to accommodate our guests while keeping our indoor seating at 50 percent in accordance with the governor's orders."
Blake's Backyard in Almont offers igloos through December 20, Thursdays through Sundays. These igloos seat 6-8 guests for a two-hour reservation time limit and advance reservations should be made.
Blake's Tasting Room in Armada will have igloos all winter long until the end of February. These igloos are available seven days a week and seat 10-12 guests. Again reservations are limited to two hours and they recommend to call well in advance due to their popularity.
Offering up their hard ciders and craft beer along with some tasty menu options, the igloo experience at either Blake's is one you won't want to miss out on. And, if you can book before the holidays you could plan your Christmas tree outing as part of the trip.
Blake's Tasting Room will be offering u-cut and pre-cut Christmas trees through December 23. The Christmas tree fields are open from 8 am to 6 pm daily with the last wagon ride to the field at 5 pm. Blake's provides free saws, tree cleaning and wrapping. There's also a holiday market featuring fresh greenery, handmade wreaths, décor, and gifts.
For reservations visit blakefarms.com/igloo
Tina's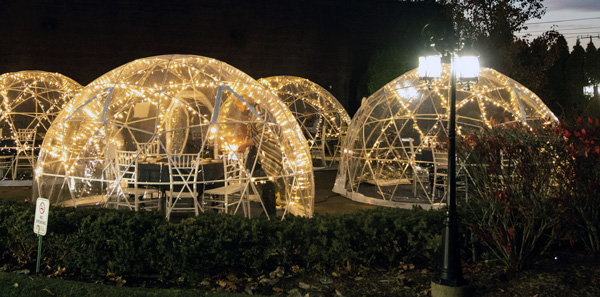 Blake's isn't the only Macomb place thinking about creating more space for their diners. The Tavern at Tina's in Macomb Township has installed four igloos on its outdoor patio and is getting a terrific response. "We created a revenue (replacing) for our empty tables inside," said Mary Jo Imbronone. "We had so much outdoor seating this past summer we needed to continue it somehow."
Tina's will continue to offer the 12-foot dome weatherproof igloos for the whole winter. Each has carpet flooring and comfortable seating, and is climate controlled. "You can have lunch or dinner or even private parties utilizing the whole patio, including the outdoor fire pit," said Imbronone. She said the Monday family nights are popular. "We do have a 25 percent gratuity for our outdoor servers, since they are going in and out of the cold." Tina's igloos also have battery operated lights for after dark. "You can fit eight comfortably inside," said Imbronone.
Cheryl Bourcier and her golfing buddies enjoyed Tina's signature shot – the Little Beer while enjoying dinner in one of the igloos after a day of golf. "We had a great meal and love the igloos," said Bourcier. The igloos are very popular especially after dark and stay open until midnight. They sanitize after each use. Tina's has a three-hour limit on weekends, with a $300 minimum although if an igloo is not reserved they will be happy to seat walk-ins. Every Saturday you can enjoy specials by Chef Jason, including fabulous appetizers, combo dinners and of course desserts too.
To reserve an igloo at Tina's – call (586) 949-2280.
Anchor Bay Pit Stop Diner
Audra Ford and her husband have owned the Anchor Bay Pit Stop Diner in New Baltimore for seven years now and thought adding igloo dining would give them more seating as well. "We cook all homemade American-style meals here," said Ford. "Our servers will come out to the igloos and serve you."
Anchor Bay Pit Stop Diner's igloos are available on a first-come basis but they do accept reservations. "Now that it's cold this will help with the 50 percent occupancy," said Ford. The diner is open until 7 p.m during the week and is open for breakfast and lunch on weekends.
The diner has three igloos and each has heat and lights at night. "There are vents at the top to allow ventilation," said Ford. "We have tarps for when it snows so we shall see how it goes."
To reserve an igloo at Anchor Bay Pit Stop Diner call – (586) 716-4233.
Whether you're sipping on hot chocolate or enjoying a full course meal, dining igloo style is something we all need to experience this winter.
As of press time we saw more igloos popping up around town, and we imagine that will continue. At the Mall at Partridge Creek, in Clinton Township, we saw a handful of igloos on the back side of the mall at the new Bobcat Bonnie's although we didn't see any shoppers inside yet. We also found the outside dining area at Brown Iron Brewery in Washington Township was covered with igloos, giving their diners plenty of opportunity to enjoy some of their fine food and brews outside in a dome. Since we didn't get to speak to anyone at either of these two places we suggest you check Web sites and call ahead. With the continual changes we've all been seeing over the past year in how we dine, we've learned to not just venture out thinking all will be normal.
Dining in general has definitely changed and we commend our restauranteurs for continually being creative and motivated to stay open while keeping everyone safe. Like any business, keeping things new, unique and fun for the customer is key to getting them to return. With the food industry you not only have to ensure your food is delicious but that the customer enjoys the dining atmosphere. With the idea of dining outside in an igloo becoming more and more popular maybe igloo dining is really here to stay?