Ice On The River – 1951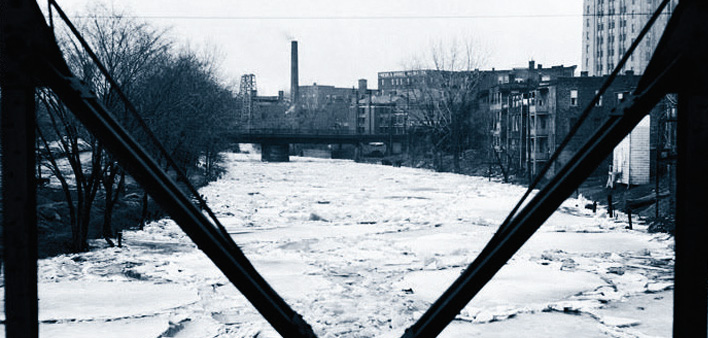 From the Winter, 2018 edition of Macomb Now Magazine
By Denis LeDuc
Ice grips the Clinton River in this photo view from the old iron bridge at Market Street in downtown Mount Clemens in 1951. You are looking south toward Crocker Street, and the old Medea Hotel and Bathhouse is in the center of the background with the Macomb County Building on the right.
Little of this view is left today. The old iron bridge was long ago replaced and the sprawling building directly on the riverfront park area was built there in the 1960s. The Medea Bath house was built in 1882 and the 150-room hotel was opened in June 1904. It was a centerpiece for the once-thriving Mount Clemens mineral bath industry. The bathhouse and hotel was razed in 1991 to make way for construction of the new Macomb County Administration Building.
The county building shown in the photograph is the only structure that remains standing today. This building replaced the two-story brick court building built in 1835 which housed the first office of circuit judge, a position established in 1835 as a county-wide elected office with a four-year term. Originally there was a two-story log courthouse constructed for $400 in 1818 on the same site.
Because of the Great Depression, the building, started in 1931, had to be completed in stages throughout the 1930s and 40s. During construction of the new county building Works Progress Administration (WPA) monies were used. Created in 1935 as a new deal of President Franklin D. Roosevelt, the economic recovery program aimed to employ 3.5 million men and women throughout the nation. The structure, designed in the Art Deco style by architect George J. Haas of St. Clair Shores, has 13 stories made out of gray limestone, steel and concrete. The top is tiered with the highest tier topped with eight distinctive granite heads representing an aviator, soldier, sailor, Marine, two Native Americans and two Revolutionary War soldiers. These heads were designed as a military motif due to the close proximity to Selfridge Field.
By 1944 all but the top floor remained unfinished and the building was debt free. It closed in 2013 following an electrical fi re, the building underwent extensive renovation and reopened in 2016. Our photo was first published on Feb. 20, 1951 with the news item, "Grinding Thunder of Ice on the Move" in the Daily Monitor-Leader and is provided courtesy of the Macomb Daily archives.
Photo courtesy of the Macomb Daily archives.