Hungry Students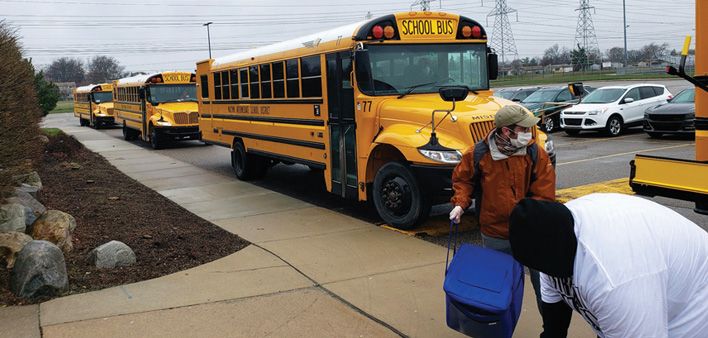 By Rebecca Calappi
The COVID-19 pandemic has caused a lot of disruption to daily life. In March, schools closed and in addition to social and academic needs, many children were left without a source of food. That's when the Macomb Intermediate School District, Macomb County and the school districts put the pedal to the metal to make sure little bellies stayed satisfied.
Carolyn Thomas is a child nutrition consultant for Macomb County. "At the county level, the most heroic efforts took place when schools closed on March 13," she said. "Every single school district opened on Monday with a plan in place to keep students fed. They've been working since then to keep students healthy and well fed to keep learning."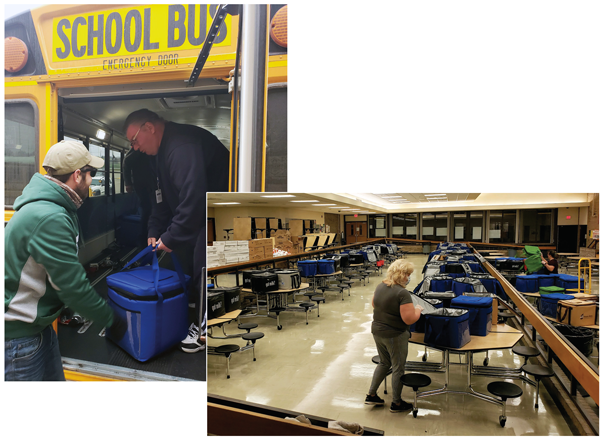 Coordinating meals for thousands of children while maintaining safety was nothing short of a supply-chain miracle. Some school districts, such as Lake Shore, coordinated contact-free pick ups daily; others established bus routes for food drop off, and some, such as the MISD, delivered door-to-door.
Through MISD, more than 320,000 meals were delivered to special needs students who often have compromised immune systems. Delivering directly to homes was the best way to keep the kids, and their families, safe.
Through September, more than 7 million meals were served to students in Macomb County since March. That's akin to feeding a meal to everyone in Massachusetts.
According to Mike Musary, superintendent, Armada Area Schools, the district was still paying the bus drivers after schools closed, so they decided to run bus routes. Families would be at predetermined stops, busses would drive up and a food hand-off would take place.
But the logistics only get more complicated. It's not just the inschool learners who need to be fed. Kids who are in cohorts and who are 100 percent virtual need food, too.
"When school started, it required school nutrition programs to pivot again and start running more than one type of food distribution service model simultaneously," explained Thomas. "In schools that are face-to-face, virtual and cohorts, in all cases, the districts are obligated to feed the students to enable them to be at their best learning. A student can't learn if they're hungry. You exacerbate that with the social and emotional wellbeing, the last thing we want is for food or access to food to be a problem for any family."
Families who receive food get a week's worth of meals at one pick-up. In addition to meals, the package includes food safety instructions, reheating instructions and information on how long to keep the food. A typical lunch includes whole grains, a protein, fruit, vegetables and milk.
"It isn't what you might think of as snack foods. We send home macaroni and cheese and rotini with meat sauce. Some districts send home Bosco sticks, chicken tenders, sub sandwiches, chili, cheeseburgers, chicken patty sandwiches," said Thomas. "It isn't good nutrition unless it's consumed."
In addition to the regular breakfast and lunches delivered door to door by the MISD, there are additional food programs running now.
The numerous people who make this possible are keeping students at the forefront in this crisis.
Thomas added, "Since March, we've had so many families in Macomb County who lost their job or who have been underemployed. The need for our services has increased exponentially," said Thomas. "Families have been able pick up the Farmers to Families Foodbucks program from USDA, which will run through the end of December. We also have Gleaners Community Food Banks distributing food at three MISD buildings."
Behind the scenes, keeping the food programs running, is the government.
"We've had tremendous support from the USDA with waivers that extended programs called Unanticipated School Closure program. On July 1, they continued the summer food service program and it's continuing now, which is unprecedented. It's enabled all students regardless of need to get free lunch and it's all facilitated and administered through Michigan Department of Education," said Thomas.
The numerous people who make this possible are keeping students at the forefront in this crisis.
"The challenges that we have faced in the last few months have become opportunities to service our children in the best way possible. I'm so incredibly grateful to be part of this right now," said Thomas.