How Does Your Garden Grow?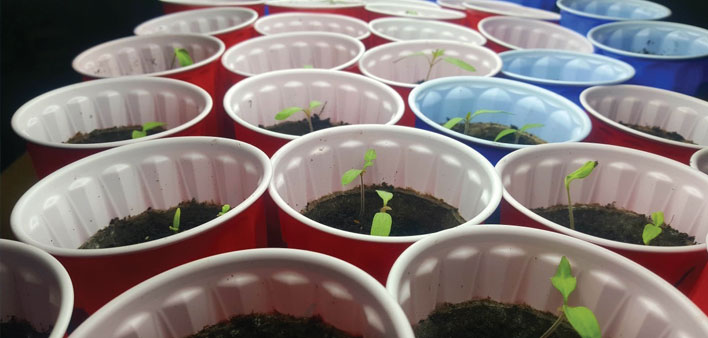 By Rebecca Calappi
Being stuck inside away from the elements doesn't have to be gloomy. Starting plants from seeds and planning a summer garden can help ward off the winter blues and keep you looking forward to the warmer months.
If you're a brave gardener and want to try something new, growing plants from seed allows you to watch the fruits of your labor go from tiny pellets to beautiful plants.
David Lowenstein is consumer horticulture educator for the Michigan State University Extension Center in Macomb County. His advice on growing plants from seeds starts with good light.
"Twelve hours or more [of light] will be better to allow seeds to germinate. You want an area that doesn't have extreme temperatures, and somewhere not near a drafty window or fi replace," Lowenstein said.
If you're a novice, Lowenstein also recommends starting with vegetables over ornamental plants. "They're less finicky," he said.
Next, carefully read what the seeds need. "For vegetables, you get some potting mix and put them in the soil at the appropriate depth. You don't want them to plant too deeply because it'll take too long to germinate or not germinate at all," Lowenstein recommended. "Anything in the cold crop family—kale, cabbage, brussels sprouts, tomatoes and peppers. Cucumbers are middle of the road. I've grown cukes from seed, but they don't transplant as well. Corn and beans don't transplant well."
After you have your sprouts started, you need to think about how to safely transition them outside. Taking seedlings from the climate-controlled house to the yard will shock the plants. Making the transition slowly is the best chance for success.
"Leave them exposed to the outdoors on the porch or in the garage. Start with two to three hours a day, then work them up. Make sure they're not in direct sun immediately," said Lowenstein. "You want to ease that transition the best you can."
Ready to plant
Now that your seeds are sprouting, you need to prepare your yard. Raised garden beds make it easier to garden because you don't have to kneel or get so far down on the ground.
According to J.P. Jacques, office manager and site coordinator, Earth Environments, "A lot depends on the positioning. There is a mobile aspect of the raised planter bed. If you want vegetables one year and flowers the next, you can move it seek design help from a professional who can help talk about what needs to go into it."
Things to consider are soil drainage, sun, wildlife, fencing, how level the yard is and proximity to other plants. Also, what material will you use to make the raised bed?
"Sometimes you can use pavers or boulders to help level your yard," said Jason Arnott, owner, Earth Environments. "You can build the box from cedar if you're trying to build the box rustic, so you have a nice clean edge. Or you can use man-made products or rocks. People use treated wood, but you don't want to plant vegetables near it, because it's been treated with arsenic to preserve it. You can plant flowers as a buffer with treated wood." A layer of pea gravel in the box aids drainage, so your garden doesn't turn into a moldy swamp. Next, carefully choose soil. Arnott recommends using a mix of soil that includes some mushroom compost and other nutrients. "We'll also add fish and seaweed nutrient juice," he said. After a spring of outdoor work, you'll be able to enjoy the beauty of your yard. "Gardening is a lot of work, but it's good for mental health. It's enjoyable, because you're taking care of something every day," said Arnott.