Horseback Riding is Therapeutic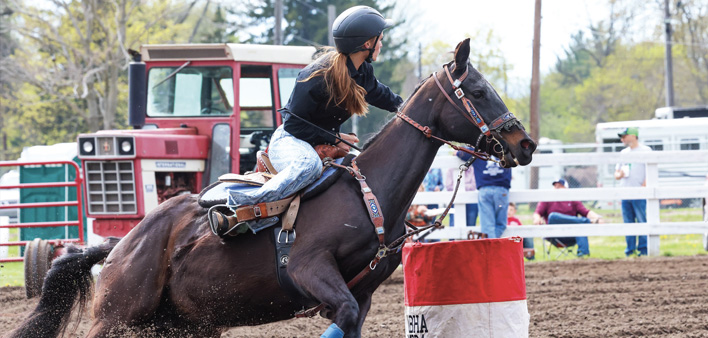 By Nick Lico / Photography by Moments by Mularz
While "horsepower" has transplanted "horse power" throughout the world, there are still plenty of places in Macomb County where one can enjoy riding horses. We are blessed with trails and other public places on which to ride them throughout Macomb County. Many residents, including Aubrey Alcini, find horseback relaxing and therapeutic.
"It's like a release for me, taking my mind off things," said the 15-year-old Armada resident.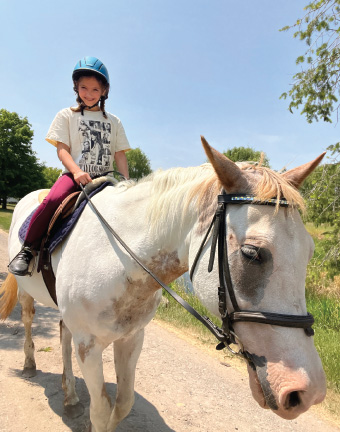 Asked why she first started riding horses, Alcini replied, "My mom and all of her sisters were into horseback riding and barrel racing, so I guess it's in my blood, It takes a lot of time and effort if you want to get good at it."
And good she is. The Armada High School sophomore is a member of the school's equestrian team and belongs to the National Barrel Horses Association. She qualifi ed for the association's Youth & Teen World Championship the last two years and she shows horses at the Armada Fair and at the St. Clair Fair.
Just starting out and benefitting from riding horses is 10-year-old Brinley Jarvis. She started riding horses last November.
"Brinley has always been an animal person; we foster dogs. She likes spending time with the horses and it relaxes her. You can tell when she's had to miss riding because she's more uptight, not as happy," Alyssa Jarvis, Brinley's mom, said.
There are many equestrian centers within Macomb County that offer horse boarding and lessons, including Villandry Farms in Armada.
"Horseback riding is popular in our county," said Michelle Short, Villandry Farms owner. "There's a lot of horse activity in the area. It connects people with nature and is a good form of exercise. It's therapeutic and can be shared with the whole family."
"Riding literally works every muscle in your body; you don't just sit on top of a horse. It will keep you fi t and it teaches responsibility. Riders must care for their horses daily to form a partnership if they want to succeed," added Shannon Meehan, owner and head trainer at Empire Farms in New Baltimore.
Prices for lessons are reasonable, ranging from $30-$50 an hour with a trainer and most trainers sell lesson packages.
If you're thinking that this is something you or your family may be interested in, consider the following advice: "We always recommend a barn tour to see what services the equestrian center provides. Be sure to discuss costs, your budget and your expectations," Short said.
"If anyone is thinking about riding, I say try it! You won't know if you like it if you don't try it. Go to any local boarding or lesson facility and watch some lessons. Visit the horses and see what is involved," Meehan added. If you need further convincing to give it a try, here's what Jarvis advises:
"I think anytime a child has the opportunity to be around an animal and to have a positive experience around an animal, it's great for the child because it teaches them to respect animals. It makes Brinley happy. She's a whole different child when she's around horses."