Growing Up in Waldenburg – 1903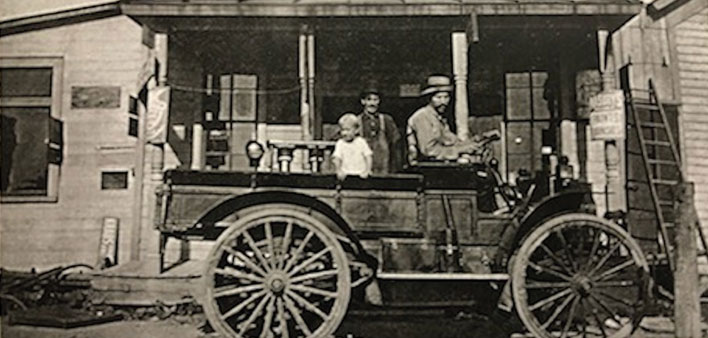 By Barb Pert Templeton
Falling asleep as a small child while listening to the sounds of music from the dance hall across the road every Saturday night.
Or being known as a "Waldenburg Kid," a popular moniker for children who lived on farms in the tight knit community enjoying a carefree childhood of swimming, skating and exploring the little burg they called home.
Those are just a few of the precious memories Shelley Stier Henshaw carries from her youthful days spent growing up in Waldenburg, a small area at 22 Mile and Romeo Plank Roads in Macomb Township. She's proud to say her legacy there included four-generations of the family owing the Stier Hardware store.
Family roots first took hold in Macomb Township in 1857 when George Stier traveled from Germany to Waldenburg with his farming expertise in tow. By 1903, George's son, Louis, opened the Stier's Hardware in downtown Waldenburg, and his grandson William picked up the reins before passing them on to his great grandson, Carl in 1950.
The shop, where everything from cattle prods to carpet sweepers crowded the shelves, became Henshaw's home after her family moved there when she was just five-years-old.
The experience was an adventure for the whole family simply because if you lived in the store you worked in the store. Henshaw loved helping the customers and soon grew proficient in reaching her hand into a bin of nails to quickly pull out an exact pound as requested by the patrons.
The Stier Hardware was always the center of the neighborhood. People could simply drop in to have their ice skates sharpened, get a fish taken off a line or pickup food for their pet turtle. It was also a familiar gathering place for the community because everyone knew they could count on the Stiers to open even if it was late at night or on a Sunday.
In 1979 the store was passed onto the fourth generation when Jeffrey Stier took over the business. He added repair work for lawnmowers and other equipment but a rough economy and the advent of the big box stores prompted the closing of the hardware in 2008. The building remained empty and abandoned before it was demolished in 2013, a 110-yearold landmark lost to the past.
Henshaw, who was crushed to see her family's legacy torn down remains thankful for her memories. Today she enjoys sharing stories of her family's past while gathering photos, documents and memorabilia of her beloved Waldenburg.
This is an excerpt from the book "Historic Tales of Macomb County" by Barb Pert Templeton and published by Arcadia Press, November 2020.