Grilling Made Easy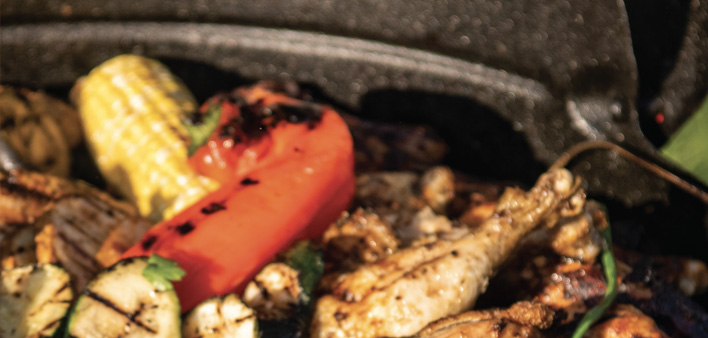 By Tracey Moro / Photography by Mike Ferdinande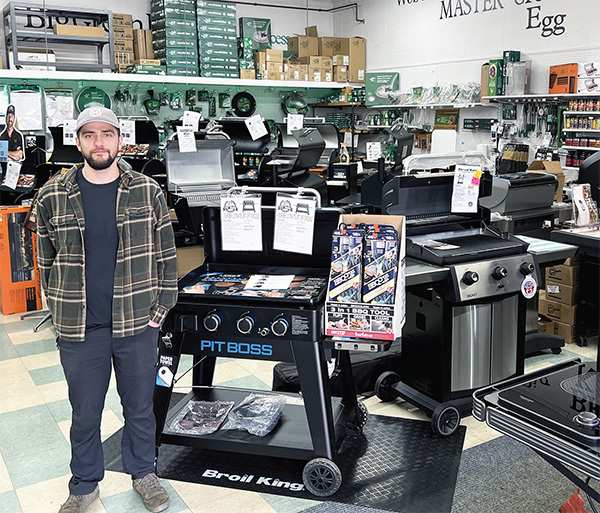 Almost everyone has one, and if not, they want one. Why? Because when you stand behind a barbecue grill in your own backyard on your own patio you become a chef, even if you don't know your way around a kitchen. Since 1948 the Bourlier family has been providing expertise at their family-owned and operated stores. "We sell outdoor fi replaces, outdoor barbecues and we have mowers and lawn equipment," said Reese Hoste, Clinton Township store manager.
"You got the standard gas grill, which comes in propane or natural gas. And you can get that as a post grill with a permanent mount that stays in the yard or there are moveable carts," Hoste said. "When people come in looking we try to personalize the grill to their cooking life so they get what they want. The built-ins are gaining in popularity since many are creating outdoor living spaces."
Bourliers also offers both types of charcoal grills, the standard charcoal grill we all know and love, and the Big Green Egg. "The benefit with a Big Green Egg is it holds heat extremely well. There is only a one-way entrance for air to flow through so the food retains moisture much better," Hoste said. You can cook just about anything on one, but the egg is best known for its smoker capabilities. "You can do 20 hours on this," Hoste said. Because the Big Green Egg uses lump wood charcoal it is just like using split hardwood to get that authentic flavorful smoky taste.
Another favorite all-around grill/ smoker of Hoste is the Traeger which is fueled using pellets. "They are compressed pieces of wood, nothing artificial, so it's healthier for you," Hoste said. Since these grills don't get over the 500-600 degree range, they are better for doing slow cooking.
The griddle may be the easiest and most versatile grill. "It's really a gas grill, but the entire metal surface gets hot. Pit Boss is porcelain enamel so there is less mess and maintenance, a little easier and less forgiving. The Blackstone is cast iron, so it is heavy duty and there is more maintenance to keep it clean," said Hoste. The griddle has a wider range of what you can cook since heat is distributed evenly for cooking or just warming. Stir fry and loose vegetables are easy.
At Bourliers barbecues can last a lifetime. "We service all grills, even if we don't sell it here, we can service it." Hoste said.
GRILLING TIPS FROM THE EXPERTS
Chef Angelo Loria of Vince and Joe's Gourmet Market in Shelby Township likes to keep it simple. "I don't like briquettes so I use lump charcoal. I start it in my chimney," Loria said. He explained how chimneys are an accessory you can purchase separately and they make starting your charcoal easier. "Once the smoke stops you will see flames and then you know the charcoal is ready to spread. You get a better flavor using lump charcoal." Loria cooked up some fabulous spatchcock chicken, chicken drumsticks and vegetables on his charcoal grill with the assistance of his daughter Serafina, 10.
Here are his TIPS for cooking on a charcoal grill.
Chef Angelo's Tips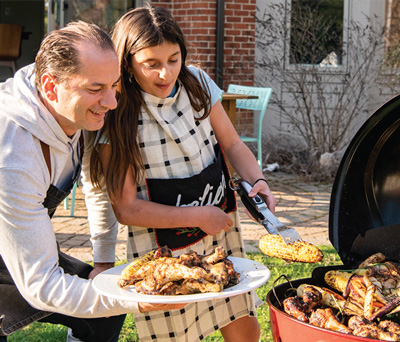 1) Use a chimney to start your lump charcoal.
2) Heat up your grate, making it super easy to clean, before adding your food. Even if you cleaned off your grate the last time you put your grill away, there will be residue you can burn off once the grate is hot. Plus you want the grate hot before you put your food on it.
3) Pre-marinate your food. Use lemon sparingly, or for a short amount of time, in any marinade, since it will cook your food.
4) Be creative with your side dishes. Your main dish should satisfy most everyone, then your sides can be creative. Maybe some additional drumsticks with different seasonings, spicy, sweet. Use whatever spices you have already and mix it up.
5) Start with the food that will take the longest to cook. Then put things on the grill that will take the same amount of time. Your charcoal will be hottest at the beginning so try to control the heat and move your food accordingly, turning every 2-3 minutes. Feed more charcoal as needed, but allow it to burn off a little before adding food.
6) Have some wine or a cocktail while you're cooking!
7) Move your food away from hot spots. Drips of oil or meat juices can produce fl are ups, and you don't want your food on top of the fire. Just move away, don't spray with water either, since will create smoke. In areas where coals are cooling you have indirect heat, which is good for cooking slow and keeping food warm.
8) Vegetables are great cooked on a charcoal grill. Coat with oil, salt and pepper. Brush off any excess oil, put vegetables directly on the grate. When cooking corn, you get less flare up if you cook it without the husk and placed directly on the grate. Corn will turn a deep yellow once fully cooked.
Chef Gabrielle Tips
Chef Gabriella Baldwin uses her gas grill as often as possible. "We have a small patio so I prefer the gas grill over charcoal to avoid excess smoke in the house," Baldwin, of Testa Barra Restaurant in Macomb Township, has said. She claims simplicity is best when grilling and recommends cooking the whole meal on the grill. "I'm the grill master at our house." "Don't be intimated by a grill; it will work just as good as your range inside." From lobster, to filet, to vegetables, Chef Gabriella utilizes the entire grill when cooking. "I like the ability to have different heat zones and that I can control the heat quicker and easier using gas. The shelf is handy too, keeping food warm or for cooking using residual heat."
Chef Gabriella Tips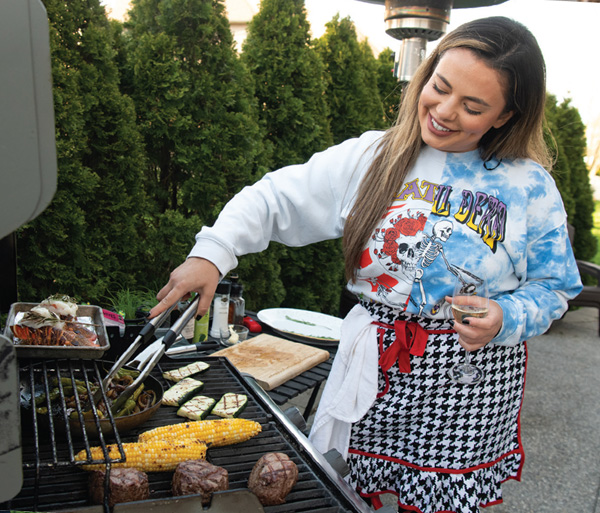 1) Give your grill time to heat up.
2) Coat your vegetables with oil first. Use avocado oil; it has the highest smoke point and can take the highest amount of heat before burning.
3) Choose lean cuts of meat so you don't get the fat drips, cutting back on the fl are ups and smoke.
4) Feel free to use a pan or foil basket right on the grate to cook loose food, just like on a stovetop.
5) Plant some fresh herbs in your yard or keep pots close by so you can just add seasoning as you're cooking. Rosemary, thyme, chives, and basil can all be picked easily and quickly added creating depth in your cooking.
Seasoning Expert Bob Arnold Local spice vendor and seasoning expert Bob Arnold of TDW's Rockin' Seasonings in Shelby Township has three different grills he uses for outdoor cooking. "I have a Char-Broil grill, a Blackstone Table Top Griddle and a Smoke Hollow Propane Smoker. I prefer propane over charcoal, wood over electric devices and I use the smoker the most," said Arnold. "I just love the flavor of the food but I also enjoy filling the air with delicious aromas and then sharing the final products with my neighbors." Selling his spices at local Farmer's Markets, Arnold always grills with his spices. "All our flavors can be used as rubs or sprinkled on food as a seasoning. I would say the Savory is the most well-rounded seasoning. It can virtually be used on just about anything," said Arnold. "It is one of the main ingredients in my tuna noodle salad. Let's just say that there are no leftovers."
Bob Arnold's Tips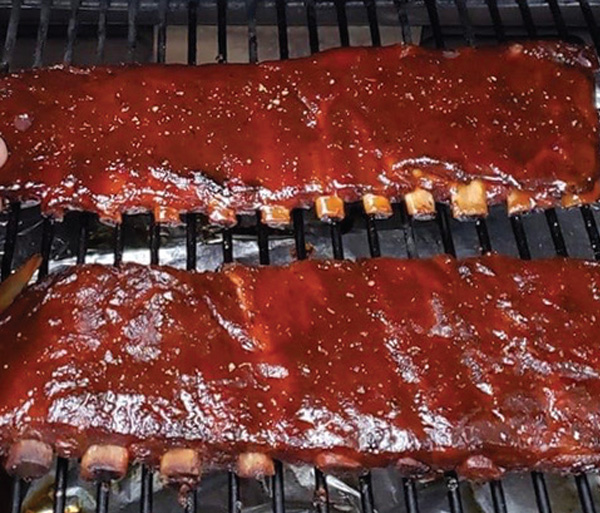 1) Making sure that inner temperatures are met is key to assuring meat is cooked correctly. Do your research and purchase a good internal thermometer to use. Internal meat temperature charts can be found online.
2) Adding a spice will bring out the flavor of meats and vegetables. Spice names help to tell you what flavor you'll get when using. The TDW Savory is the most well-rounded seasoning. It can virtually be used on just about anything.
3) For Beef – Savory, Savory with Onion, Cajun Rajun', Garlic & Herb, Taco Mex, or Inferno
4) For Pork – Sweet & Savory, Zesty Lemon, Cajun Rajun', Taco Mex, Savory, Savory with Onion
5) For Fish/Seafood – Zesty Lemon, Cajun Rajun', Taco Mex, Buffalo Blend, Inferno
6) For Chicken – Ranchin' On It or any of the above-listed flavors will easily enhance the flavor of poultry.
7) Vegetables – Ranchin' On It, especially on roasted veggies or any kind of potato. Savory, Savory with Onion.
8) Zesty Lemon. Not only is it good on fish, seafood and chicken, it's incredibly delicious on pasta dishes.
Try it on spaghetti with meat sauce or buttered noodles or fettuccine!!