Good Pickin's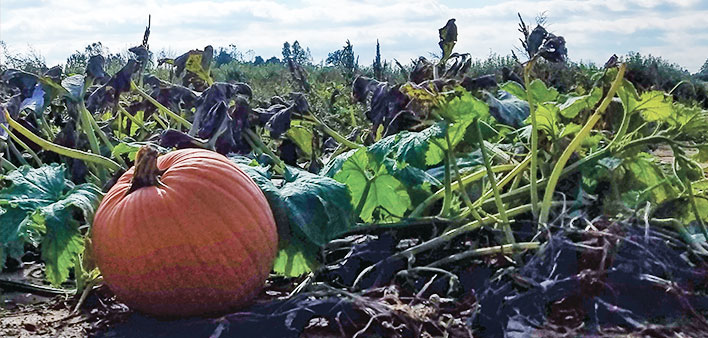 By Tracey Moro
Crisp cool weekends are sure to be filled with good clean fun here in Macomb, especially since we have an abundance of places to go enjoy the best fall activities. From picking apples, peaches and pumpkins, to jumping on hay bails and feeding goats, fall is still a great time to be outdoors for all ages.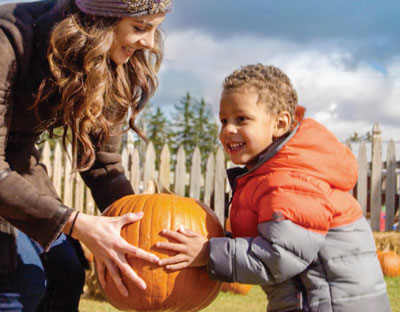 "We make it something special," said Katrina Roy, owner of Westview Orchards in Washington Township. "We have to rent 35 acres just for pumpkin picking. And this year we are renting out our farm to groups on Fridays. We have schools, and scouts coming. It's an easy outing for them and a way for us to give back to the community."
Westview offers U Pick apples and pumpkins daily. They also offer an outdoor petting farm, playground, tire mountain, rope mountain and straw mountain, just to name a few things. Plus, for the over 21 crowd, their winery offers several wines and hard cider to sip on, along with fun adult events like farm-to-table dinners, ladies' nights and more. But Westview Orchards is just one of the many orchards throughout northern Macomb offering weekend fun – and daily fun too.
Blake Farms includes two locations, each with various fun activities for the whole family, including apple and pumpkin picking, a funland and haunted attractions. Blake's Big Apple, on North Avenue in Armada, has wagon rides, a corn maze, a barnyard with 500 tricycle track, 3D maze, pumpkin jump, and it's home to Blake's haunted attractions like Zombie paintball, haunted hayrides and a three story haunted barn and spookyland.
At Blake's Cider Mill, on Armada Center Road in Armada, you get all of that plus it's not just all about the kids, adults can enjoy going too. Enjoy a hard cider at Blake's Cider and Brewing Tasting Room with a 30-tap system with hard cider, craft beer ad wine.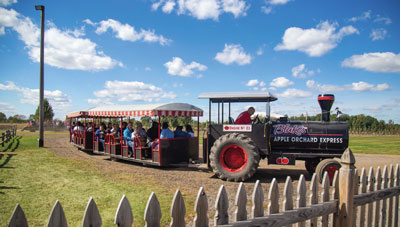 "Blake's Orchard offers a family fun experience for all, whether you are taking in the smells of fresh donuts or fresh apple cider being made, you won't regret your trip to Blake's," said Kaley Pittsley, director of marketing. "Blake's offers a true one-of-a-kind family experience. From apple and pumpkin picking, to playing in our Funland or enjoying a hard cider on our patio, we believe in creating lifelong memories."
One of the oldest cider mills in the county is Big Red Orchard, open since 1868. With new ownership by the Epicurean Group of farm-to-table restaurants, they have plenty planned for this fall between U-pick apples, cider, a petting farm, children's attractions, seasonal produce and more. They even have a smokehouse restaurant, hard cider tasting room and an outdoor picnic area that is rentable for weddings.
Hy's Cider Mill, located at the very north end of our county in Bruce Township, is open Saturdays and Sundays from 11 a.m. to 6 p.m. September through November with U-pick dates for a dozen kinds of apples. If you're looking for a certain kind be sure to check the schedule online to pick your perfect picking time. Run by the Hyman family, the Hy's Cider Mill is famous for its cider that's been selling since the late '60s. Their cider press produces 1,200 gallons an hour. Hy's Cider Mill also has caramel apples, doughnuts and a cider slush.
Stony Creek Orchard & Cider Mill, on 32 Mile between Mound and Dequindre in Romeo, has been a family-run farm and cider mill since 1939. You can pick your own raspberries, apples and pumpkins or get the pre-picked ones. They also have hand-made pies, caramel apples, jellies, and more. For a fun evening, try a moonlight hayride or take in a hot doughnut while walking past the many antique farm machinery items on this quaint old farm.
Almost 100 years in business, Verellen Orchards is also a favorite for all kinds of apples. Located on Van Dyke north of 29 Mile Road in Washington Township, Verellen's is open year round, offering more than 20 types of pre picked apples to purchase along with peaches, cherries, plums, fruits and berries. They also have baked pies and doughnuts, muffins and hot and cold cider.
With so many places to go you could hit one every weekend. So gather up the family, be ready for some fun, good pickings and lots of good eating!