Golf: A Lifetime Game with Lifetime Benefits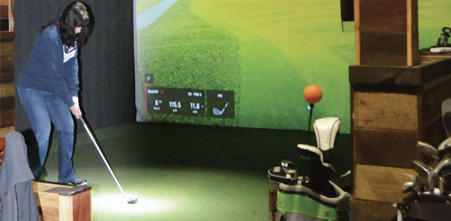 By Nick Lico
One of golf 's appeals is that it's a lifetime sport. Check out any golf course and you're likely to find players in their teens and players well into their 70s and 80s – sometimes playing together. It's also one of the very few sports that couples can play competitively. Most are familiar with the social aspect of golf. It's a great way for families, friends, business colleagues or even strangers to connect for a few hours. Golf also delivers a plethora of health benefits.
Exposure to sunlight allows the body to soak up vitamin D from the sun, promoting bone growth in youth and reducing the risk of depression, heart disease and certain cancers. Studies have also shown that constant exposure to green areas relaxes the body, reduces stress and can aid in alleviating anxiety.
The walking involved strengthens leg and core muscles and burns calories. Studies estimate that golfers who walk the course and carry their own clubs cover 4-5 miles during their round and burn approximately 1,000 calories. This exercise can also lower one's cholesterol, improve heart function and boost brain activity, helping stave off such illnesses as dementia. Golf can also relieve stress and improve sleep.
Helping to get you ready to hit one of the 26 golf courses in Macomb County, we're fortunate to have four places in our county where you can practice while there's still snow on the ground.
Indoor Golf
Now in its 10th season, Indoor Golf, located on 15 Mile Road, west of Kelly in Clinton Township, offers six simulators: four GolfBlaster and two Trackman.
"The Trackman simulators we introduced last year measure 36 different data points on your swing, delivering results that are accurate within half a yard. Trackman simulators are what all of the TV networks and every tour pro uses," said Steve Smith, facilities manager and PGA professional. Indoor Golf also offers approximately six hitting areas, a 1,500-square-foot putting green, grips and other golf accessories.
Indoor Golf
8050 15 Mile Rd., Fraser
(586) 294-3899
indoorgolfclubofmichigan.com
C.J. Barrymore's
The only golf dome in Macomb County has been open since 1974, situated on Hall Road near Groesbeck in Clinton Township. The two-tier setting offers a total of 32 hitting bays, two golf simulators, a putting green and an 80-yard-deep driving range.
"We see a lot of golfers come here with friends and spend a few hours hitting balls and enjoying a cold beer," said Mike Desano, dome manager. "For those who want to feel like they're playing while there's still snow on the ground, our simulators are popular options. They can be rented in 15-minute increments or for a full round of golf."
C.J.Barrymore's
21750 Hall Road, Clinton Township
(586) 469-2800 cjbarrymores.com Health & Fitness | GOLF
Premier Sports Simulators
The recently opened Premier Sports Simulators, situated within the Premier Sports Center on 23 Mile Road in Shelby Township, features three Full Swing Simulators.
"Full Swing Simulators are what the Golf Channel uses. They run $75,000 each and are the most accurate simulators," said Manager Shawn Kungel. "Golfers can play approximately 84 courses and we can also take advantage of the simulators to fit golfers to the right clubs and the right ball," he added.
Premier Sports Simulators is available by appointment only and the simulators can also be used to practice other sports, including soccer, football, hockey and baseball.
Premier Sports Simulators
51173 Devonshire Blvd, Shelby
(810) 499-2220 premiersportssimulators.com
X-Golf
Situated on Market Street (near Costco) in Shelby Township, X-Golf is quickly gaining a following. "We have six simulators and they are 98.7 percent accurate – the most accurate in the industry. They can accommodate up to six golfers per simulator," said Danielle DeVonce, X-Golf general manager.
Guests can play 30 different courses or work on their game via the virtual driving and putting ranges. They can also challenge themselves with closest-to-the-pin and longest-drive contests. "We're known for our self-tee system; it's ideal for older golfers or those with back issues. It automatically tees the ball so players don't have to bend down to pick up balls," DeVonce added.
X-Golf also offers a full bar with a brand-new menu. "We've become a popular destination for date nights, bachelor parties, birthdays and work parties. We can cater any event, giving our guests a one-stop destination for fun, food and drink," she said. Visit any of these four establishments to be game-ready by the time the weather breaks.
X-Golf
45599 Market Street, Shelby Township
(586) 991-6190 xgolfshelby.com