Make Gift Giving a Memorable Experience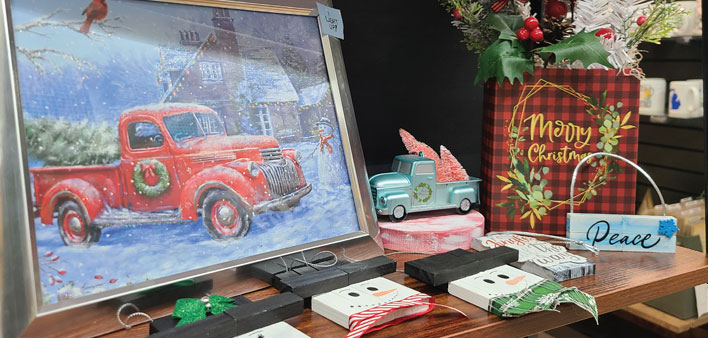 By Nick Lico
We've heard that it's better to give than to receive. However, if we put some thought into the gift, make it something unique and special to the receiver, then it becomes a memorable experience for both parties. Rather than shopping at a big retail store, consider visiting one of the many special places in Macomb County that offer items sure to delight anyone on your list. Here's five unique gift shops to start your local list.
Armade in MI
Cleverly named Armade in MI, in downtown Armada, gives local artisans a place to display and sell their artwork. It was started four years ago by Justin Sebra and his father.
"We wanted to offer a substitute for many of the locally sourced products that people typically find at art fairs. Armade in MI connects our customers with the small businesses and provides them with a cool experience they can't get at Amazon, for example," Sabra explained.
This artisan-made marketplace offers a wealth of uncommon and one-of-a-kind products, including Petoskey stone jewelry, epoxy stoneworks, handmade soaps and honey product from locally sourced honey.
"Very popular are our custom tumblers (drinkware), tee shirts and Christmas décor," he said. "Fudge is always a pretty good gift, as is novelty bacon."
Armade in MI acts like a small business hub for approximately 50 local small businesses. Take a trip to the northern part of our county to see for yourself all that it has to offer.
Circare
In business for over 35 years and located on Greater Mack just south of Nine Mile Road in St. Clair Shores, Circare describes itself "like an art fair, only better."
"We specialize in handcrafted items made by American artists – some of them local – and offer a wide range of gift selections that are not only high quality, but that 'speak' to the receiver," said owner Gloria Kinne.
Circare, Latin for to seek or wander about, offers gifts for everyone.
"For a truly memorable and magical gift, consider the Mova Globe, a 4.5-inch globe that rotates seemingly by magic. It uses sunlight and the earth's magnetic field to spin," Kinne added.
For children, she recommends the Jellycat series of plush toys that come with books detailing the character, or the roll-up piano keyboard for the musically inclined. Of course, it's difficult to go wrong with jewelry or cashmere scarves and Circare offers both.
"We're also known for our ornaments, along with décor and stocking stuffers and we encourage everyone to visit us and discover for themselves all that we have to offer," she said.
Consign Couture
Located next to J. Baldwin's restaurant on 18 Mile Road in Clinton Township, Consign Couture offers an eclectic assortment of items that are one-of-a-kind.
"We offer a combination of consignment, builder's model items and brand-new merchandise. At Consign Couture, you will find gifts for individuals, home accents and furniture," explained owner Rosemarie Baldwin.
Consider items that will be displayed yearround, such as artwork, accent lamps and furniture or something to be enjoyed and displayed during the holiday season, such as holiday pillows and globe ornament candles.
"We also offer a large selection of Apothecary Guild candles and Whiskey River soaps and candles. We work a lot with local businesses because we believe in supporting our community," Baldwin added.
Viviano Flower Shops
Most of us are familiar with Viviano Flower Shops, in business since 1937 and its St. Clair Shores location since the 1950s. Today, they have five shops total in metro Detroit area that include two popup shops inside both Vince and Joe's Gourmet Markets. We know it's a great place for flowers, floral arrangements and nearly anything to do with a garden. It's also a great place for unique gifts.
"Whether for the holidays, special occasions or just because, Viviano offers a wide range of giftware," said Cecilia Viviano, Viviano marketing and product development manager.
In addition to scented candles, collectible figurines, plush toys, throw blankets and statues, Viviano also offers a range of gift baskets. "Two of our more popular items are the Sweet Greetings Crate and our gourmet baskets," Viviano said.
She described the Sweet Greeting Crate as a "cute display of sweet treats for the holidays." It includes truffles and chocolate chip cookies paired with a 4.5-inch poinsettia. The gourmet baskets, meanwhile, are decorated with festive ribbon and hold an assortment of sweet and savory gourmet items.
"We also offer nature's bounty baskets that are filled with fruit, chocolate, candy canes and cookies," Viviano added.
Whistle Stop
Yet another St. Clair Shores institution is Whistle Stop Hobby & Toy. In business for 52 years and now operated by secondgeneration owners, Whistle Stop offers gifts for all age groups.
"We are a specialty toy store, which means we carry unique items. We pride ourselves on being the place where families have been finding fun for generations," said Julie Everitt one of the store's co-owners.
As the name implies, Whistle Stop carries an assortment of model trains in various gauges, but it also offers much more.
"We offer a large variety of children's books, a full line of Legos and one of the largest game and puzzle selections in the area. We can explain the games to people, ensuring they are ideal for the recipients," Everitt said. Whistle Stop also carries, educational toys, learning tools, hobby items, a large selection of arts and crafts and classic toys, including slot cars, Spirographs and Lite-Brites.
"It's nice to support local companies and local businesses. We're grateful that the community has been supporting us for over 50 years," Everitt said.
These are just five of the many unique stores you'll find scattered throughout Macomb County. This year make it a point to visit our downtown shops including Anton Art Center in downtown Mount Clemens with its annual Holiday Market open through December 23 or at the Nest Collaborative, just a short walk away. Other favorites to check out include Frontier Town in Washington Township and the New Baltimore Trade Center. Just know whatever unique gifts you're looking for, by shopping locally you're helping businesses in our communities, which is a gift in itself!
Armade in MI
23009 E. Main Street
Armada
(586) 473-7002
armadeinmi.com
Circare
23024 Greater Mack
St. Clair Shores
(586) 771-8501
shopcircare.com
Consign Couture
16989 18 Mile Road
Clinton Township
(586) 701-3100
consigncouturemi.com
Viviano Flower Shops
32050 Harper Ave.
St. Clair Shores
(586) 293-0227
50626 Van Dyke Ave.
Shelby Twp.
(586) 323-6992
49970 Gratiot Ave.
Chesterfield Twp
(586) 949-6041
Viviano.com
Whistle Stop
21714 Harper Ave.
St. Clair Shores
(586) 771-6770
whistle-stop.com