Gather in the Kitchen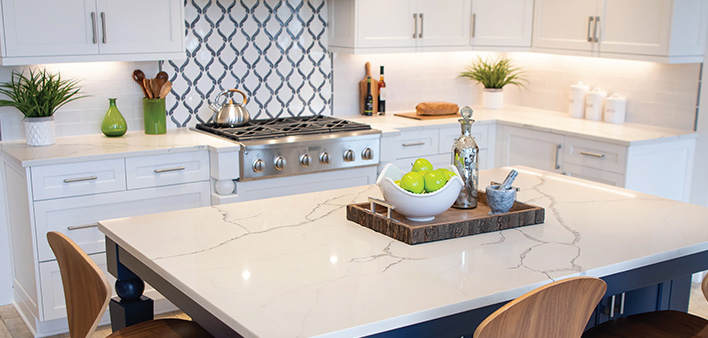 By Danielle Krause / Photography by Mike Ferdinande
The kitchen is the heart of any home. It's the place where families gather to eat, entertain and just hang out together. We all spend a great deal of time in our kitchens – from homework and snacks with the kids after school, to entertaining our friends for formal dinner parties. So when it comes to remodeling your kitchen. Knowing the latest trends is key.
Trends tend to evolve over time and kitchens are no exception. The biggest trend in kitchen design is the transitional style. This simple, yet elegant style is a blend of contemporary and traditional, taking elements of both to get the best of both worlds.
This style blends materials and textures, such as metals and woods to create interest to the eye. With transitional style you will see streamlined, simplistic doors and edges, with elements of old world craftsmanship such as shaped legs and corbels, and custom curved wood hoods. Open floor plans and crisp, clean lines create a beautiful spacious feel.
Incorporating pops of color is another trend in kitchen design. Classic white painted cabinets are always popular, but adding a splash of color to islands and hoods creates excitement and style to the kitchen. Gray is a very popular wall color and cabinet color alike. Painted cabinets in general are very popular, and custom paint colors are a great option to get that perfect shade you have in mind.
The current trend for countertops is quartz. Quartz countertops are beautiful and extremely durable. The nonporous, scratch resistant surface of quartz is very appealing to many people. Of course granite is traditionally a beautiful natural countertop option which is still very popular. When it comes to lighting your kitchen, accent lighting is a must to highlight the countertop and backsplash. A great way to showcase your cabinets is by accenting some doors with glass fronts, and lighting them from within. It gives the kitchen a beautiful glow and the glass front cabinet provides a space to display decorative pieces while keeping the countertops uncluttered and streamlined. Adding vertical height to cabinets also adds function and design to a smaller space. Your kitchen may be the most functional room in the house but that doesn't mean it can't be stylish so don't be afraid to update the main area you live in.
Danielle Krause is the marketing director for LaFata Cabinets in Shelby Township.