From the Vine to Wine
By Nick Lico/Photography by April Todd & Mike Ferdinande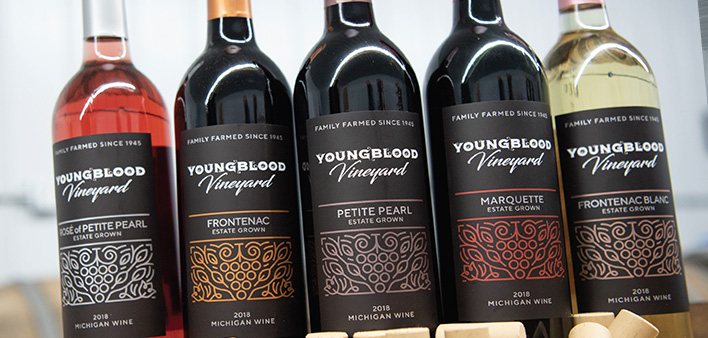 Dave and Jess Youngblood have lived in some of the most beautiful wine-growing regions in the United States, including Washington, California and Virginia. During their travels, the idea of starting their own vineyard and making their own wine began to germinate. It took root when the opportunity to move to Dave's family farm in Ray Township presented itself. The result is Youngblood Vineyard, the first commercial vineyard in Metro Detroit, right here in Macomb County.
"I was intrigued by wine making and kicked the idea around for some time, especially while we lived in Virginia. I was a teacher and some of my fellow teachers and I would go on day trips to vineyards in Virginia and I thought to myself, 'I can do that,'" Jess Youngblood said.
She immersed herself in all aspects of winemaking. As she explained, learning about making wines took a lot of years and a lot of trial and error. She is quick to point out the exceptional support she and her husband received from the University of Minnesota.
Starting Youngblood Vineyard has been a labor-intensive task that included clearing more than 10 acres of overgrown Christmas trees that were planted by Dave's grandfather in the 1950s. The Youngblood family graded the rest of the farm land for planting and installed a one-mile fence around the farm to protect the young vineyard from deer and other animals. Of the 46 acres that comprise the family farm, 25 are dedicated to grape growing.
Because our region doesn't enjoy the climate that is more favorable to the grape varieties grown in California or even the western part of our state, the Youngblood family selected grape varieties known to thrive in Michigan's cold climate and heavy soil. From the six grape varieties, Youngblood Vineyard is creating fi ve wines: three reds, a rose and a white.
"For those who are familiar with Pinot Noir, I encourage them to try our Marquette. Since this is considered a grandchild of Pinot Noir, it offers similar characteristics: mild tannins and a light body. It's a very dry wine and very food friendly," Jess said.
The other reds include Frontenac – which she describes as semisweet and very fruity – and Petit Pearl. "We're all about sustainability, which is why we partnered with Bees in the D in the production of Petit Pearl. This wine is sweetened with 1.2 percent honey collected from bee hives and $1 from each bottle of this wine will go back to support this wonderful organization," she said. Bees in the D is devoted to promoting the crucial role honeybees play in a healthy, diverse environment.
White wine fans will want to try the Frontenac Blanc. Jess describes it as a fuller-body white with a lower alcohol content. Rose aficionados, meanwhile, should try Rose of Petit Pearl.
Prices for 750ml bottles are as follows: Marquette, $22; Frontenac and Frontenac Blanc, $20; Petit Pearl and Rose of Petit Pearl, $18. The wine is made from 100-percent estate-grown grapes, meaning every drop of wine comes from a grape that was grown, and hand picked at Youngblood Vineyard.
The wines will be available for purchase on premises beginning Memorial Day Weekend. Youngblood Vineyard will have an outdoor wine tasting pavilion and will be offering tours of the grounds. Visitors will learn about the intricacies of growing grapes.
Starting a vineyard in an area and a climate that is not used to growing grapes has not been easy. But it has been worthwhile.
"We are veteran-owned and have received the Pure Michigan certification. We're the only vineyard in the state to have received that certification. We're also family owned and our three kids are involved in every step of the grape growing and winemaking process," she concluded.
Youngblood Vineyard – Tasting Center 61829 Ray Center Road, Ray (586)770-5220.
For more information, visit youngbloodvineyard.com or check out their Facebook page.