From Farm to Senior Table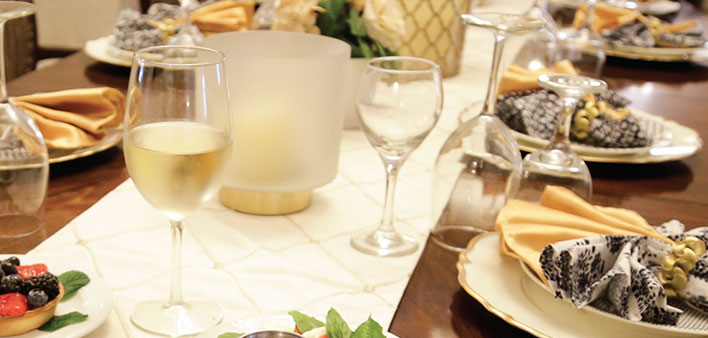 By Tracey Moro/Photography by Mike Ferdinande & Brian Sevald
Everyone loves food, loves to eat and well, we eat all day long. So it's important when we are relying on someone else to feed us that we are happy with our daily meals. Living in a senior community can provide one with the assistance he/she needs including a top notch chef, or even a team of chefs, to cook for you everyday. Seems like seniors get fed pretty good around here.
Macomb Now Magazine went to five local senior communities to feature their chefs and we got some great recipes of the seniors-favorite meals. Senior communities focus on providing services to give personal assistance, monitor health, offer that carefree retirement living and enrich a senior's life. And what better way to make a senior smile than their favorite meal served just the way they like it.
Chef Dee Repokis
Villa Bella Luxury Senior Community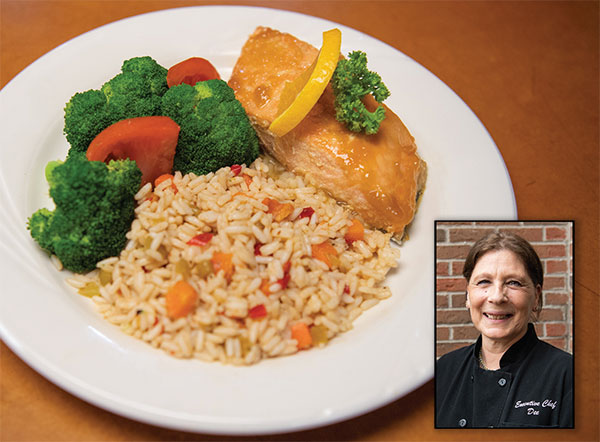 They say when you reside at Villa Bella you fall in love with it, well so do the employees. "I love it here," said Karen Moreland, general manager for the past decade. "We are all like family here and we are family owned by the Grillo family, Angelo and Pat, plus their daughter Melissa." Villa Bella is an independent senior community with enhanced services for more than 135 residents. There are activities, events and even bocci ball courts and of course beautiful dining rooms with fabulous food by Chef Dee. Executive Chef Dee Repokis has been at Villa Bella for ten years. "I've never worked with an executive chef like her," said Moreland. Chef Dee, as they call her, is self taught and comes with a passion for cooking. "I once owned a car wash but decided to take my passion for food and cooking to the next level," said Repokis. Chef Dee makes sure all 135 residents get breakfast, lunch and dinner every day. She is known for her fish, ribs and homemade hamburgers. "The seniors seem to love all varieties of fish. Friday is fish day. The Orange Glazed Salmon is something different. A lot of places don't do the orange glaze. Here they love it," said Repokis.
---
Chef Chris Menifield
Grace Senior Living Center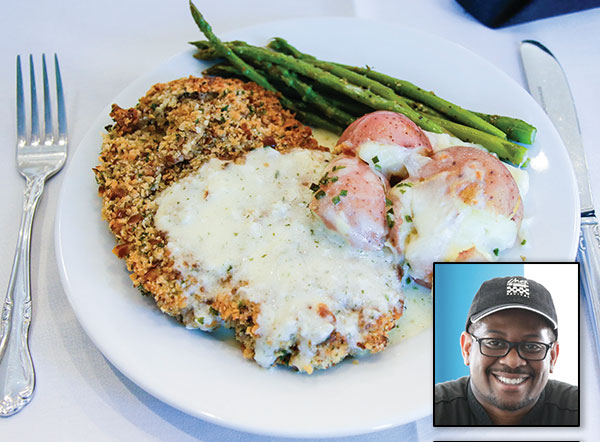 New to Chesterfield is Grace Senior Living Center, a community of just 50 plus residents. The center is family-owned and operated providing licensed assisted care and memory care for the aged. Mark and Kimm Kincer, are hands-on owners. Mark is a physical therapist and his wife Kimm is a nurse. Their partners Dave and Jennifer Fulkerson are also quite involved, Dave handles finances while Jennifer the interior design. "Everything we did was intentional, all the way down to the color on the walls. Our size was intentional. We have one floor in the shape of an eight with two enclosed outdoor courtyards so it's very safe for our residents. The memory care dining rooms is painted a salmon color – which is an appetite inducer," said Christine Fitzpatrick, community director. "Our mission is everyone feels loved, listened to and understood. Executive Chef Christopher Menifield has worked in community kitchens for many years, including other senior communities, Disney, Marriott and the Hilton. "I love it. I've been working with seniors for about five years. I'm able to get creative and get their feedback, make adjustments," said Menifield. He has a staff of eight providing meals for the residents and a twilight menu for after 6 p.m. "Our food philosophy is a fresh food approach. Everything is made from scratch and we have a variety of food available in the dining rooms or with room service. "It's the meat and potatoes generation," said Menifield. "Seniors don't like fancy. Keep it simple. I get their input too, and sometimes feature their own specialities. We want to make them feel like they're at home."
Pretzel Chicken with White Wine Butter Sauce

Pretzel Chicken
Serves 4

4 boneless skinless chicken breasts
1/4 cup olive oil
2 eggs
1/2 cup milk
1 Tbsp. minced garlic
1 cup flour
1 cup panko bread crumbs
1/2 cup grated parmesan cheese
1 cup coarse ground pretzels
2 tsp. granulated onion
Salt (optional to taste)
Pepper (optional to taste)
2 Tbsps. dried parsley
1/2 cup vegetable/canola oil

Directions

Take chicken breasts and use a mallet to flatten evenly. In a mixing bowl add olive oil and garlic add chicken and coat. In a separate mixing bowl, whip eggs and milk together. In another mixing bowl, add panko, ground pretzels, parmesan, granulated onion, salt, pepper, and parsley. Mix together well Begin the three-step breading process by coating the chicken in flour (shake off excess), then egg wash mixture, then bread crumb mixture. Make sure the chicken is well coated during each step. In a large pan, place vegetable/canola oil and reduce the heat to medium. When pan is hot, place chicken inside and cook until golden brown and internal temperature reaches 165 to 170 degrees.

 

Sautéed Asparagus

2 bushels fresh asparagus, washed and cut
Salt and pepper to taste
3 Tbsps Olive oil

Directions

In a large saut. pan over medium-high heat add oil. Once hot, add asparagus, cook while stirring until tender 2-3 minutes.

White Wine Sauce

1/4 cup butter
1 Tbsp minced garlic
2 Tbsps flour
Salt (optional to taste)
Pepper (optional to taste)
1/2 cup heavy cream
1/2 cup white wine
1/2 Lemon juiced
Fresh parsley

Directions

Place a medium saucepan on medium-low and place in butter until melted. Place in garlic, salt and pepper and slowly cook until they become translucent, about three minutes, then set aside. Add in white wine and lemon juice to a different saucepan on medium heat and allow to simmer about two minutes. Add cream and butter garlic mixture while whisking continuously until it begins to thicken, about 3-5 minutes. Remove from heat and put in fresh parsley. Place sauce over the chicken.

 

Rustic Cheesy Potatoes

2 lbs red skin potatoes (washed)
2 Tbsps butter
1 Tbsp fresh garlic
1 cup Mozzarella cheese
Salt and pepper to taste
Fresh chives

Directions

Boil potatoes on medium heat. Once potatoes are soft, strain, do not mash. Toss in mixing bowl with other ingredients. Place potatoes on a cookie sheet, top with cheese, bake at 350 degrees until golden brown. Top with chives.
---
Chefs Mintora McGhee & Chanti Kang
Shelby Health & Rehab Center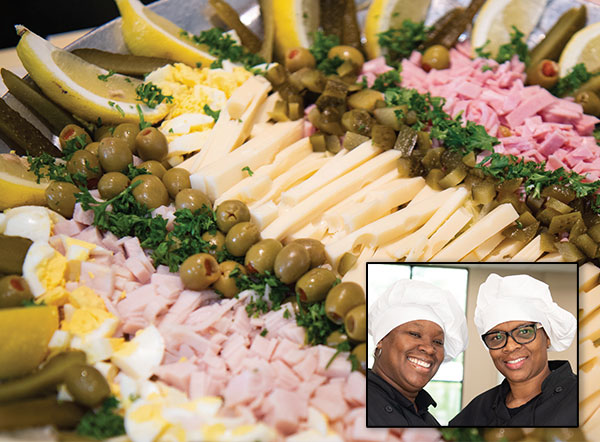 Fans of Detroit's J L Hudsons will find the Hudson Bistro at Shelby Health & Rehabilitation Center in Shelby Township to be a blast from their past. You'll find the bistro inside The Hudson at Shelby, a special wing catering to every aspect of health and recovery. Using the same iconic Hudson department store's qualities of luxury, service and style, the 72 private luxury suites include exclusive dining at the bistro, featuring many of the famous menu items from Hudson's Restaurant. Chefs Mintora McGhee and Chanti Kang head the bistro together to feed all residents of The Hudson at Shelby. The bistro is open seven days a week for residents, their friends and family, and the general public. Both chefs chose to work in this industry because they each share a desire to create a unique dining experience for a senior population that is not always in the best of health. Being able to prepare food for someone who can no longer go to a restaurant, or to their own family's home for dinner, is the adrenaline rush that keeps Kang and McGhee coming to work day after day. "Our Maurice Salad, paired with a bowl of Canadian Cheese Soup, makes for a great meal and is sure to bring back fond memories," said Sean Southers, director of marketing. "The menu may not be the first thing people think about when choosing a place for rehab, but we believe it speaks clearly to our goal of offering more than what is expected."
JL Hudson Maurice Salad
Serves 8

1 head shredded iceberg lettuce
14 oz. ham, julienned
14 oz. turkey, cooked and julienned
14 oz. swiss cheese, julienned
1/2 cup sliced sweet gherkin
12-16 pimento stuffed olives
2 fresh lemon wedges
1/2 tsp. minced fresh parsley
4 hard boiled eggs, sliced for garnish

Directions

Lay lettuce on a platter, top with salad ingredients, and serve with J L Hudson Original Maurice Dressing

J L Hudson Maurice Salad Dressing

2 tsp. white vinegar
1 1/2 tsp. fresh lemon juice
2 tsp. minced onion
1/2 tsp. sugar
1 1/2 tsp. dijon mustard
1/4 tsp. dry mustard
2 Tbsp. fresh parsley
1 cup mayo
1 hard boiled egg, minced
1/2 cup whole milk
Salt to taste

Directions

Mix ingredients in a bowl, add salt and
pepper to taste, refrigerate after.

Canadian Cheese Soup
Serves 8

3 cups chicken broth
4 medium potatoes, peeled and diced
2 celery ribs, diced
1 medium carrot, diced
1 small onion, diced
6 oz. Canadian bacon, trimmed and diced
2 Tbsp. butter
2 Tbsp. all-purpose fl our
1 cup whole milk
2 cups shredded cheddar cheese
1/8 tsp. pepper

Directions

In a large pot combine the first five ingredients, cook for 20 minutes. In separate pan melt butter, stir in the flour and gradually whisk in milk. Add vegetable mixture, cheese and pepper. Stir just until cheese melted. Cook bacon and add to the mixture.
---
Chef Paul Gilleran
Waltonwood Lakeside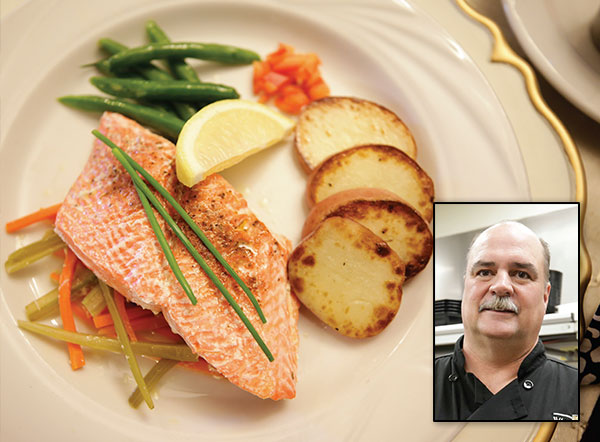 "It's somebody's mother and they deserve the best," said Executive Chef Paul Gilleran of Waltonwood Lakeside. He has been with Waltonwood for about seven years. "We run the kitchen like a family. Each meal is fresh. We cook for breakfast, lunch and dinner, and more." Waltonwood Lakeside is family-owned and operated, providing three levels of care – independent, assisted and memory care. "My team of almost 70 people runs the kitchen and all dining areas for about 200 residents daily," said Gilleran. "I really enjoy what I do." Gilleran, who graduated from the Culinary Institute of America in New York City in 1986, previously owned restaurants. "At restaurants you get to know your customers, but here, I really know the residents because I see them everyday. We become friends. I'm very fortunate." Residents have been requesting the Poached Salmon, making it a favorite on the menu. "We will go through 50 pounds of salmon in one night. Everyone likes it because we start with high quality products. We are very proud of our food and they'll let us know when they like it."
Oven Poached Salmon

Ingredients
(4 ea.) 6 oz. boneless, skinless Salmon fillets
8 oz. julienne carrots
4 oz. julienne leeks
2 oz. julienne celery
2 sprigs of fresh tarragon
1/4 cup butter
1/2 cup of white wine
1 lemon cut into 8 wedges
1/4 cup water
Old Bay seasoning
Salt & pepper to taste

Directions

Preheat oven to 375 degrees. Brush the bottom of a 9 x 6 baking dish with the butter. Evenly sprinkle the carrots, celery, and leeks to cover the baking dish. Place the salmon on top of the vegetables. Pour the wine and water into the baking dish. Should fill to about 1/3 of the pan. Squeeze a wedge of lemon over each individual piece of fish. Top each fillet with a sprinkle of salt and pepper and Old Bay seasoning to taste. Cover the dish with aluminum foil and cut about six small openings into the top of the foil. Place in oven and baked for about 20 minutes. The salmon needs to be white and tender all the way though. Evenly place the vegetables on the four plates and top with piece of salmon. Garnish with lemon and the juice from the dish. Enjoy.
---
Chef James McIntosh
Rose Senior Living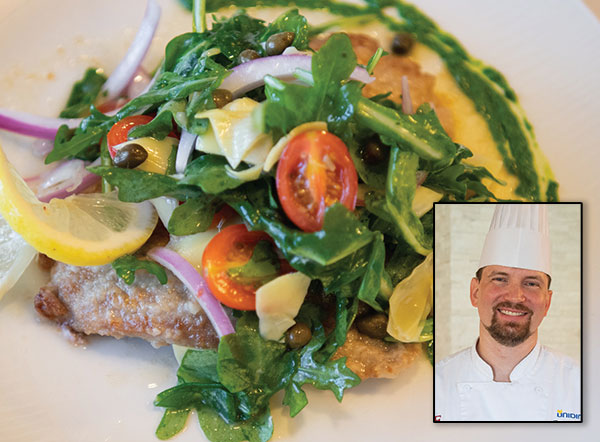 With more than 180 residents to feed every day, Executive Chef James McIntosh is thriving in his position at Rose Senior Living in Clinton Township. This being his first senior community to cook for, Chef James has found it incredibly satisfying. "I enjoy it, the people are great. I'm starting to learn what they like and don't like," said McIntosh. He comes with a great deal of experience, including most recently at Nino Salvaggio International Marketplace. "It's really just about catering to them and making them happy," he said. Rose Senior Living has more than 30 on staff between the kitchen/servers within their three dining areas. The senior community, located near the Mall at Partridge Creek, is now in its fifth year providing independent living, assisted living and memory care. The Grand Dining Room and Bistro are open to residents, their visitors and the public. "We have several residents with dietary needs. We will also do puree with a purpose, where we puree the cooked food and then present it like it was meant to look, making it more appealing," said McIntosh. The Veal Scallapini shown is a treat residents request often, making it a favorite. "We have all fresh food here, with everything made from scratch, including soups and sauces, said Deborah Hakim, dining services director. "We also have an Oh So Good section on our menu with healthier options." Deb also explained they have many events throughout the year in the dining area. Coming up will be their Farmers Market with fresh pies and some Halloween fun too. Chef James added. "We have a garden on site with fresh herbs and vegetables that we incorporate into our menu as much as possible. It's restaurant-style dining with really nice plated meals."
Veal Scaloppini
(Fresh Take)
Serves 4

8 4-oz cuts of veal round, pounded thin
Salt & pepper
2 cups all purpose fl our
1/4 cup olive oil
2 large garlic cloves minced
1 lemon cut into wedges
1 cup chicken or veal stock

Directions

Lightly season the veal with salt and pepper and dredge in flour until just coated. Add olive oil to a large hot sauté pan (medium to medium high heat) and sauté veal until dark golden brown on each side (approx. 2-3 minutes each side). Before removing, squeeze half the lemon wedges onto the veal in the pan. Remove the veal onto plates, two pieces per plate. Add garlic to pan and sweat for one minute. Add a little oil if necessary. Squeeze rest of lemon wedges into pan, add stock, reduce by half while scraping bottom of pan with wooden or rubber spatula. Spoon just enough pan sauce over the veal to coat it.

Arugula Salad

4 packed cups arugula
1 cup halved grape tomatoes
1 cup chopped artichoke
1/2 cup Julienne red onion
1/4 cup capers
1/8 cup squeezed lemon juice
1/8 cup cider vinegar
1 Tbsp. Dijon mustard
1/2 cup olive oil

Directions

Add cider vinegar, lemon juice and Dijon mustard to a mixing bowl. Vigorously whisk while slowly adding the olive oil. Once the vinaigrette is done, add it together with all the vegetables, toss together, top the veal.