The Magical "Floating" Christmas Tree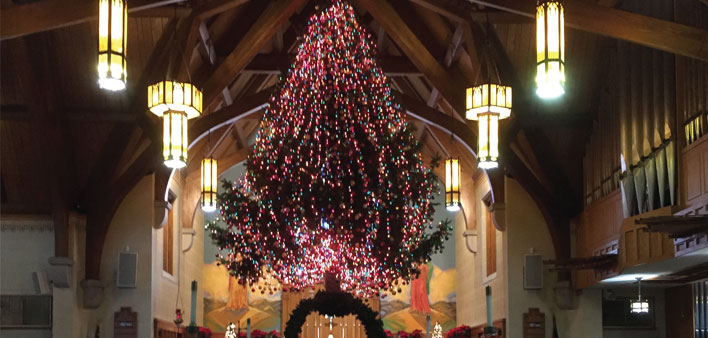 By Nick Lico
Christmas trees have long been featured at local churches, but for the past 56 years, St. Peter's Lutheran Church in Eastpointe has put up an impressive Christmas tree that appears to float. "We started this tradition in 1966 in response to a fire department directive. We used to decorate two trees and they were too large, preventing exits in the event of an emergency. Our solution was to raise the tree, allowing parishioners and visitors to walk underneath the tree," explained Michele Gapski, principal, St. Peter's Lutheran School.
It's a massive tree, approximately 17 feet in height and placed on a black wrought iron stand. "It's placed approximately eight to nine feet above the pews, so you can walk underneath it. The tip of the tree touches the ceiling," Gapski added.
She explained that the tree is brought in through the front door and is carried over the pews. "It used to be that kids would pull ropes to put the tree in place. Now we use a pickup truck, making it much easier," she said.
It takes 70 strands of LED lights and 2,000- 3,000 ornaments to decorate the Christmas tree each year. This labor of love is performed by church member volunteers. "It's become a tradition to add new ornaments each year and because it's so tall we have to use a cherry picker to decorate the tree," Gapski added.
The Christmas tree usually goes up the Sunday before Christmas and the first time everyone sees it fully decorated is at Christmas Eve services. A children's service will take place at 3 p.m. and services are also available at 7 and 11 p.m. Christmas Day service is scheduled for 10:30 a.m. "Everyone is welcome to come during Christmas services. While we're proud of our church year-round, St. Peter's is truly magical at Christmas," she said.
The church, located on Gratiot between Nine Mile Road and Stephens, features a total of 13 Christmas trees, including six that are decorated by students. There will also be a life-size Nativity scene on December 7 starting at 5:30 p.m.
While visiting the church, be sure to note its historical aspect. St. Peter's Church has been in existence for 177 years. "Our church was founded in 1845. It was a log church on the Fort Gratiot Turnpike south of Eight Mile. We've been in our current building since 1950," Gapski added.
The church features a neo-gothic style, stained glass windows, vaulted ceiling, slate fl oor, and a bell tower with the bells dating to 1876. The bricks for the building were hand-made on a farm near Ten Mile Road and transported by wagon.
For more, please visit stpeterslutheranchurch.net.