Students Prepare For Fire Fighting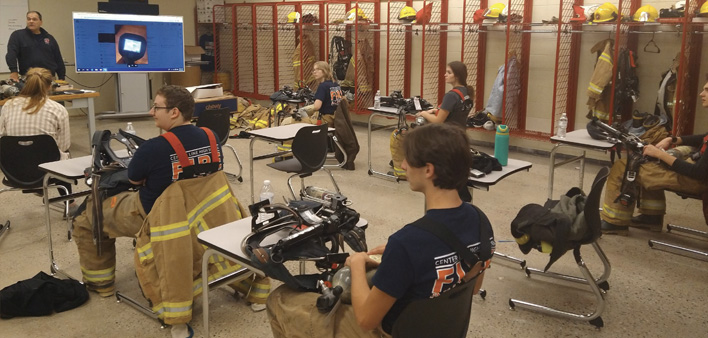 By Alexis Bohlinger
Center Line High School is taking professional development to the next level with its firefighter training program: it's available to upperclassmen as an elective. The goal of the program, which took off three years ago, is to provide students with a skillset that will turn into a career right out of high school.
The firefighting class is part of the Career and Technical Education (CTE) program, which is part of the new Academy Model. Better understood as a school within a school with an educational curriculum that prepares students for college and skilled trades by letting them learn through the lens of a potential career. These classes are hands-on and give students the opportunity to learn through doing.
"The goal of the program is to get everyone certified in something before they graduate," said Academy Coach, Christine Akroush. She explained that the program has been extremely successful in the first few years and that students who have not yet graduated are receiving job offers.
"We are lucky to have two very qualified program instructors: full-time firefighter, Dave McGee and graphic design teacher and EMT, David Watts."
Through the teachings of people who have been in the field, students can really grasp what being a firefighter is all about. "Firefighters are big on family and developing a supportive atmosphere around that idea," said Akroush. "This atmosphere quickly developed in the classroom and the students pushed one another to accomplish their goals."
At the end of last school year, nine students went on to take the state fire exam. Their written test consisted of 200 total questions, 150 firefighting questions and 50 Hazardous Materials questions. The cadets were given three hours to take the exam before they went onto the rigorous physical portion which tested their hands-on skills. After a physically and mentally taxing exam, seven of the nine students passed their evaluation. "Upon completing the test, many of these students had job offers extended to them. Three have started at local departments," said Akroush.
In addition to the fire program, other skilled trade classes offered at Center Line High School include law enforcement and emergency medical technician classes. They also have a partnership with three other districts so students at other schools can take electives and earn hours.
"We have every intention of continuing to build the fire program and spread awareness about it," said Akroush. "College is not for everyone and we believe it's our duty to get those students prepared for the workforce right out of high school." She continued, "We are very excited about the support we've received from the community and from local firefighters and EMTs. It's truly been a team effort."