Fashion—Making Sure You Look Your Best Is Jason Barbaro's Mission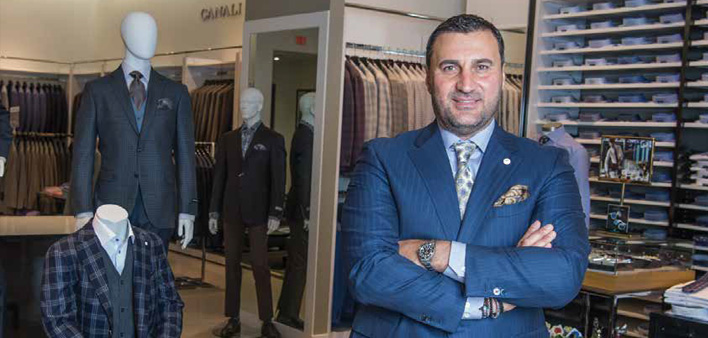 By Nick Lico / Photography by Mike Ferdinande
As ZZ Top sang in their hit song Sharp Dressed Man, "They come runnin' just as fast as they can 'cause every girl crazy 'bout a sharp dressed man."
In today's nearly always-casual style, it's reassuring to know we have a place close by where we can go when we need to amp up our elegance. That place is J. Barbaro Clothiers. The business was founded in 1998 by Jason Barbaro and he has since opened several locations nationwide, including The Mall at Partridge Creek, Great Lakes Crossing in Auburn Hills, San Diego and Newport Beach, CA and Las Vegas. A third-generation suit maker, Barbaro studied women's fashion in Milan, Italy and has a deep appreciation for fine Italian textiles and fashion. After concluding his studies in Milan, he started working with a large apparel manufacturer before venturing on his own.
"I've been in business for a long time, some of it with my father," the Malta native, Shelby Township resident and father of two said. As he explained, he has been helping a wide-ranging clientele look its best.
"We have dressed local television personalities, lawyers, politicians, rock bands that travel the world, as well as your next-door neighbor. No matter your profession, we can dress you to look your best," Barbaro said. He mentioned that he has helped dress product specialists for various auto shows and conducts annual fashion shows.
"We say that we can take you from the courtroom to the boardroom to a concert and even down the aisle. We offer only the best designers because they know fashion trends and have well-crafted and timeless pieces," Barbaro added.
Also available is the Jason Barbaro Collection. It's ideal for those with a busy lifestyle, especially those who must travel frequently. "We offer a full line of wrinkle-free suits, pants and shirts. We also offer casual shirts, shorts and T-shirts. We offer a wide range of products, like you would find at a man's department store. The difference is that we're more eclectic. Rather than the same boring items, we offer the unusual through our custom division," Barbaro said.
For those who need – or prefer – to wear suits, Barbaro recommends choosing a style that suits you. J. Barbaro Clothiers can custom-fit the suit to your body style. "We can even put a favorite photo in the lining of your suit, making the suit a one-of-a-kind," he explained.
When asked about fashion trends, Barbaro mentioned that pocket squares and casual slacks are extremely popular, as are sport coats.
When he's not traveling to his stores or visiting the fashion capitals for the latest offerings, Barbaro can be found supporting various local community organizations and events including Thrilla at the Villa, Angels of Hope and Henry Ford Hospital.
"I love helping people and giving back to the community. Life's been good to me and this is a good way for me to help others," he said.