Drive-In Movies Are Back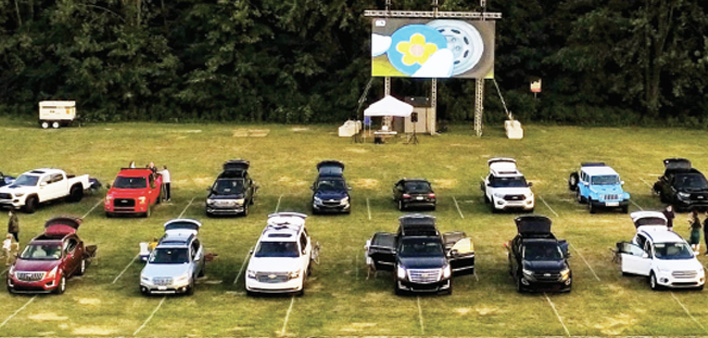 By Nick Lico
Back in the day, summertime in Michigan included drive-in movie nights watched from the comfort of your vehicle. The family would load into the station wagon, pajamas in toe and the night would be filled with popcorn, hot dogs and up to three movies in one night. Then the 1980s came and most of the drive-in theaters went out of business. One pandemic later and we are back to social distancing to see movies and drive-ins are back in style.
Playing on the nostalgia and providing a safe way for a family to have fun and see a movie, drive-in theaters are popping up throughout the county. While not as prevalent as they used to be, there are a few places in Macomb County where you and your family or friends can catch a movie this summer from the comfort of your own vehicle.
Macomb County Drive-In Movies
Situated at Freedom Hill County Park in Sterling Heights, Macomb County Drive-In Movies is the brainchild of Carl Gianotti.
"We started the drive-in last year and families loved it because it was something they could do outdoors while socially distancing. We usually present two movies per night on the weekend," Gianotti said.
The movies are shown on a 32-foot LED screen that is raised 15 feet, ensuring optimal visibility from any row. Cost is $25 per car per movie, unless it's a double feature and each vehicle is assigned a 15-foot x 2 0-foot space for proper social distancing. Lawn chairs, blankets and pillows are welcome; barbecue grilles and RVs are not. Very tall vehicles are asked to park in the last row as a courtesy to other patrons.
"We usually offer a family movie at 6:00 and a second, more adult-oriented movie at 9:00. We plan on showing E.T. the Extra-Terrestrial, Back to the Future, Jaws and Jurassic Park. A full list of movies is available on our website," he said.
Food trucks are available onsite, along with popcorn and theater candy. A restroom trailer is also available.
Movie Magic Lakeside
Opening in early June, also in Sterling Heights, is Movie Magic Lakeside, situated in the mall's parking lot. Those who visited the drive-in theater last year will notice a number of changes.
"Last year we used shipping containers to position the screen. This year we'll be using more traditional screen structures," said Mike Oddo, the company's president. He added that the screen measures 32 feet x 60 feet and is raised 40 feet.
Movie Magic Lakeside will show both first-run and older movies. Food from the concession stands will include traditional movie fare, as well as grilled meats and pizza.
"Unlike most drive-ins, which close in the fall, we plan on staying open through the end of the year. We have a number of exciting events planned in October, including scary movies with some additional live excitement," Oddo said. "We will follow that up with Christmas movies, which were extremely popular last year."
Coon Creek Drive-In
Free and open to family, friends and folks in the area, Cook Creek Drive-In in Armada features a 42-foot 4K movie screen. It's located on private property owned by Jon and Cris Martin.
"I've been a projectionist since the age of 16; I'm 64 now. We started showing movies about 22 years ago. We play a lot of really bad music prior to the movies, which are typically family-friendly, as well as cartoons and coming attractions," Jon Martin said.
The drive-in is open to the public but requires an invitation, made via their Facebook page. Donations are accepted and the drive-in is available for private functions and fund raisers.
"Because these are family events, the only rules I have are no alcohol and no politics," Martin said.
Sound for all three drive-ins is provided via the vehicle's FM radio. Coon Creek Drive-In also offers 24 original drive-in speakers. Pack up the family, grab a blanket and enjoy a movie under the stars.
DRIVE-IN MOVIES
Follow direction below for each drive-in movie.
Macomb County Drive-In Movie
Freedom Hill County Park, Sterling Heights
Every weekend plus more.
For more information and to purchase tickets visit macombcountydriveinmovies.com.
Movie Magic Lakeside
Lakeside Mall, Sterling Heights
For more information and to purchase tickets vist moviemagiclakeside.com.
Coon Creek Drive-In
Armada-Invitation only by their FaceBook page facebook.com/groups/268246846610332.
MOVIES IN THE PARK
The following communities also offer outdoor movies:
Chesterfield
Every Tuesday from June 22 until July 27 on the grounds of the Historical Village.
Times to be announced. Parking is available at the municipal offices. parks.chesterfieldtwp.org.
Clinton Township
July 14, 21, 28 at Civic Center Campus, located at Romeo Plank and Canal roads. Music starts at 7 p.m., followed by the movie at 8:30 p.m. Registration is required. clintontownship.com/recreation.com.
Macomb Township
Friday, August 6 at Macomb Corners Park. Details to be announced in June. macomb-mi.gov/204/Parks-and-Recreation.
Mount Clemens
Uptown Mount Clemens Movies Nights, Macomb Place Parking Lot, Saturdays, June 12, July 10, August 14, September 11, October 9
Visit their FaceBook page for more.