Domestic Violence In The Age Of Covid-19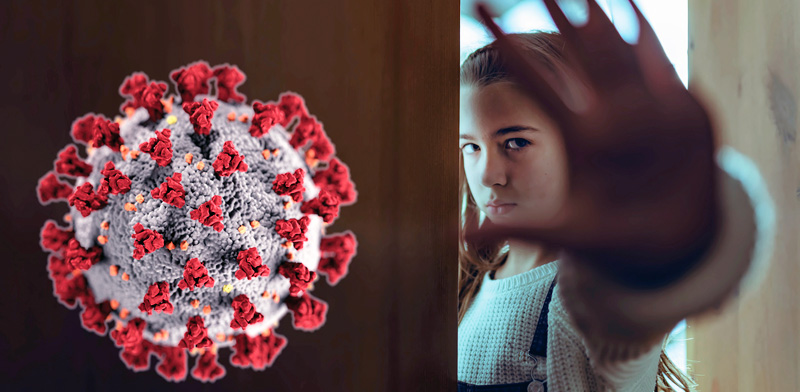 By Shelley Galasso Bonanno, MA, LLP
Stay home. Stay safe. A commonly heard phrase in the age of COVID-19. But is home always a place of refuge? As more individuals have been forced to stay at home, domestic violence and divorce worldwide have rapidly increased. Studies show that in the wake of personal crises, including increased stress, financial difficulties, and job loss, danger from physical abuse intensifies. It is a pattern currently witnessed around the globe. The United Nations has recently identified a world surge in domestic violence since COVID-19.
Not surprisingly, studies reveal domestic violence tends to increase when families spend more time together. Isolation at home, while designed to keep us safe by restricting our movements to combat coronavirus, provides more power to abusers. Stay at home orders have resulted in many individuals being "trapped" with their abusers and increasingly isolated from friends, families and other support networks, making it increasingly difficulty for victims to get help or escape abuse. Statistics suggest incidents of domestic violence have increased by up to 25 percent globally during the lockdown. Many professionals have referred to this combination of factors as a "perfect storm." Domestic violence itself has increasingly become a pandemic.
While domestic violence was a crisis long before the COVID-19 outbreak, according to data collected worldwide by the United Nations, 243 million women and girls between the ages of 15 and 49 were subjected to sexual or physical violence by an intimate partner in the last 12 months. In the United States, studies reveal as many as one in four women and one in nine men are victims of domestic violence. Domestic violence is not limited to physical abuse. It can take varying forms including, but not limited to, verbal, emotional, economic and sexual abuse. While often associated with feelings of shame by the victim, domestic violence is not the fault of the victim.
While historically less than 40 percent of individuals who experienced domestic violence seek help, help is available even during the global pandemic, despite stay at home orders. If you or someone you know is at risk, reach out to the National Domestic Violence Hotline at 1 (800) 799-SAFE (7233) or 1 (800) 787-3224 for TTY, or if you are unable to speak safely, you can log onto thehotline.org or text LOVEIS to 22522. The hotline is available 24 hours a day, seven days a week, and can work with you to find help in your area. Local agencies such as Turning Point also offer 24/7 crisis lines that continue to operate during the coronavirus pandemic and can be reached at (586) 463-6990.

A lifelong resident of Macomb County, Shelley Galasso Bonanno is a practicing limited licensed psychologist who earned her master's degree from Wayne State University in 1987. She has a breadth of experience in working with adults, children, families, and couples. In addition to working in private practice, Ms. Bonanno performs consultative services for State and forensic agencies. She performs custody and parenting time evaluations and is a court approved mediator. Her writings have appeared in various online and print publications. An advocate for mental health, you can follow Ms. Bonanno on Twitter @ shelleybonanno.