Do-It-Yourself Herb Garden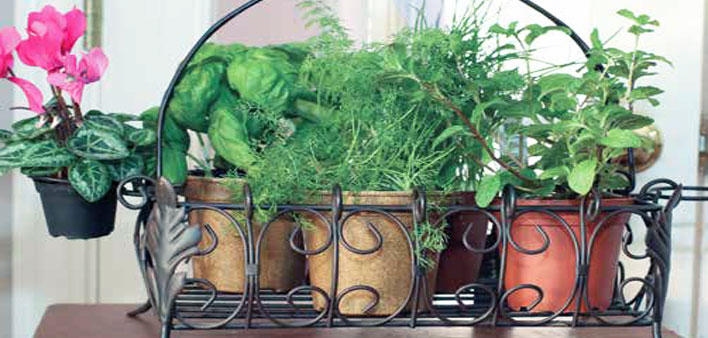 By Tracey Moro / Photography by Anne Nicolazzo
The benefits of having fresh herbs all year long right at home is more than enough reason to plant your own herb garden, and you don't have to be a Master Gardener to do it.
"I feel we all have a 'semi' green thumb," said Karen Burke, advanced master gardener and horticulture assistant with MSU Extension. I like to tell people, 'If you like to gamble, become a farmer!' They never know from year to year what, if any, bumper crop they may have."
Burke has 27 years of commercial farming under her belt and uses her extensive knowledge working at the MSU extension office.
We asked her to give us step-by-step instructions for starting an herb garden. We think this DIY project is perfect for anyone who enjoys cooking with fresh herbs and loves gardening too.

Purchase Herb plants
There are many herbs out there and all can be grown in a indoor garden. When choosing your herbs, pick ones you know you will use and enjoy regularly. Easy herbs to grow include basil, chives, parsley and dill. Dill will self-seed in your garden so it can be fun to see how long you keep it going from year to year.
Potting Soil and Your Pot
Most herbs can be grown indoors in a four inch pot if harvested on a regular basis. If you notice the plant growing larger or roots coming from the bottom of the pot, you should transplant it in a pot one size larger. It is very important that the container have drainage holes in the bottom. If you are growing more than one herb you may want to invest in a strawberry planter. If you are new to gardening, purchase an established plant from a reputable source. Not only will you get a high quality plant, but you can always go back and ask for advice if you need it. Keep the plant tag for important information on the care, placement, watering and variety of the herb.
Beginners should use general potting soil. (If you are growing your herbs indoors). Once you advance and learn more you can get involved with the more complicated soil types and mixes. Most herbs do not like to be grown in a heavy clay soil. The purchase of soil is the best way to go as soil from outside is not recommended.
Allow for Sunshine
Most herbs do well in a sunny window. South, east or west windows are usually best. They will not grow as fast as they would if you planted them outside. They need at least five hours of sunlight a day and do best when placed on a tray of pebbles with water added to the bottom to increase humidity. At some point you may move your indoor garden outside. If you do want a larger yield, your plants will benefit from the wonderful sunshine. Keep in mind you will need to transplant them to a larger container since they will grow hardier. You can also transplant them into your in ground garden. Double check your frost date before transplanting.
Harvesting
Even with small plants, you will be able to use them immediately. You should not harvest more than a third of the plant at a time. Most often we use the leaves of the plant. Remember, when you are cutting the plant to use, you are also pruning it. It should become bushier, resulting in a larger harvest. Harvesting the herbs usually involves cutting on the stem and stripping the stem of the leaves with your fingers. This is the process for most herbs. You can use a regular pair of scissors for this. Some herbs, such as Rosemary, can get a very woody stem, needing stronger scissors.
If you don't want to use your herbs fresh or you have an abundance and want to dry them, you can simply bunch them placing a rubber band around the bottom of the stem, then hang from a curtain rod away from steam. Or place on paper towels to dry, use a dehydrator or better yet, place them on a cookie sheet lined with paper towels and place in your car on the dash board. Be sure your car is parked in the sun. Not only will you dry your herbs fast, but your car will smell great also! Always harvest herbs in the morning after the dew has been dried off and rinse them first.
For additional information, call
State Lawn and Garden hotline: 888-678-3464
Macomb County hotline: 586-469-5063
(Mon., Wed. Fri. 9am-4pm.)
or visit us in person at :
MSUE Extension
21885 Dunham, Suite 12
Clinton Township 48036