Curb Appeal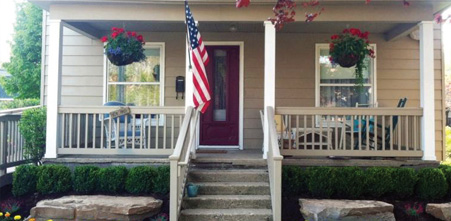 By Nick Lico
Curb appeal is defined as how attractive your home appears when viewed from the street. It's the equivalent of the impression your home makes to those seeing it for the first time. Improving it can make your home more appealing to potential buyers … or simply gives you a home you can truly be proud of. There are many measures you can implement to improve your home's curb appeal, some require very little financial outlay. No matter your budget, springtime is the best time to begin sprucing up your front porch.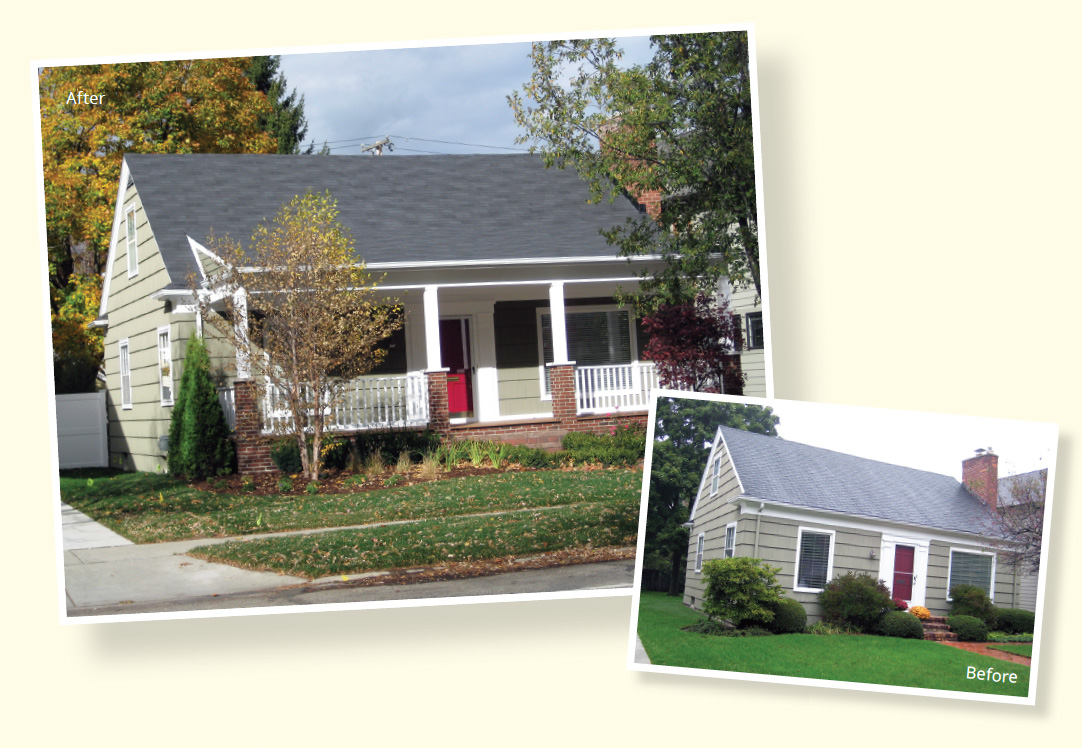 Start with simple. Something as simple as a colorful front door can truly make a difference and costs very little. Dress it up with wreaths, swags or other easily changeable decorations. For something a little more involved, consider changing the door itself.
"We've had customers ask us to install privacy doors; they let more light into the home while still providing a level of privacy. We've also replaced existing doors with ones that are taller and wider. It's incredible how something as simple as replacing the front door can dramatically change the look of the house," said Jason Arnott, owner, founder of Earth Environments. The Romeo-based building and landscape company has been helping clients beautify their homes and businesses since 2007.
Add or enhance your front porch. Before the advent of air conditioning and television, a home's front porch was the entertainment place in warmer weather. It provided a cooler place for family, friends and neighbors to gather, socialize and share a beverage. Some homeowners are taking steps to make the front porch accessible year-round.
"We've been seeing people add space to the home, including porches that give you usable space. These porches deliver the benefits of being outdoors and the convenience of your living room," said JP Jacques, Earth Environments lead designer.
Decorate your porch. Don't overlook decorating your front porch to reflect your personality and style. Add a rug, comfortable seating, plants, decorations, even lighting – anything you can think of to truly make this space an extension of your home. Just make sure it complements the home's interior.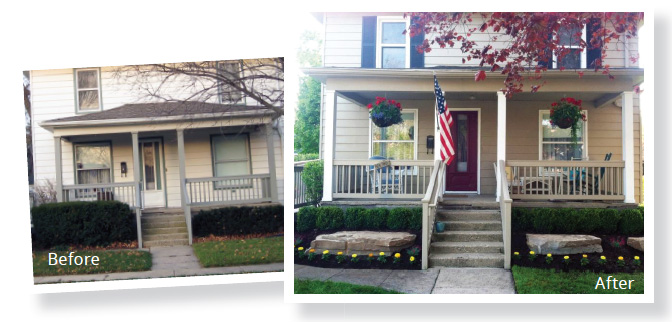 Spruce up landscaping. Take a close look at your landscaping. Does it still work as well as when it was first installed? If the answer is no, it's time to spruce it up. New plants, cutting back existing plants, adding stone accents, even artwork, can make your home more appealing. Earth Environments also recommends putting plants and flowers in raised beds.
"As the population ages, taking care of plants that are at ground level is more difficult. Placing the plants in raised beds makes it much easier to care for them," Arnott said. Consider placing a couple of raised beds on and around the front entryway and use a staggered, asymmetrical approach to create a dynamic setting.
Take a bold approach. "We're finding that our customers are not afraid to take a bold approach to their landscaping. Many have been adding steel for a modern, industrial feel," Arnott said.
"We've also had customers request large stones and stone steps to give the front yard dimension and height. Additionally, retaining walls create multidimensional yards." Jacques added.
Install outdoor lighting. Now that you've updated your landscaping, it's time to show it off with accent lighting. Low-voltage outdoor lighting can welcome guests by lighting walkways and accentuate your home's unique architecture by illuminating those elements. It also provides an additional element of security.
"When we install outdoor lighting for our customers we map everything out to ensure it creates a dramatic effect. We make sure we avoid situations where the lighting is shining in windows or blinding someone as they walk to and from the house," Arnott said. "We highly recommend LED lighting because it's brighter, lasts longer and uses significantly less energy. For greater convenience, we suggest putting the outdoor lighting on a timer so it's a set it and forget it situation," Jacques added.