Creating a Home Gym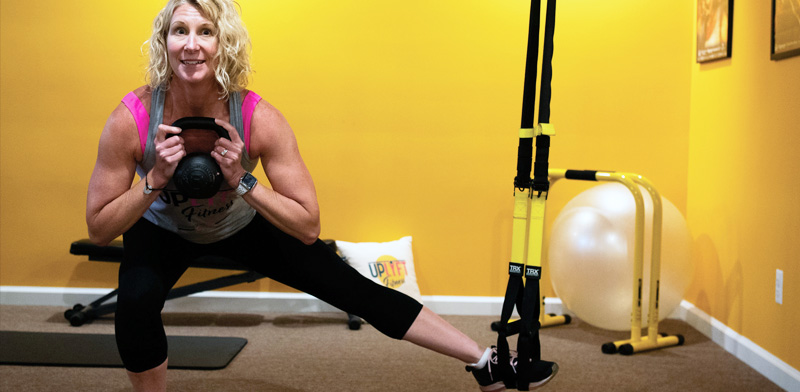 By Laurie Moro / Photography by Mike Ferdinande
With the weather turning cooler, more people are looking to take their workout back inside. So why not create a gym in your home? Here are some things to consider when setting up an inviting and effective home gym space.
Designated Space
Home gyms don't need to be large. For most of us in Macomb, the basement usually offers a space that can be assigned as the workout area. I suggest at a minimum, you need enough space for a yoga mat that you can stand on, with your arms out. Bright enlightening colors and motivational posters will help make the space inviting and will enhance your area. Who wants to go into a dark dingy corner of the basement and workout? Making it a dedicated inviting space can be very helpful in motivating you to use it.
Equipment Needed
When it comes to strength equipment, dumbbells, stability balls and resistance bands all have their place and are commonly found in home gyms. But here are a couple more recommendations for your home gym you may not have considered.
TRX
When someone asks me what they need to get started with a home gym I enthusiastically answer a TRX suspension trainer. For around $200 you have a piece of equipment that uses your body weight to work the upper body, lower body, and our all-important core. The suspension trainer is very versatile. It fulfills the needs of an elite athlete, but yet someone recovering from a joint replacement can find it just as useful. The TRX does not require much space and you can install it to your wall, ceiling or just use the door anchor that it comes with.
Kettlebells
Kettlebells don't take up a lot of space and they add variety. All it takes is a kettlebell, a willing body, and in 30 minutes you can complete an amazing full-body workout. Kettlebells can be used both for cardio and for strength training. They may look intimidating at first but with a little practice you will quickly learn how to work your whole body with just one or two kettlebells. These two tools are great alone but put them together and you have a lot of options for progressions and variety that will help fight boredom. Utilizing a home gym also gives you the freedom of doing a work out on your time schedule. Laurie Moro, ATC, CPT specializes in coaching women over 40 to live their best life by providing easily accessible, empowering, energizing, evidence-based workout programs. Check out the Uplyft Fitness YouTube Channel for demo and coaching videos on TRX, Kettlebells, and more. uplyft.fitness.com.