Get Cozy at Coon Creek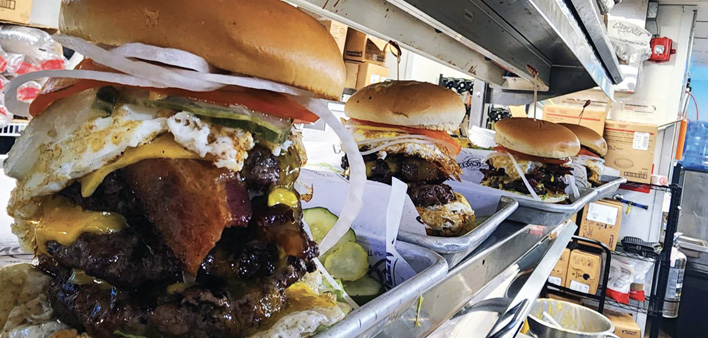 Coon Creek Restaurant is not one of those restaurants or bars you just pop into. Rather, it's a cozy place that beckons customers to sink in and stay a while to enjoy the creatively planned entertainment: playing corn hole games with family, watching stand-up comedy shows, listening to live music, singing karaoke with friends, or playing live trivia. In other words, the experience begins well before the service, and it's all a part of the fun. Founded by the Phillips family in 2018, Coon Creek Restaurant is a casual, family-style restaurant with farm-to-table fare in Ray Township. The establishment, located on North Ave. near 29 Mile Road, in the vast, productive fields of northern Macomb County, is hidden in one of metro Detroit's hottest farming communities, making it an attractive birthday, anniversary, out-of-the-box date night destination or weekend gathering spot for residents and visitors alike. Coon Creek Restaurant's stylishly renovated space features a pleasant two-part epoxy fl oor and dimly lit wood bar display with metal sides. The bar top presents older photographs from local businesses. Its core mission is to create a unique, cool environment for the community, and a fun, high-quality experience for its customers.
"Our high-quality, USDA-certified beef is raised locally at the Phillips family's Coon Creek Farm, located about one mile from the restaurant," said Fern Choranziak, Coon Creek Restaurant manager. "Our guests love how we even process our homegrown, all-natural beef and how the wonderful smell of smoked fresh meat carries throughout the restaurant." They also love the restaurant's cozy concept and impressive size, Choranziak said.
The drink list includes some creative twists on classic and contemporary cocktails that touch all the senses. Revelers can enjoy wines by the glass, artisan beers, and hard cider, too. The food menu, meanwhile, refl ects the talents of Executive Chef Jim Choranziak. On it, diners will find both handhelds and bar bites like pulled pork sandwiches, Nashville hot chicken, BLT, pub pretzel sticks, fried mushrooms, and house-made chili, and burgers built with locally raised blended beef, American cheese, shaved iceberg lettuce, beefsteak tomato, onion, house-made pickles, bacon, and fried egg. Choranziak said Coon Creek Restaurant is one of only a few regional eateries that raises their own cattle. It uses locally grown vegetables, too. The food menu also features wild-caught, Icelandic cod on Fridays and family fried chicken dinners on Sundays. Choranziak said her staff takes pride in its friendly service and wants everyone to feel welcomed and comfortable.
Coon Creek Restaurant
66280 North Avenue
Ray Township
(586) 784-5989
cooncreek.com