Cooking With Smoke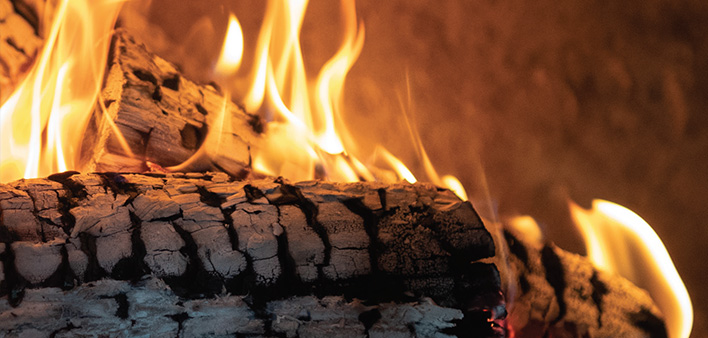 Whether you're grilling on coals, gas or smoking in a smoker, summertime is your time to shine as a grillmaster.
By Tracey Moro/Photography by Mike Ferdinande & Brian Sevald
Seems as soon as the weather warms up we go uncover the barbecue, load up on propane or coals, prep our wooden outdoor fireplace, and dust off our smokers in the garage and get ready to roll. It's barbecue time and you have to admit when you get a whiff from your neighbor's yard, you get a smile on your face and think – 'great idea, we should barbecue.' The reason the barbecue got its name was from the Caribbean word "barbacoa" which is a wooden structure used by Taino Indians to smoke their food. Over time the word got its current spelling and began referring to social gatherings where meat was grilled and the process of grilling. Today we have several processes to get that outdoor, smoky flavor in our cooking – that we call barbecue. Here at Macomb Now Magazine we decided to showcase a handful of local chefs to get their insight on barbecuing and smoking. They gave us some great tips and shared some secrets for making the grilling, or smoking experience a successful one. And we did get a recipe too!
Chef John Hogs – Hollow Cass Bar & Grill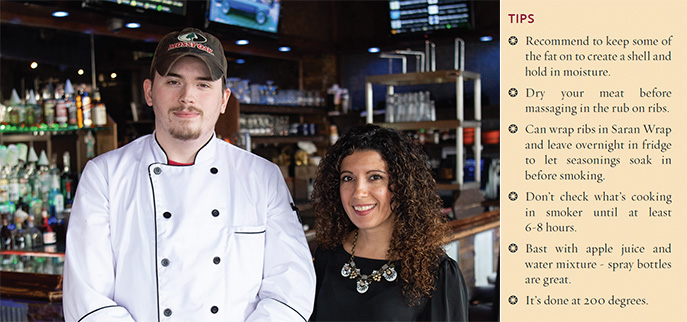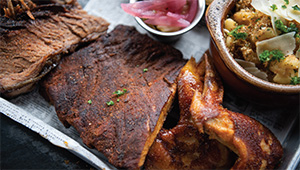 Going on nine years Hogs Hollow has been smoking' up favorites in the historic 1905 building on Cass Avenue in downtown Utica. "Before Utica got its name, it was called Hogs Hollow," said Solmaria Gray, manager. "We have downstairs, the upstairs four season bar with doors that open and there is outside seating too." The majority of their menu consist of slow-smoked meats, burgers and Sammies, pizza, and sides served with six of their own barbecue sauces. "We make them fresh every week but we don't sell them," she said. The most popular is the beef brisket or the chicken wings, which are a full wing. "The wings are smoked first then flash fried twice," said Gray. Head Chef John Nelson claims the Build Your Own Platter is the best deal. "You get 1/4 slab of ribs, our full chicken wings and some brisket along with some sides and our famous Texas toast." Their brisket cooks overnight in the smoker with hickory chips for at least eight hours. They use their house rub on both the brisket and the ribs. "We wrap the ribs to keep them moist after six hours," said Nelson. "We bast with apple cider vinegar as a finishing marinade. The longer you cook the ribs the more tender they become."
---
Chef Dave – Jayell Smoke House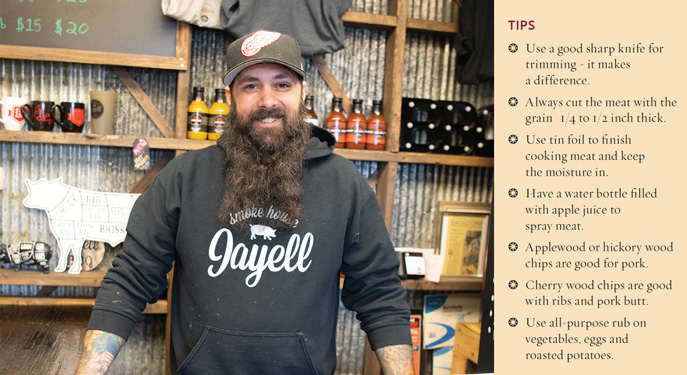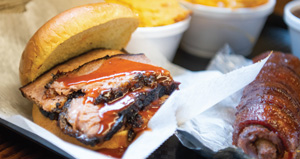 Movin' north, our friend and owner of the Jayell Smoke House in Romeo, Dave Leidlein, shows us just how easy using a smoker is, or at least he makes it look easy. "The best time to smoke is in the warmer months, spring through fall. So summer ends up being our busy time," said Leidlein "Temps in the 60s are great for smoking at home."
Jayells sells several homemade sauces and more than 30 dry rubs, along with a full menu of smoked meat, including brisket, pork, chicken and turkey. From smoked ribs, pulled pork to even their smoked Mac N Cheese, there's something for everyone. They also cater. "Our meats are very tender and really don't need sauces but we serve them with sauce on the side. Our Peach Harbanero sauce is the most popular. "
Leidlein trimmed up a brisket for us, leaving about a half inch of fat on top to help not dry it out while it is cooking in the smoker. He seasoned with rub on all sides evenly, covering completely and let sit for an hour at room temp before cooking. He smoked the brisket at 225 degrees using hickory wood. "Brisket has so much flavor already it really doesn't need much more than the rub."
The brisket cooks for about 10-15 hours until the internal temp is 200 degrees. "We take the brisket out at 180 degrees, then wrap in tin foil and let sit for 2-3 hours to let the juices come out," he shared.
---
Chef Gary – Bad Brads BBQ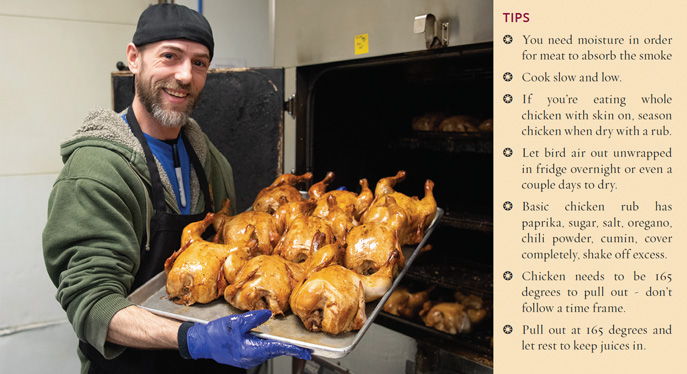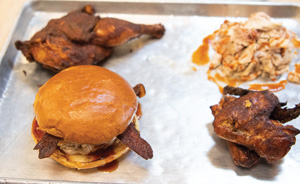 With three locations in Macomb and one just to our north, Bad Brads BBQ is gaining popularity with those of us who love a good smoke house. Everything they do is from scratch with their simple goal of producing the best possible barbecue everyday. "We use good ingredients to start with," said Chef Gary Schrader Jr. who has been smoking there for the past 7 years. "We have four smokers and they are used all the time."
Marc Pollard, one of the family owners, says barbecue is really using smoke and wood to flavor your food. "Our Clinton Township location is our main hub and much of our menu is smoked here. We do 170,000 pounds of brisket each year, 110,000 of chicken and 125,000 of pork. We put an addition on to accommodate all of our growing needs."
They also don't throw anything out. "Everything gets used. We take fat and make it into oil. We save all meat juices to mix back in keeping moisture and flavor in." Chef Gary smoked up some whole chickens to be pulled. "We learned to season after the meat is pulled with salt and pepper only. We used to do a rub, but we decided to stop since the skin is coming off and that is where the flavor is." The chicken is pulled apart, separating the bones and skin from the meat. The juices are saved.
Once done at 165 degrees, the meat needs to cool down fast. "A three-pound chicken to start might end up a one-pound chicken once cooked," he said. They bag the chicken in small serving size bags to send to the other stores.
Their brisket is top notch as well. "We cook all our brisket with only salt and pepper. It is in the smoker for 12-16 hours depending on the size. We wrap in a Texas crunch paper for the last four hours so it can not only smoke but steam. You can tell when brisket is done by the feel of it. If it is stiff it is not done," said Schrader.
---
Chef Angelo – Vince & Joe's Gourmet Market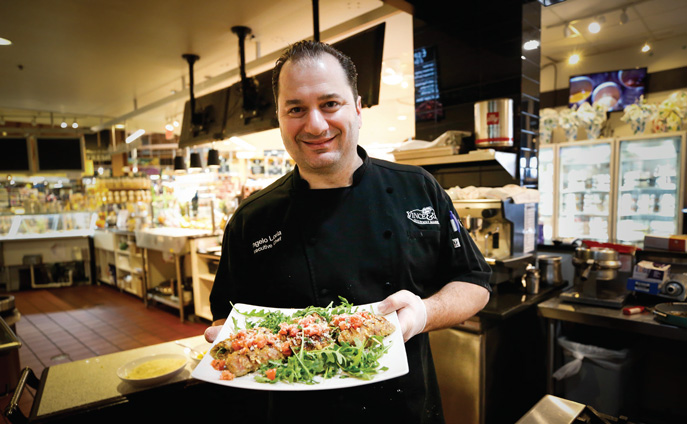 Chef Angelo from Vince and Joe's Gourmet Market in Shelby Township suggests grilling up some Italian street fare outside on your grill. "We have our Festa Buon Appetito street party coming up in July and folks love our street food," said Angelo. There they will fire up the grills out in the parking lot and make both chicken spiedini and beef. "We roll up thinly sliced meat with prosciutto and cheese, a bay leaf or for our street version we use arugula and top it with ammoglio sauce," he said. They plan on making more than one thousand of each kind for the one-day event.
They also will have their Italian sausage and peppers, meatball sandwiches, brick oven pizza, and lots more. This year, their 6th Annual Festa Buon Appetito will be held July 7 from 11 a.m. to 7 p.m. in the Vitale Plaza, the site of their Shelby Township location. Beyond the great food there will be live entertainment, a kids tent and even some high performance vehicles to drool over.
If it's raining or the barbecue is down, you can use the stove top and pan to still get the same great taste as you do outside – just a little less smoky. (Since it poured the day we took photos, we improvised.) Chef Angelo shared his recipe so you can try and enjoy.
Spiedini: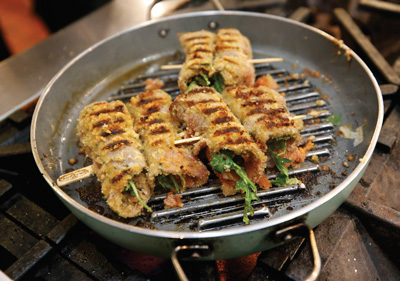 12 thin cut slices of beef eye of round
12 thin slices of prosciutto
1 cup seasoned bread crumbs
1 10 oz baby arugula
1 cup sharp Provolone, shredded
1/2 cup ammoglio sauce
12 bay leaves, fresh or dry
1/2 cup extra virgin olive oil, plus more for the grill
1 sprig each of rosemary and thyme, finely chopped
1 clove garlic, minced
Salt and pepper
6 4-inch skewers
Directions
In a small bowl mix together, olive oil, rosemary, thyme, garlic, and salt and pepper. Place bread crumbs in another bowl.
Take slice of beef at a time, dip into oil mixture, then bread crumb both sides of the meat, laying each slice on sheet pan.
Once all slices have been breaded, put 1 slice prosciutto, 1 tablespoon shredded provolone, 1 oz arugula and 1 tablespoon ammoglio in each slice of meat.

Tightly roll each slice of meat and filling, then place 2 rolls per skewer, separated by bay leaf. Set aside and repeat until all the meat is rolled.

Two options of cooking spiedini are grilling or broiling. If grilling spiedini, cook the meat for about 4 minutes per side, or until cooked to your preference. If you broil the spiedini cook evenly and slowly for about 8 minutes, turning half way through.
Once spiedini are completely cooked, you can serve them on the skewers over a bed of fresh arugula and shavings of Pecorino Romano cheese.