Connected For Life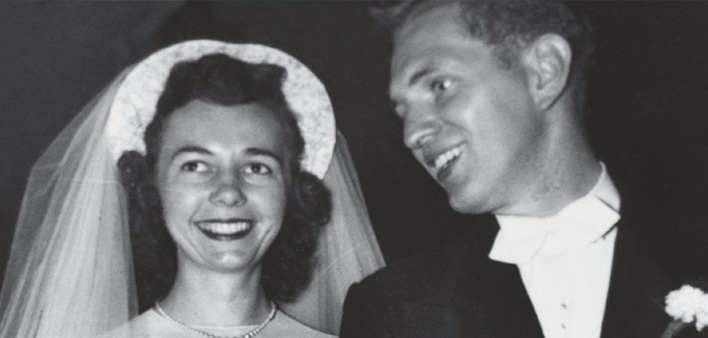 By Tracey Moro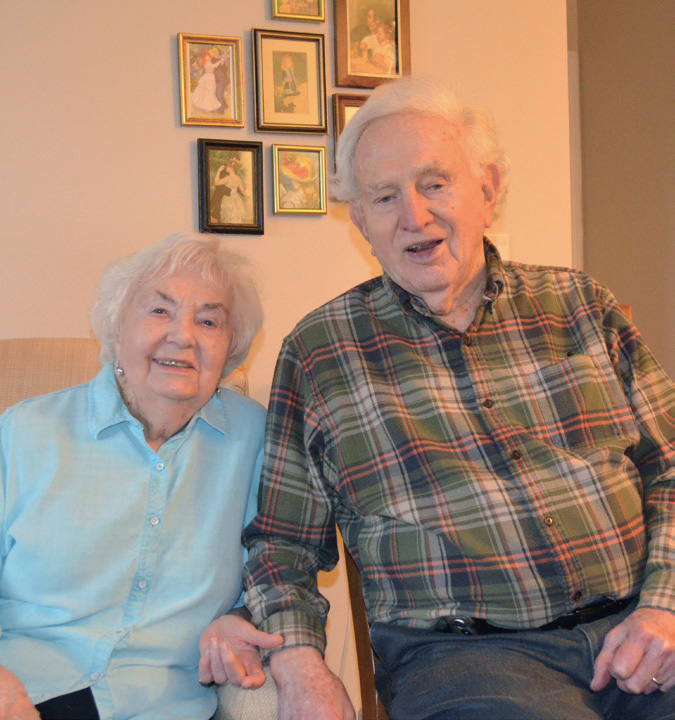 Geraldine was working in the payroll department at Chrysler when she met Richard, who was working as an auditor while between semesters at Wayne State University. He was using his GI Bill from serving in the Navy. The year was 1948 and they were both 23 years old. She invited him to her parents' 25th wedding anniversary party as a first date, not knowing 26 years later she would be celebrating theirs.
"I sat on the end, so I got to meet him when he came to do an audit," said Geraldine Deneau (Gerri). "He didn't have a car, and neither did I, so we would go out and then he would take the bus back home after taking me home. We took the bus everywhere."
They married September 10, 1949.
Not too unlike today, their wedding was a grand affair. "We had 125 people at our wedding. We were married at 10 in the morning – the second Mass at St. Martin's on the Lake in Detroit," said Gerri while smiling at her husband of almost 70 years.
"We had a breakfast afterwards at Captain Shemloy's, which is gone now," said Richard.
Then they did as many bridal parties do today and went to Belle Isle to take some photos. They had three bridesmaids and three groomsmen along with a flower girl and ring bearer. Later they found out that the photographer had missed taking photos of them at their own wedding so they only had a couple. They actually scheduled more to be taken after so they would have something.
"My sister was the maid of honor and she wore a blue dress. The other two wore a rose color," said Gerri. "The men had black tuxedos." Her flowers were white orchids with white stephanotis. "Our reception was at the Amity Hall in Detroit," said Gerri.
The Deneaus moved to Flint once they were married and made their first big purchase of a car so Richard could travel to work. He was working for the US Government, the IRS. Their first child, a son, was born while living there. In 1950 they moved back to Detroit and in with Gerri's parents until they purchased their first home in St. Clair Shores in 1956.
"We lived in the Shores for 21 years, raising our six children. We moved to Clinton Township and still had four children at home," said Gerri. They recently left that home and moved into a senior living facility close by.
They wouldn't do much traveling back then with all six kids. "It was too hard. Once we went to Niagara Falls and two of the kids had to sleep in the car cause there wasn't enough room in the hotel." Later, when the kids were grown, they began traveling more, going on group tours. "Greece was my favorite," said Gerri. "We've seen London and Paris, plus Rome and of course, Greece."
Today their family includes 15 grandchildren and eight great grandchildren. "I think the biggest change we've seen in our lifetime is the computer. Having the ability to communicate online is so cool," said Gerri who claims not to have ever used a computer but loves Facebook.
When asked for some words of wisdom for new couples getting married they both said – "Don't bother arguing, it's not worth it. Just forgive and forget." After 70 years of marriage their commitment to each other is stronger than ever. "We are lucky. Richard still drives so we can go places and do things," said Gerri. "We love to go places and still get out of the house. We are still very much in love."