Congrats to our Outstanding 2020 High School Grads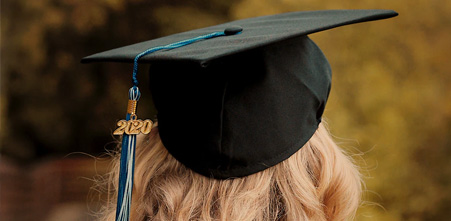 By Tracey Moro
This year our plan at Macomb Now was to include another Stand Out Grads story in our Summer Edition singling out some 2020 grads from our local high schools. So we had the folks at MISD help us get in contact with each high school principal requesting one stand out grad from each school. Our deadline was the end of March.
With school days being turned upside down for both students and teachers we didn't get the response we were hoping for. But we did want to give the shout out to the students who were nominated by their schools. And to better share these stories – at graduation time – we have created this online story.
So share this with others who may know the grads included. These students, like all the grads this year, have missed out on many of their special days so this will hopefully be our way of saying CONGRATS to all the grads out there. 
ARMADA HIGH SCHOOL

Julia Klinkman

Julia ran on the varsity cross country team all four years, and was entering her fourth season of varsity track when the shutdown occurred. She was in the orchestra, as the principal violinist and was a member of the Band and Orchestra Council. During all four years she was a member of Student Council and on the Student Advisory Committee. She was also in National Honors Society serving as NHS President her senior year. Julia has also been a member of Nature Club and the Backpacking Club.

Her involvement in Michigan Youth Leadership, or MYLead, taught her a new understanding of leadership, how to better connect with and understand others, stepping outside of her comfort zone. "What I have learned has helped me grow into roles such as cross country team captain, principal violinist, and NHS president. The conference had such a significant impact on my life that I have remained involved in MYLead as a volunteer, and I have encouraged as many sophomores in my school to consider participating as possible," said Klinkman.

Next year, Julia plans to attend the University of Michigan to study cellular and molecular biology. As of right now, her hopes are to become a veterinarian.
---
CENTER LINE HIGH SCHOOL

Jaden Davis

Principal Andrea Szabo says Jaden is a great "turnaround" student who has made huge improvements over the past four years at Center Line High School. She recommended him as the Center Line outstanding student. Jaden was consumed with football growing up and played on the Center Line Varsity Football team. He was awarded MVP and was Macomb All County team as well. He is a leader and motivator with the players on and off the field. Jaden has accepted to play football at Ellsworth College in Iowa Falls. There he will study psychology.
---
CHIPPEWA VALLEY HIGH SCHOOL

Jacob Anglin

Jacob Anglin has overcome many adversities and has shown such growth and maturity that he was nominated by Kimbery Koskos, his guidance counselor at Chippewa Valley High School.

He had a lot of encouragement and support from teachers and administration. He played hockey for the school and was voted one of the team captains, which motivated him to continue working hard. "I especially thank, Mrs. Koskos, Mr Brinestool, Mr Hart and Coach Bogoff and Coach Gryzwack for my success. They Helped me develop a better work ethic and attitude towards school," said Jacob. Jacob plans to attend the General Motors program at Macomb Community College to become a master mechanic after graduation.
---
 

CLINTONDALE HIGH SCHOOL

Nura Jones

Nura is a stand out student at Clintondale because of her genuine love and compassion for her peers and her community. She has completed an astonishing 247 hours of community service, which is far beyond what is expected of her. Nura will be attending Eastern Michigan University to study social work or counseling/psychology.

"Since the day that I met her, Nura has always held a special place in my heart. She has faced so many different challenges in her educational journey, but her drive and desire to succeed always allows her to come out on top. She faces adversity with a smile on her face and I truly admire how strong and courageous she is. Nura is a rock in the CHS community. The staff and students know that they can depend on Nura to move initiatives along, coordinate fund raisers, and keep spirits high. You can find her volunteering at events, stopping into staff offices to say hi, and participating in just about every extracurricular opportunity that we offer," said Brittany Hall CHS college advisor.
---
 

DE LA SALLE HIGH SCHOOL

Adam Zepp

Throughout all four years Adam was involved in varsity football, National Honor Society, Student Council, and Link Crew. His favorite activities included being in the weight room and playing ping pong.

Adam plans on attending Western Michigan University studying accounting. His goal is to work through school with minimal debt and an eventual MBA degree in finance. Someday he hopes to have his dream job – the CFO of a Fortune 500 company. 

"I believe that I stand out from the other graduates of 2020 because I am a strong leader, excellent communicator, and and even better worker. I am always willing to go the extra mile to ensure success and bust my tail to be the best me possible physically, mentally, spiritually," said Adam. 
---
FRASER HIGH SCHOOL

Jakobe Neal

Jakobe Neal was a busy student, along with being Homecoming King, he was a section leader in the Fraser High School Color Guard, student coach to the Richards Middle School Indoor Guard, Tri-M Historian, a Commissioner of Link Crew, a Student Council Representative, a member of Fraser Singers, Fraser Varsity Wrestling, as well as being involved in the Future Teacher Program. He plans to attend Central Michigan University, and be in their Future Educators Learning Community, majoring in History Secondary Education with a minor in Political Science. "Jakobe is a kind and compassionate student who makes a significant difference in the student culture at Fraser," said Andrea Hammer, counselor.
---
INTERNATIONAL ACADEMY OF MACOMB

Stevie Joi Clark

Stevie Joi was a Link Crew leader balancing her work load of IB classes with being a resource for the freshmen students. "Stevie-Joi has an extremely positive outlook.  I have seen her influential leadership abilities guide students and impress staff.  She has a way of facing differences with a strategy that is balanced, focused on solutions and one that considers varied perspectives. Her confident public speaking skills stand out as one of her many strengths. She has been an ambassador to our school in sharing with prospective students about our engaging learning community," said Principal Dr. Laura Strong. Stevie Joi plans to take a (gap) year to travel and practice the languages (French and Mandarin Chinese) she has been studying the last four years.  
---
LUTHERAN HIGH NORTH

Matthew Lupo

Matthew has been a part of student council all four years and was Student Body President, and National Honor Society Vice President. He played baseball for Lutheran North in 9th and 10th grade and threw shotput and discus for the track team in 11th grade. He was also in ski club . He also holds down two jobs and volunteers at Vacation Bible School during the summer. His favorite thing to do outside of fishing and and playing guitar is working on his motorcycle and car. He plans on attending The University of Northwestern Ohio majoring in Automotive High Performance Technology.

"Matt is the most kindhearted and dependable person I have had the privilege to know. As his teacher and student council advisor, I have watched him grow into a strong and respected leader of Lutheran North. While Matt is liked by so many of his peers, I don't believe he was voted as the class president because of his popularity. Matt won the hearts of his classmates because he loves people well. He looks out for people, includes everyone, and really considers all groups when making decisions. Matt's attitude and actions show how much he loves Jesus. He really lives out his faith, and that is something worth celebrating," said Alyssa Beans, math teacher, LHN.
---
MOUNT CLEMENS HIGH SCHOOL

Don Williams

Don played both football and basketball for Mount Clemens High School. He is graduating in the top 6 of his class. He is Class President and Optimist Club President. Don didn't have an easy time, he lived on the east side of Detroit and grew up witnessing violence and crime. He lost both parents young and him and his siblings moved in with his Aunt who moved them to Mount Clemens. After a time they moved back to Detroit to be closer to family but Don continued at Mount Clemens schools. "I would catch the bus back and forth everyday to play sports and go to school. It wasn't until I met Coach Munchie that made me want to work as hard as I could to make my mother proud. He showed me what a real man was, and that I didn't have to struggle the way I was. He gave me someone I could depend on. After him I began using the light that was always in me and started to make meaningful connections as a leader with others in my community. I eventually moved to Mount Clemens again with Coach Karl Haye so that it would be easier for me to stay focused on the goals I had set," Williams said. He has accepted a scholarship to play football at Trinity University in Chicago. He will study history education to become a teacher.

"Overcoming many challenges and obstacles, Don is an incredible young man and a leader in our building and community. He is one of our academic sensational six, our six graduating seniors with the highest GPAs. He is the founding president of the community service-oriented Mount Clemens Junior Optimist Club. The work done by this club has strengthened the community to school connection immeasurably," said Kirk Duncan, principal at Mount Clemens High School.
---
PARKWAY CHRISTIAN SCHOOL

Keagan Rae Semlow

Keagan participated in Varsity Soccer, National Honor Society and was planning on playing softball this spring when school closed. Her enthusiasm during spirit week was evident at the Mud Volleyball game. She encourages students to make moments count because they will be over before you know it. Keagan plans on attending Mount Hope Leadership School in Lansing in the fall.
---
ROSEVILLE HIGH SCHOOL

Meghan VanDamme

Meghan served as class president both junior and senior year. She played saxophone in band ensembles, including jazz, concert, and marching band, where she was Drum Major her senior year. Meghan was also a member of student council, Link Crew, and was President of National Honor Society. She graduates third in her class with a 4.3 GPA

She plans on attending Central Michigan University to major in Environmental Engineering. She was accepted into Central Michigan's Leadership Advancement Scholars
---
STERLING HEIGHTS HIGH SCHOOL

Bianca

Bianca was nominated by her counselor Roselie Ruebelman as being an outstanding Sterling Heights senior. Bianca was a student-athlete playing Varsity Volleyball and she was on the Varsity Track and Field team for all four years. She was one of the few on the track team to qualify for County's. Bianca was involved with the school's Stomp Racism group which brought together a variety of cultures found at the school. After graduation she plans to attend Macomb Community College and eventually transfer to a university down the road.
---
UTICA HIGH SCHOOL

Rima Maroki

Rima Maroki from Utica High School was very involved in several clubs including National Honor Society, Hispanic Honor Society, Key Club, Student Council, Sophomore-Senior Mentoring Program, HOSA, and Student Advisory Board. She claims her most remarkable experience was leading the school's student section or "The Tribe," At all of the school's football games. "It was such a great experience and I'm glad I got to make my senior year as memorable as possible."

Her plans to attend Wayne State University studying Public Health and eventually hopes to pursue a career in medical research.

Principal Thomas Leitz nominated Rima saying, "Though she has very good grades, it's her involvement in the school that has made her stand out. Despite being nearly 1500 students, UHS feels small because of students like Rima who create that connective tissue that bonds our students together. Her voice is a valuable one given her connection to so many facets of our school community. She truly is one of the key faces of Utica High's incredible and always positive school culture."