Color & Whimsy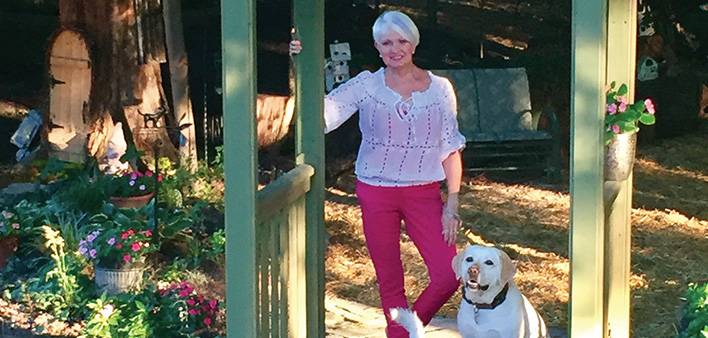 By Tracey Moro/Photography by Sheila Brownlee & Nancy Rudnik
Beautiful backyards don't just appear without hard work, planning and some thought to details. But the best backyards are a reflection of their owners with determined spaces, lots of color and a bit of whimsy that you know came right from the heart.
That's what Sheila Brownlee has done in her yard in Shelby Township. "I grew up watching my grandfather, a horticulturist, and have been transforming my yard each year since we moved here more than 40 years ago," said Brownlee. "We were drawn to this property because of the wooded area and protective wetlands behind our yard. "It's a constant work in progress as I continually add things every year."
One of Brownlee's main focal points is her tree house made from a huge Oak tree that died after more than 100 years of life. "For years we referred to it as the totem pole because it was a large dead tree amongst all the rest. I had a tree company top if off and a friend made the roof and door. We added some antique windows from the 1800's and the path leading up to it," said Brownlee. The tree house is 12 feet tall with the door about 3-4 feet tall.
Brownlee also has an arbor gate leading into her yard from the driveway. "The odorless honeysuckle only blooms for about two weeks. I sometimes put silk flowers up after just to keep some color there," she claims.
Brownlee has an art degree and has been crafty her whole life but she claims you don't need a degree to bring life to your yard. She collects photos from online to give her ideas. "I love the Facebook group – Garden Art, Junk & Antiques – I get so many great ideas from people all over." In 2016 Brownlee's yard was included in the Shelby Garden Walk and she was recognized with the Shelby Township Beautification Award twice.
Brownlee's yard has several more spots of interest, including a ribbon branch connecting some trees with satiny coated ribbons that catch the breeze. And we can't forget the designated dog park – Central Bark – for her yellow lab Paisley and Jack Russell/Papion mix Piper – just for fun. Some decorations are functional too. "The heart gate is beautiful, slide the heart to the right and you can see our meters. It was a great way to cover them. I saw something similar and had this made." Brownlee gets out in the yard as early as possible once the weather breaks. She starts with as many as 50 flats of annuals. "It's my passion. This year I want to add a bike garden and I'm working on a clay pot man. I love adding signs, pathways and going to art shows and local stores collecting more pieces and swapping out new for old." She recommends to couples with new yards to research what grows in their surroundings. For colorful art pieces she recommends looking at art fairs, local garden stores and even your grandma's old barn and garage sales. "It's so much fun to come across a new piece for the yard."
Brownlee's good friend Nancy Rudnik finds her yard art pieces while vacationing. "We love road trips and often find some treasures along the way to bring back to our gardens," said Rudnik who consumes herself in the garden from May through September. Her yard has designed flower beds of annuals and perennials accented with garden art. "I'm an artist and also paint rocks that are displayed throughout the yard," she says. "We are three-time winners (Hall of Fame 2018) of the Shelby Township Beautification Award."
One of Rudnik's favorite pieces in the garden is her fairy house, made by a gentleman in the hills of Georgia. Her latest find was a metal art piece purchased in Suttons Bay on the Leelanau Peninsula. "It is named Two Old Crows. They sit balanced on a pole and move with the wind. We placed them near our small pond with a double waterfall."
But Rudnik's main focal point is her 10 x 12 foot playhouse that her husband built in 2009 and she painted. It is fully finished and furnished inside with hardwood flooring, drywall, functioning windows with screens and has a set of bunk beds, table and chairs, and a side chair, along with lighting, a heater and fan to regulate temps. "Our 11 grandchildren enjoy it. Some of them like to spend the night out there with me. And we frequently use it for photo shoots."
Whether it be a bird bath, a pot of annuals or wind chimes, these are the little details that "put the frosting on the cake" so to say when it comes to finishing off your yard. Wendy Wiegand of Ray Wiegand's Nursey had some great advice for planning and finishing backyards. "When you start from scratch you designate areas for purpose. Is it for entertaining? Gardening? Once you determine and set your foundation then you can start adding decorative garden art to your yard," said Wiegand.
"By bringing in some color, using things like gazing balls, memorial stones, or even patio cushions, you bring color and life to your yard. A bistro set could blend or be a pop of color. To bring the garden together you repeat the color. Adding container gardens with flowering plants and outdoor wall hangings to match, brings it together," said Wiegand.
Wiegand said decorating the outside is a lot like decorating the inside. "Just like decorating your house you must think of your yard with a floor, walls and ceiling. Put color and decorative pieces low, midway to catch your eye and high. All these can grab attention and lead you through your yard," said Wiegand.
Wiegand suggested using such art pieces as spinners, with different colors, gazing globes, outdoor wire art and even tiki torches to bring color and interest to your yard. "One of the newest pieces we have to grab your attention in a yard glows and reflects the sunlight and moonlight," she said.
Wiegand also encourages spaces in the yard for wildlife adding bird baths, houses and bird feeders, along with native plants to bring in butterflies. Wiegands Butterfly House opens June 10.