Charcuterie is Happening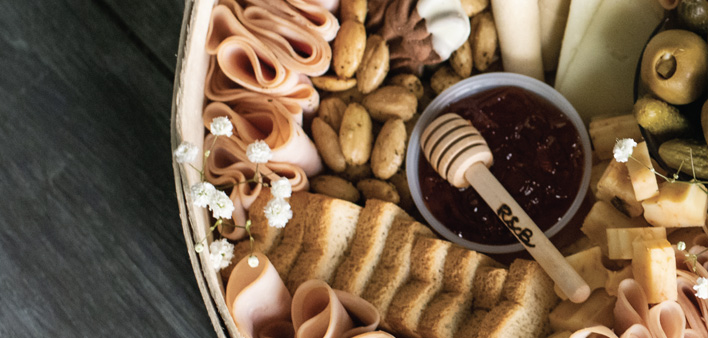 (from the Winter 2022 issue)
By Tracey Moro / Photography by Mike Ferdinande
What began as a French branch of cooking involving prepared meats and cheeses, has turned into a world wide phenomenon involving cutting boards or trays covered in delicious prepared foods including meats, cheese, fruits, dips and well, just about anything one comes up with. Macomb Now reached out to some local chefs who really know how to put a delicious charcuterie board together. With their expertise and encouragement on the subject we know our winter will be filled with beautiful boards on our tables!
SHär'kõõd rê

Board Ingredients – Mini cucumbers, spicy Cheddar cheese, garlic and herb roasted almonds, grapes, dried apricots, Manchego cheese, honey roasted, turkey, turkey bites, hazelnut cookies, cheese and garlic stuffed red and yellow peppers, garlic / jalapeño stuffed olives, mini bread toast, Cheddar and caramel popcorn, naan bread, apple cider and cinnamon yogurt covered pretzels.
Kayla McGlory, R & B Charcuterie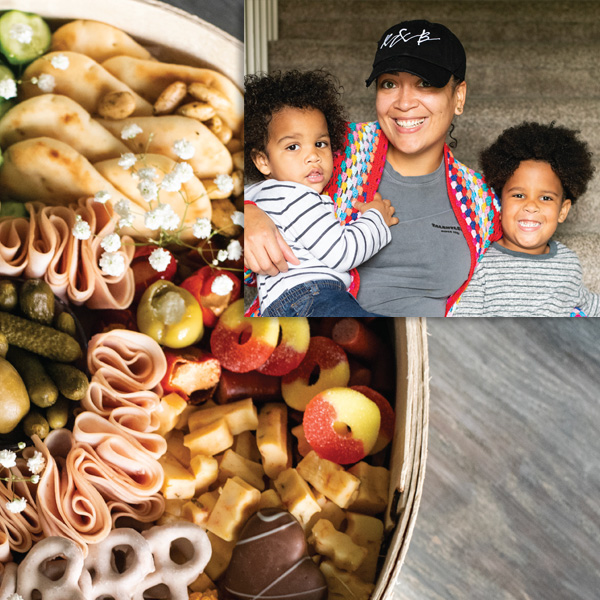 For some, things just come naturally like interior design, cooking and being creative. And local entrepreneur, Kayla McGlory, has a knack for creating beautiful and delicious charcuterie boards. "I'm extremely blessed. I can't believe how things have snowballed," said McGlory, who has only been in business since February of 2021.
Opening her charcuterie board company in early 2021 out of her home and using communal kitchens, has been a ton of work. "A lot of people think R&B Charcuterie has something to do with music but the name is derived from the initials of my boys, first names, Roman and Brody," said McGlory, who claims she cannot keep enough salami in the house to save her life.
"Brody and Roman absolutely love when I include the sweet candy peach rings. They are tugging at my apron as soon as they see them on the counter. Brody, my oldest, age four, hates cheese. Unless it's on pizza. Roman however, really enjoys sharp cheddar and I found that odd as I would've thought that was too advanced for his toddler palate. My husband's favorite combo is Manchego or the Toscano that's soaked in merlot, hot pepper jam, and either turkey or salami."
Kayla shops locally for everything on the boards and puts each one together fresh right before it is to be picked up by the customer. "We want everything to stay fresh so we haven't started shipping or delivering yet. Now you order off our website and then pick up when you want it," said McGlory. Her website has different board sizes to choose from and you simply email your order in. Of course she will adjust to allow for allergies and has been servicing customers all over metro Detroit from her Macomb Township home.
McGlory says just relax when you build a board at home. "Try to think about the placement of your ingredients. Don't put your carbs next to your produce, you will end up with soggy crackers. Garnish your board! It's necessary. It is the finishing touch whether it's baby's breath or fresh mint bunches. Also, lots of little things, some healthy, some sultry, some sugary. I don't believe anything should be off limits. The point is to feed everyone, so put something for everyone of every age in your build."
Her boards are a work of art, filled with colorful, tasty, bite-sized goodies you will want to share. The charcuterie photographed is The R & B Hit and is filled with – meats, cheeses, paired with seasonal produce, pickles, nuts and some sweets. "This is our pork-less board, which is really popular."
---
Chef Salvatore Borgia (Chef Sam)
Corporate Executive Chef for The Verona and Bar Verona Restaurants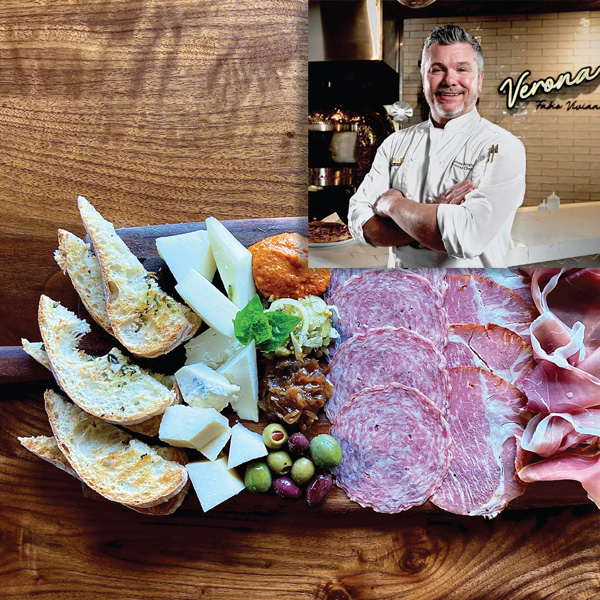 Chef Sam, of The Verona and Bar Verona Restaurants, lives with his wife and two daughters in Romeo and has been cooking his whole life. He's been fortunate to work with many talented chefs, including by his father's side for many years. "I love what I do and am blessed to have found such a wonderful career in culinary."
At The Verona and Bar Verona Restaurants, in Shelby and Washington Townships, you can order a charcuterie board right off the menu. "Charcuterie boards are perfect because they offer a wide variety of flavors and are a great small appetizers that don't overbear the appetite before the main course," said Chef Sam. "Our charcuterie board offers a fine selection of imported meats and cheeses and is a perfect portion for two or four people to share."
Although Chef Sam doesn't think there is a wrong wine to pair with your board he goes with a lighter white wine like a Pinot Grigio or a Sauvignon Blanc. "They tend to be light, fresh, and offer a clean crisp finish on the palate, enhancing the flavors of the meat and cheeses. For red wines, he recommends a lighter bodied wine with acidity as in a good Pinot Noir."
Chef Sam says there aren't any rules to follow when it comes to putting together a charcuterie board at home. "You can be as creative as you want using local grocery store selections or fresh pickings from your own garden. It is also a great way to showcase your culinary skills."
Board Ingredients – Mortadella, Soppressata, Prosciutto, Grana Padana, Primosale, Fontina, marinated olives, fennel relish, sweet onion jam and toasted herb crostini.
Board Ingredients – Prime rib, beef ribs, beef tenderloin, grilled ginger Miso chicken thighs, cajun wings, Hoisin pork tenderloin, grilled skirt steak. Accompaniments – roasted tri-colored potatoes, roasted corn salad, blue cheese and buffalo sauce, mango chutney, pesto, roasted mushrooms and red peppers
---
Chef Angelo Loria, Vince and Joe's Gourmet Market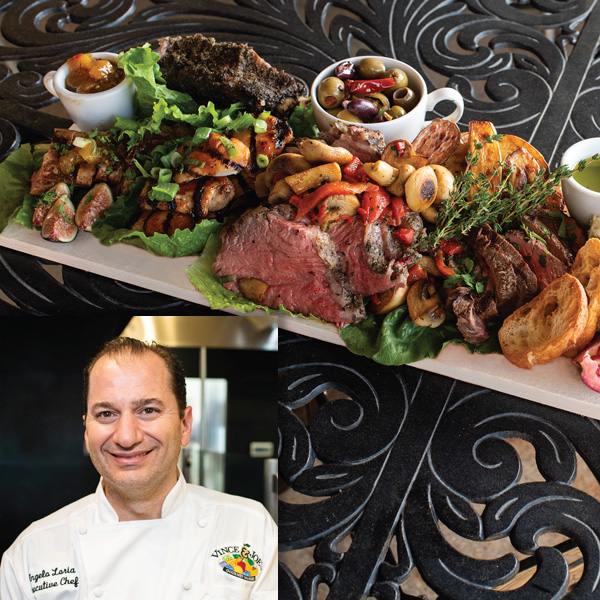 Charcuterie boards, according to Chef Angelo, of Vince and Joe's Gourmet Market, can be a meal replacement. "We first introduced charcuterie boards about six years ago here at Vince and Joe's, but in our Italian culture, we just call it "lunch for the family."
His love of doing charcuteries at his home is based on ease and making food fun. "Our family loves it because if you grab some bread or crackers you can make it your own custom charcuterie sandwich. My kids love to outdo each other on the fanciness level. It could be pork belly, octopus or house made fig jam. The fancier the board, the fancier they make their sandwiches."
But to make it really easy he suggests you follow a theme. "Pick a theme for your board, anything from fruit, to steak, barbecue, fish, whatever you are in the mood for. Every item on the board should have a wing man or woman with it. If it's Prosciutto, have some Parmesan and fig jam, if its grilled steak, it could be roasted potatoes and pesto, if it's a barbecue board and you've got smoked brisket, crispy onions, barbecue sauce and Cheddar cheese are a great team. When bringing fruits to the board follow these tips. Apples pair well with most cheeses. Grapes pair well with Mozzarella and hard cheeses. Strawberries and blueberries – pair well with creamy, soft cheeses," said Chef Angelo.
Making sure the food is paired well is equally as important as the presentation says Chef Angelo. "As a visual person, I've always found the most impressive charcuterie boards are equally pleasing to the eyes as the palate. A mix of colors and textures keeps things interesting.
The perfect board should have a combination of hard cheeses, soft meats, vibrant fruit colors, different shapes and plenty of height variations."
The board Chef Angelo prepared is a hand carved butcher's board filled with all your high end meats. Chef Angelo claims any wine would pair with his board but suggests a good Cabernet, Pinot Noir or a Riesling, for the spicer foods.
Board Ingredients – Prime rib, beef ribs, beef tenderloin, grilled ginger Miso chicken thighs, cajun wings, Hoisin pork tenderloin, grilled skirt steak. Accompaniments – roasted tri-colored potatoes, roasted corn salad, blue cheese and buff alo sauce, mango chutney, pesto, roasted mushrooms and red peppers.
---
Chef Gabriella Baldwin Baldwin Restaurant Group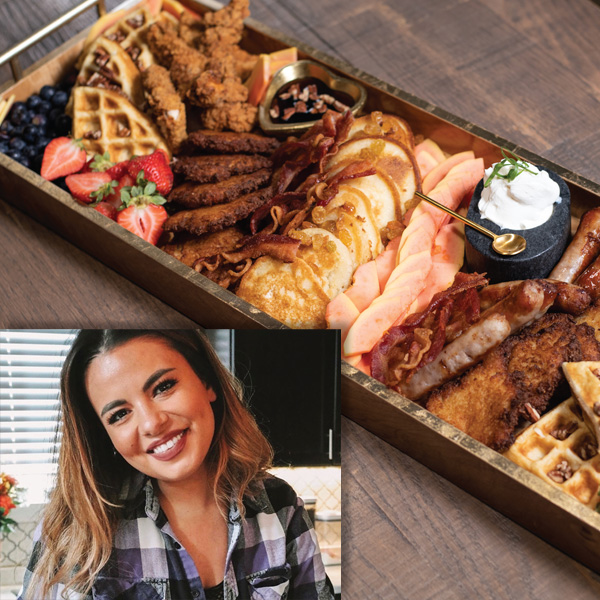 The Baldwins have been doing grazing tables and charcuterie boards within their catering division for years and were thrilled when we asked them to do a board for Macomb Now. Picking a breakfast theme, using many of the ingredients from the brunch menu at Testa Barra in Macomb Township, Chef Gabriella created the perfect Brunch Charcuterie. "I made it with the thought that it would be a great thing for breakfast in bed, like on a cold wintery day where you just wanted to stay warm and eat."
Chef Gabriella suggested using the heaviest components first when putting together your board. Then add your bowls so you can "work around your vessels." Create a mirror effect and fill in from there, adding colors and textures. "It's so easy really, just utilize what you have at home."
Gabriella used a beautiful tray she picked out from Consign Couture and found the gold heart containers there as well. "A cool option would be to buy a board, fill it for a gift for a friend and then let them keep it." This board was such a hit they are actually considering adding it to the brunch menu at Testa Barra.
Board Ingredients – Chicken waffles, potato pancakes, sausage, bacon, papaya, strawberries, blueberries, sour cream, and two syrups.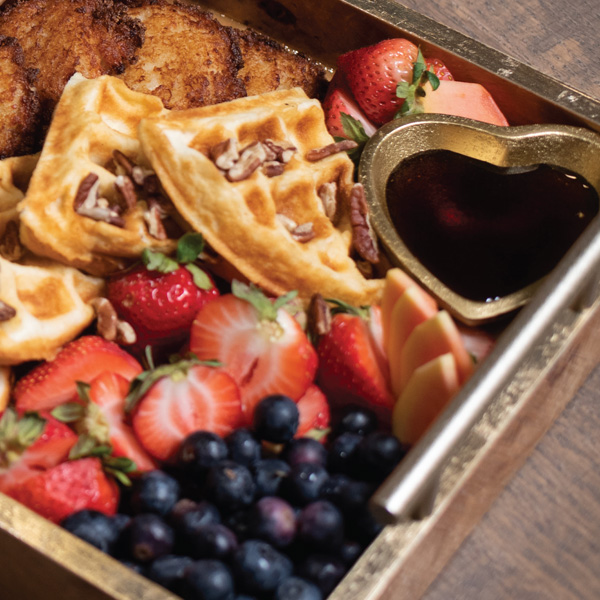 The beauty of charcuterie boards is the freedom to create a charcuterie for almost any occasion all year long. The host/chef can be creative using any size containers and ingredients easily from home. From your typical meat and cheese board to theme boards like the breakfast board seen here from Chef Gabriella, anyone can make up a charcuterie board and be the talk of the party. We just don't know what is more fun – creating the board from scratch or grazing the board with friends.