Celebrating the Grandmother of Herbs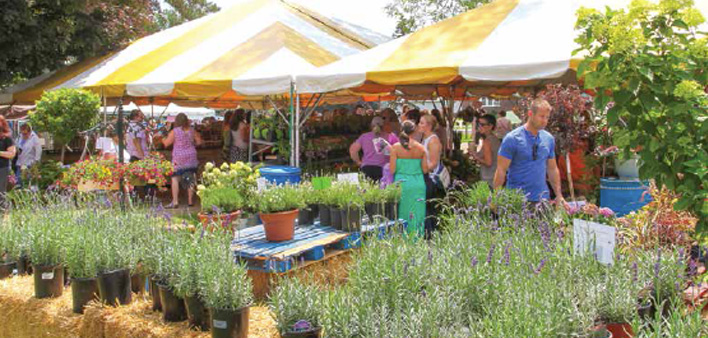 By Tracey Moro / Photography by Anne Nicolazzo
Lavender ~ some use it to smell better, some to relax, others cook with it, whatever you do with this grandmother of herbs called lavender, celebrate it at this year's Michigan Lavender Festival being held at Blake's Orchard and Cider Mill in Armada on July 14, 15 and 16.
It started out small, when Jennifer Vasich, the former owner of Gabriel's Garden in Romeo, began creating her own line of herbal body care back in 1998. Her drive for everyone to learn what is so wonderful about lavender led to the creation of the first lavender festival in 2002. Sharing her love for lavender, Vasich taught classes and seminars on how to grow, harvest and use this popular herb. The festival included these classes along with a few vendors selling everything from cleaning products to clothing. Vasich went on to write cookbooks and blog about all the properties of lavender and how to use them.
"As I look back on how far we've come and how much popularity the Michigan Lavender Festival has gained over the years, I'm very humbled. It all just started with a passion to promote the amazing talent that we can find right in our own backyard. It has been a labor of love," said Vasich. With more than 17,000 in attendance last year the event is now the largest lavender festival in the Midwest, bussing people in from as far as two hours away.
The event's success has even encouraged the Blake family to expand their lavender fields and lavender products. "We will have fresh lavender available to handpick in our lavender fields and lavender bunches and plants for sale as well," said Chelsea Iadipaolo, marketing manager at Blake Farms.
"We will be serving Wisteria, our lavender flavored hard cider, in the tasting room and this year you can also get the famous lavender lemonade to go." Blake's Orchard Cafe will have gourmet food with a lavender twist, including homemade lavender ice cream made exclusively for the festival by Uncle Ray's Dairyland in Fenton.
This year's event features more than 150 Michigan artists, crafts people and local area farms showcasing an array of lavender products. Think lots of purple and a constant fragrance you will noticeably miss when you leave. There will also be workshops, wellness classes, speakers and live entertainment. The MSU Extension Booth will join local master gardeners, horticulturists and educators from Michigan State University to share their expert knowledge with classes on composting and secrets to growing beautiful lavender.
Kids will have their own craft tent and activities including Science Alive educational classes, lavender fun putty and lavender and lime slime demonstrations. The festival is also supporting Gleaners Community Food Bank and will have a drop-off station near the admission tent.
Hosting the Lavender Festival brings folks to Blake's who might not otherwise go. "It's a draw to come here. It not only helps us but surrounding businesses. It's a destination – at a destination place," said Iadipaolo.
After pursuing the festival grounds be sure to check out some new things at Blake's. They now have brewery tours, taking you through production of their wines and hard ciders. Groups of 15-20 can take the 30-60 minute tour. The patio and tasting room will be open and there's always pressing of cider going on, or go pick raspberries or tart cherries. Look for the new outdoor bar on the patio. You might want to try a seasonal favorite, The Tonic with cucumber and ginger, or Cyser, a honey-flavored hard cider. July 14, 15 and 16 – 10 a.m. to 5 p.m.
Admission is $7. Children under 12 free.
For more information visit michiganlavenderfestival.net.