Celebrating Historical Churches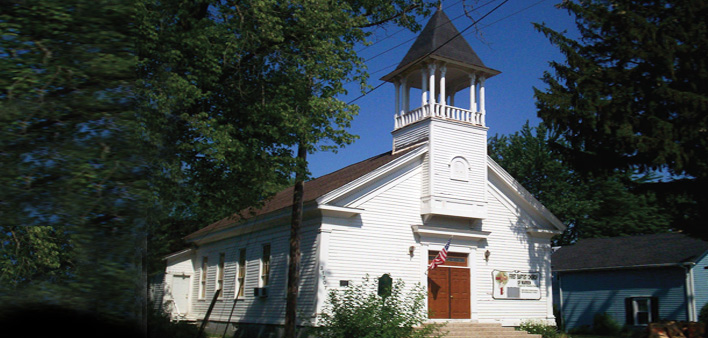 By Dan Heaton
In the Christian Bible, the apostle Paul states clearly that the "church" is the people – not a particular building on a particular corner in a particular town. As people, however, we tend to cling to things a bit more tangible – the church where the kids were baptized, where the funeral service was held for grandma, or where mom and dad were married 50 years ago today. For all of Macomb County's 200 years, our churches have played a central part in our lives. And while the congregations are important, so are the buildings that serve as the cornerstones and landmarks of our towns and, for many, of our lives.
Baptist
At First Baptist Church of Warren, Pastor Timothy Parrish will be marking his 50th anniversary of service with the church later this summer. But even he's a relative newcomer, compared to the church building where his flock gathers on Sunday mornings. "This church has seen it all," Parrish said on a recent morning. "I've had I don't know how many weddings. I've had two funerals in a single day and I don't even know how many church socials. We just try to love everyone who comes through the doors."
First Baptist operates in what is very possibly the oldest building still in regular use – for any purpose – in the county. The structure was built by what was then known as the Methodist Episcopal Church of Warren in 1857. The Methodist congregation was founded in 1845 and built the wood frame building in 1857 next to the Union Cemetery on Chicago Road. The cemetery, the oldest in Warren, is home to the grave sites of a number of Civil War soldiers, though the Civil War did not start until about three years after the little church was built. In 1884, the building was moved about a mile down the road to the corner of 7th Street and Filmore in what is today known as the historic village district in Warren.
In 1958, the Methodists built a new, larger building on Chicago Road and sold the original white "Pioneerstyle" church building to the First Baptist congregation. The building is in use, at a minimum, every Sunday morning. "I like to say this is an old country church, right here in the heart of the city," Parrish said. Among the notable features inside the church building are very old lamps along the inside walls of the sanctuary – originally designed as gas lamps, but converted to electricity many decades ago.