Celebrating 50 Years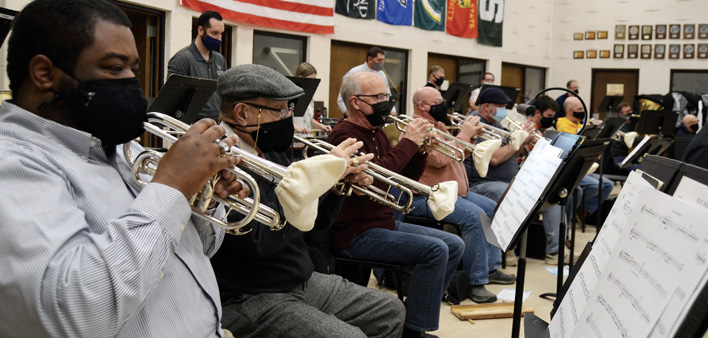 By Tracey Moro
As members of the Warren Concert Band (WCB), get ready to celebrate their 50th year together, they are looking back with melancholy and pride. Not only does the band have many performances and its community outreach to be proud of, it has also created a family of musicians who have connected through their love of playing.
Karen Hartman, a bass clarinet player, said she watched the band perform while in junior high school. "All the Van Dyke band teachers were in the group. I knew I would join after high school, but never realized how involved I would become." Hartman joined the band in 1977.
The WCB was founded in 1972 by Donald Engstrom with a mission to bring concert band music to the local community. Conducted first by Thomas Carey until 1984 and then Douglas Bianchi until 2011, today the WCB is under the direction of Jeremy Duby, who is also the Director of Bands at Olivet College and a past WCB band member.
With almost 70 members, most have been playing together for years although a handful are recent college grads and only percussionist Ralph Tumino has been with the band all 50 years. Although the band has always been made up of many educators, including local music teachers, members come from all walks of life, many retired, a few firefighters, a couple dentists, engineers, IT, systems analysts, environmental planners, bankers, sales reps and nurses.
Concertmaster and clarinet player Don Platter has been enjoying WCB membership for 41 years. "Since I taught in Warren for 30 years, being a member of this fine ensemble is a way that I can give back to the community that supported me during my teaching career," said Platter.
Robert Rourke, another clarinet player who hadn't played since graduating in 1952, was persuaded to join the band in 1988. "I began clarinet studies again for nearly a year, then began playing with the WCB in 1989," said Rourke.
Rehearsing on Tuesday evenings, the WCB has performed more than 400 concerts including concerts shared with the General Motors Employees Chorus, the United States Army Field Band, and many summer outdoor concerts in Warren, tree lighting ceremonies, appearances at the Festival of the Senses in Clinton Township, and the Red Cedar Festival of Community Bands in Okemos, just to name a few.
To survive the band needs the support of local businesses. This year A & G Central Music, is a major sponsor, with several employees playing in the band, including percussionist Robert Christie, A & G president. "We believe strongly in music's role in our community. The WCB provides a valuable space for area musicians to enrich their lives and create the art they are passionate about," said Christie.
In honor of one of its long-term members, Mary Lee Carey Fitz, the band sponsors several student scholarships each year. Originally set up as a means to get students to summer music camp, the scholarships now cover private instruction. The WCB has awarded more than $17,000 to more than 125 students over the years.
And the WCB Side by Side High School Honor Band introduces the joy of being in a community band to young local musicians. Approximately 30 students join the band for the spring concert, rehearsing and performing alongside WCB members. That concert will be May 15 and is part of the 50th Gala Celebration. On June 26 the WCB will perform a Celebration of 50 years at Detroit's historic Orchestra Hall.
With communities getting the musical benefit, members of the WCB are getting much more. An oboe player, Sue Mance, said she was pregnant with her oldest child when she joined the WCB in 1980. "Tuesday nights have been my 'night out' with other adults with the same interests ever since," said Mance. "WCB has become my 'home' group because of the quality of the music and the friendships I have formed over the years."
"I didn't understand how much the band meant to me until we were not able go to rehearse when the pandemic started," said Hannah Costello, WCB vice president and clarinet player. "When we were able to gather again this past summer, I realized how important it was for me to be involved with a group that can create such enjoyable music, not just for myself but for our community too." For more on the WCB visit warrenconcertband.com.