Celebrating 10 Years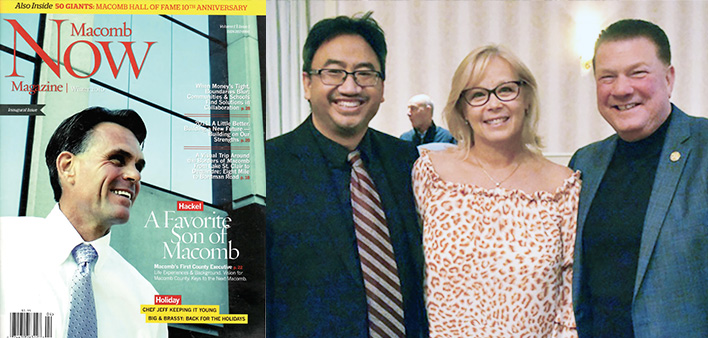 By Nick Lico
Ten years ago, Peter Lucido, realized that Macomb County wasn't getting its share of respect from Oakland and Wayne Counties.
"I realized that we needed to talk more about ourselves to become recognized," Lucido said. His solution was to start Macomb Now Magazine, choosing the name because it signifies that "it's in the moment, it's happening." Lucido readily admits that he knew nothing about creating a magazine, but was confident that his vision, passion and marketing acumen would make it a success. Having been a Macomb Chamber of Commerce member, he knew where to start.
"Pete reached out to me because I was the Chamber CEO. He thought we would be good partners because we were of similar minds that Macomb County needed a publication to promote all the good things going on in the county. We then reached out to Mark Benner, a marketing executive at Campbell-Ewald, and the three of us became the founding members of the magazine," Grace Shore explained.
"The first issue had Mark Hackel on the cover because he had just been elected as the first Macomb County Executive. It was a new beginning, a new day and a new era for Macomb County and I believe that's what we captured on the cover and with the content," Lucido added.
As is the case today, that first issue was distributed to hospitals, medical buildings and other local venues. It was sold at Vince & Joe's Gourmet Markets and at Nino Salvaggio International Marketplace. It quickly gained a following, with many readers becoming subscribers and a circulation reaching 10,000.
Ten years later, subscriptions have more than quadrupled and circulation is now at 20,000 – double the printing. When the magazines hit the streets they are quickly taken home by loyal readers. Part of that success can be credited to its evolution under Tracey Moro, editor since 2013 and Editor-in-Chief since 2015 when she and David LeDuc took over ownership.
"With each issue, the look, feel and writing continually improves. Our online presence has also evolved. We now have stories that are searchable online and shareable via social media," Moro said.
She is quick to point out that the magazine's success is a team effort. It's a sentiment David LeDuc, the magazine's associate publisher, echoes.
"We have some of the best writers, photographers and graphic artists working for this magazine. Unlike some other lifestyle magazines, Macomb Now is not all ads. We have great stories and great photos. Out of town visitors take the magazine and use it as a guide. If you want to learn about Macomb County, this is the magazine," LeDuc said.
"We're now doing some custom publications. Last year's Macomb Vow Bridal Guide was very well received; look for the second issue in January 2020 and we just hosted our inaugural Macomb Vow Bridal Show in November. We've also created and published a magazine for the Sterling Heights Chamber of Commerce for the past two years. We have a virtual magazine TV show with WBRW TV that is aired in Washington Township and sent to other local cable stations within the county, giving us a fun way for us to communicate with many more Macomb County residents," Moro added.
"The magazine has the proper individuals in place; they have the same passion as I did when I first started the magazine," said Lucido, who stepped away from the magazine when elected State Representative in 2015. "I appreciate how it has transitioned from my vision to Tracey's and David's vision. Backed by some of the best writers and photographers in the area, the sky is the limit for Macomb Now."