Calling All Pizza and Pasta Lovers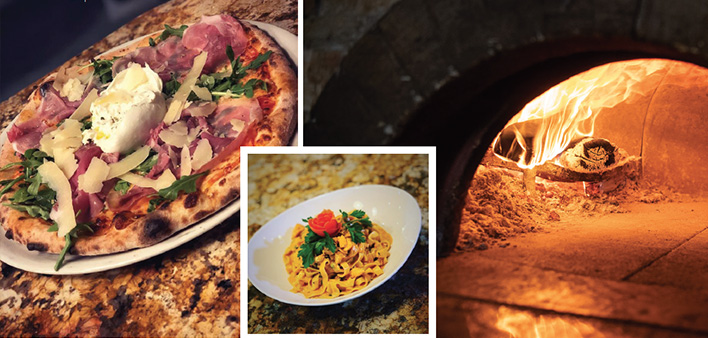 By Alexis Bohlinger/Photography by Mike Ferdinande
The LaFata family has always been Macomb's experts in custom cabinetry, but 14 months ago, they saw that a restaurant they cared about was going out of business. Although they had no previous hospitality experience, the LaFata's decided to purchase 900 Degrees Pizzeria Bistro.
"My Grandpa opened LaFata Cabinets in 1958. Everyone in my family has worked there, so we all know what it takes to run a business," said Sal Parisi, 900 Degrees general manager. "When we heard that a restaurant in our shopping center was going under, we decided to step in and help. We knew we would have to do our homework on the hospitality industry to make the business successful."
The LaFatas purchased the restaurant from the previous owners. "We kept the same name but made a lot of internal changes. We hired a knowledgeable new staff, a pizzaiolo chef from Italy and a head chef that cooked in Florence for 15 years." The LaFatas have entrusted the day-to-day operations of the restaurant to 25-year-old Sal Parisi, who says that he loves having the opportunity to work with people and make them smile.
Since the re-opening, the restaurant has seen success in its first year, with many happy patrons complimenting the consistently great food and drinks, cozy atmosphere and attentive staff. The menu, written in Italian, speaks to the LaFata's heritage and their dedication to serving authentic Italian cuisine. Parisi says, "We have a couple of niches, the first being our wood-burning pizzas. These are thin crust pizzas with fresh ingredients, completely powered by wood at 900 degrees and the pizza is cooked in 90 seconds."
900 Degrees has also received raving compliments on their homemade pasta noodles. Parisi suggests trying the Tagliatelle Al Salmone Cremoso, a handmade fettucine style noodle made in house with a pink salmon cream sauce. "We use a fresh salmon and leave the chunks in the sauce so you get the delicious salmon flavor. It's our most popular dish." When you finish your main course, you must try one of the homemade desserts. Patrons have thoroughly enjoyed the Tiramisu, handmade gelato, and Crème Brulee.
Whether you are looking for a wholesome night out with the family or somewhere to celebrate with a large group, 900 Degrees Pizzeria Bistro has an atmosphere that welcomes both. "We have a full menu with plenty of delicious options ranging from chicken dishes to filet mignon and fresh fish plates," Parisi continued. "If people want authentic Italian cuisine with vast options, come see us at 900 Degrees."
900 Degrees Pizzeria Bistro
50925 Hayes Road, Shelby Township
(586) 884-4739, 900degreespizzeria.com